WITH VALENTINE'S DAY on the horizon, Our Gourmet and the Primary Dining Companion (PDC) returned to the restaurant where several decades ago, we shared our wedding dinner with friends who witnessed our vows.
It's saying something when a restaurant is around more than 40 years, and the Oar House didn't disappoint during our trip down memory lane.
Oar House is on Ceres Street, near where the tugs tie up on the Piscataqua River. In a converted 220-year-old warehouse, its mellow brick and stone walls and beamed ceilings attest to its history as a member of Portsmouth's Merchants Row. It has on-site parking.
The ground floor is anchored by a beautifully constructed bar — fine carpentry is a hallmark of the decor, as are nautical prints and ship models.
We were seated upstairs, a couple of tables away from the spot we occupied as newlyweds. There was a quiet buzz of conversation, and we couldn't help but notice the 1970s soundtrack, starting with Gladys Knight's "You're the Best Thing That Ever Happened to Me." By 7 p.m., the mellow vibe of live music could be heard in the lounge.
We ordered drinks, a Ceres Old Fashioned for OG and a Market Street Manhattan for PDC (both $13). We traded sips, and agreed the bartender nailed it with both.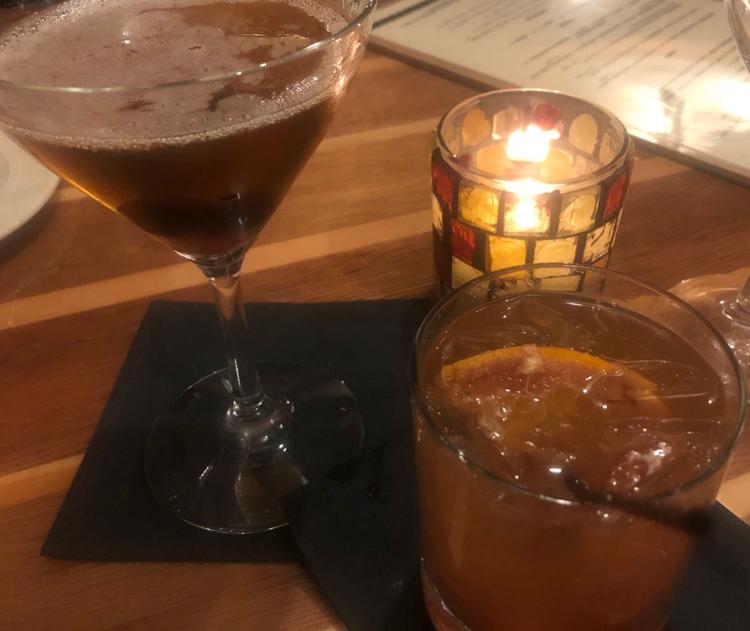 PDC decided to start with the clam and corn chowder, as he had so many years ago when the ink was still fresh on our marriage license.
"Lots of clams, perfect texture on the potatoes and smoky bacon notes," PDC said "It's a standout in the local chowder lineup. Next time I would definitely order a bowl."
OG had a taste and agreed the chowder ($9 cup, $12 bowl) had a layered complexity that proclaimed it as homemade.
The appetizer list is classic, from the PEI mussels to scallops wrapped in bacon, calamari, crispy ribs and bruschetta to French onion soup au gratin.
It was a chilly night, so OG went for the ultimate comfort food, Chicken and Pork Meatballs ($12), featuring San Marzano tomatoes, mozzarella and blue cheese served with toasted focaccia.
The five large meatballs were aswim in a savory, slightly sweet Bolognese; its silkiness confirmed a splash of milk or cream had been added to finish the sauce.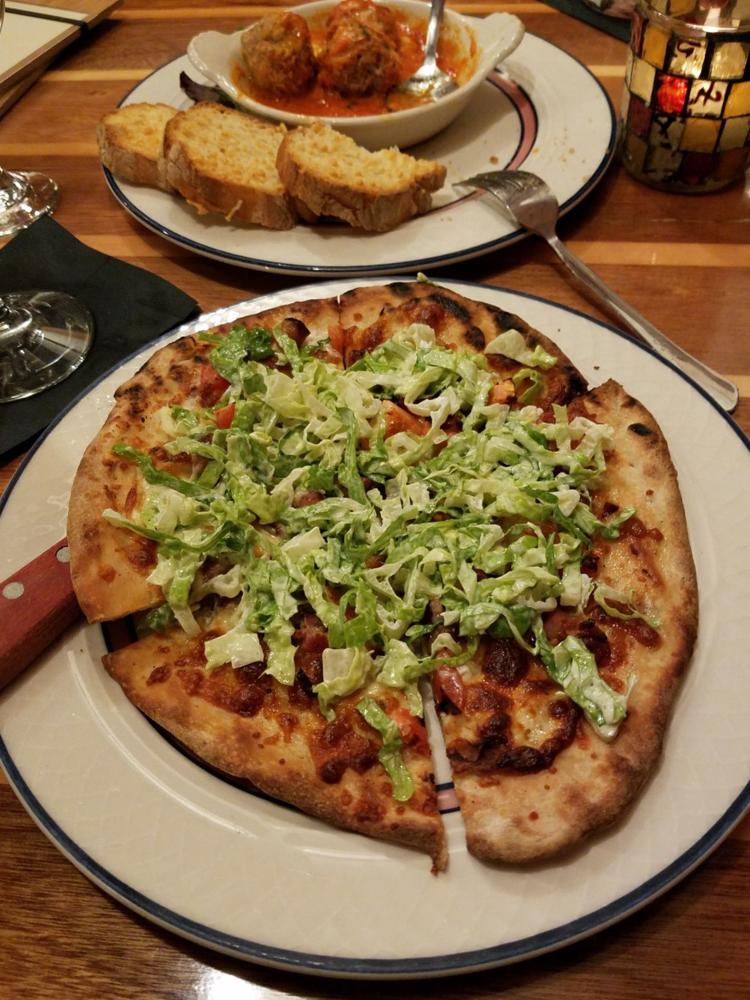 We discussed splitting a salad (the Grilled Romaine with creamy charred tomato and lime dressing, $12, looked particularly appealing) but decided to have our salad atop one of Oar House's five grilled pizza choices. The White BLT ($14) was brimming with fresh tomatoes and romaine, smoked bacon, mozzarella and cheddar. Delicious.
This restaurant is known for its seafood, fresh fish and steaks (and in warmer weather, its deck). OG recognized her nuptial night order on the 2020 menu, and was tempted to revisit the Oar House Delight ($29), broiled shrimp, scallops and haddock in a sherried lobster sauce with seasoned crumbs.
PDC was leaning toward that night's special: Pan-seared Scallops.
But we agreed we'd been "apped" by our appetizer choices of chowder, meatballs and pizza and were almost full.
We compromised with the Cedar Plank Salmon ($28). The roasted salmon portion was so generous that we split it and had some left over to take home.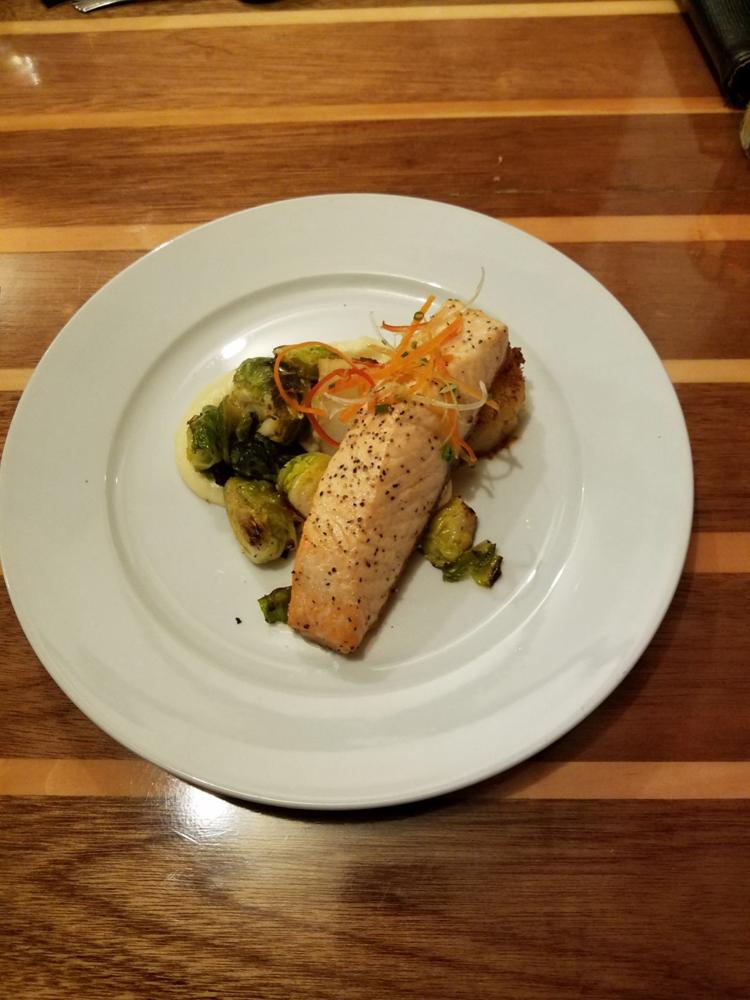 The star of the dish was the parsnip puree accompanying the perfectly cooked fish, slightly charred Brussels sprouts and crispy fondant potatoes.
Our server was attentive and helpful. The restaurant, which had closed for vacation during the month of January, had just reopened when we crossed the threshold. You would never have guessed the kitchen, bar and dining room crews had only been back on duty for 36 hours.
"It's like riding a bicycle," our server said.
We eyed the dessert menu (PDC would have gone for the Key Lime Pie, OG with the Chocolate Donut Bread Pudding with Orange Creme Anglais) then left the romantic scene, happily heading out for a stroll on the foggy streets of the Port City.