WHEN YOU HAVE to look up the translations of the sections and dishes on a Mexican restaurant's menu, we think it's a pretty good indication that it's not going to be your typical Mexican restaurant.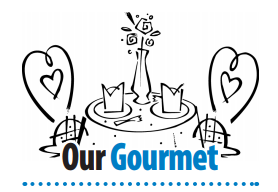 That's what we had to do when Mrs. Gourmet and I first looked at the online menu at Riviera Nayarit, the new Mexican seafood restaurant in downtown Nashua. It opened a couple of months ago in the space that formerly housed El Colima, another Mexican restaurant that we liked and reviewed a few years ago.
There are a few familiar items that you'd find at your typical Mexican place, but what makes Riviera Nayarit unique is the emphasis on seafood: shrimp, scallops, octopus, snapper and more, grilled, fried, in ceviche and raw.
We invited our son, the Former Bottomless Pit, and his girlfriend to join us. She was unavailable, but FBP came along for what turned out to be an eye-opening and excellent dining experience.
The restaurant is fairly small, with a long, narrow dining room on the left, which you enter from the street, and a larger bar area on the right, with a bright blue wall dividing the two.
Salsa and chips arrived soon after we sat down in one of the booths along the wall of the dining area, followed shortly by our server, Edgar, who was our friendly and helpful guide through the menu and some of its unfamiliar dishes.
After Edgar gave us a few recommendations, we ordered an appetizer to tide us over while we made our final dinner choices. The Empanadas de Camaron ($9, or $9.50 with cheese) were four small pastry pockets filled with minced shrimp and a touch of cheese. The filling didn't really stand out, for these were small empanadas, but the pastry was light and gently fried, leaving us with plenty of room — or so we thought — for the feast to come.
We decided we would order with the intention of sharing everything, and the dishes we chose made that easy (although we could have used a table about twice the size of the one we were at).
From the Ceviche section, we ordered Torres de Marisco ($22). We were new to ceviche — the process of "cooking" raw seafood by marinating it in citrus or other acidic juices and spices — and Edgar assured us that this would be a good way to sample it.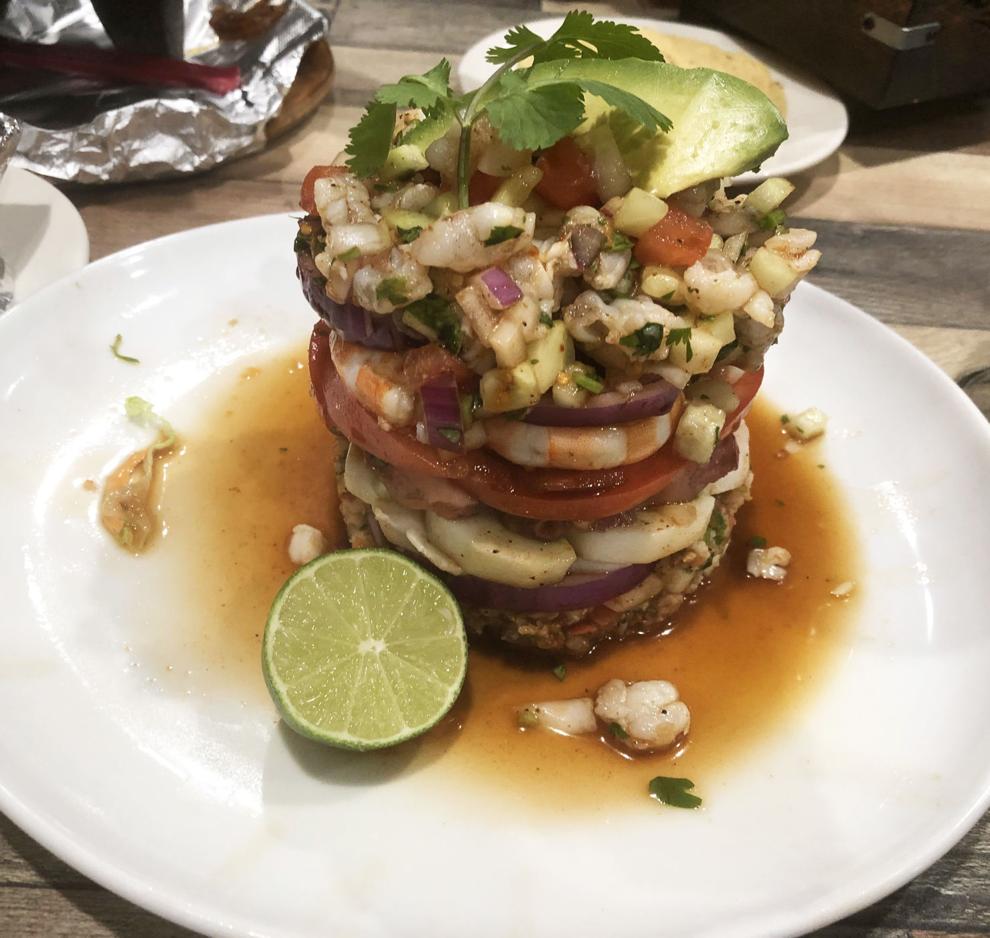 Translating as Tower or Castle of Seafood, this dish is a stack made up of layers of cold seafood and chopped salad veggies, all infused with a bright lime, spice and cilantro marinade. We stared at it in amazement, wondering how to attack it, when Edgar caught our puzzlement and told us to just knock the tower down and dig in, either with or without the crunchy tostada shells that came on the side.
Once it was deconstructed, we found whole shrimp (shelled and tail-less, to Mrs. G's delight) and slices of scallops, octopus and fish amid the chopped tomatoes, cucumbers and red onion.
The seafood was tender, flavorful, and far from the raw state that a hesitant diner might worry about. All in all, it was a bright, refreshing and delicious dish.
On the opposite end of the spectrum, we ordered Molcajete de Mariscos ($29.99), an assortment of cooked seafood served in a sizzling cast iron pot. Molcajete is one of our favorite Mexican dishes, with its array of flavors, textures and creamy, somewhat cheesy and spicy sauce, and it's always big enough to share.
This all-seafood version included scallops, shrimp, octopus, red snapper and crab legs, and was a huge hit. The Former Bottomless Pit declared the octopus and snapper to be the stars of the dish. The octopus, delivered as whole arms, was tender and flavorful.
The snapper, served at the top of the pile, was there in its entirety, nose to tail, scored and grilled with a spice-coated crust.
(The fish and the octopus made us all realize that it was a good thing after all that The Girlfriend, an avowed vegetarian, had other plans that night. The sight of those two ingredients would have sent her running from the restaurant.)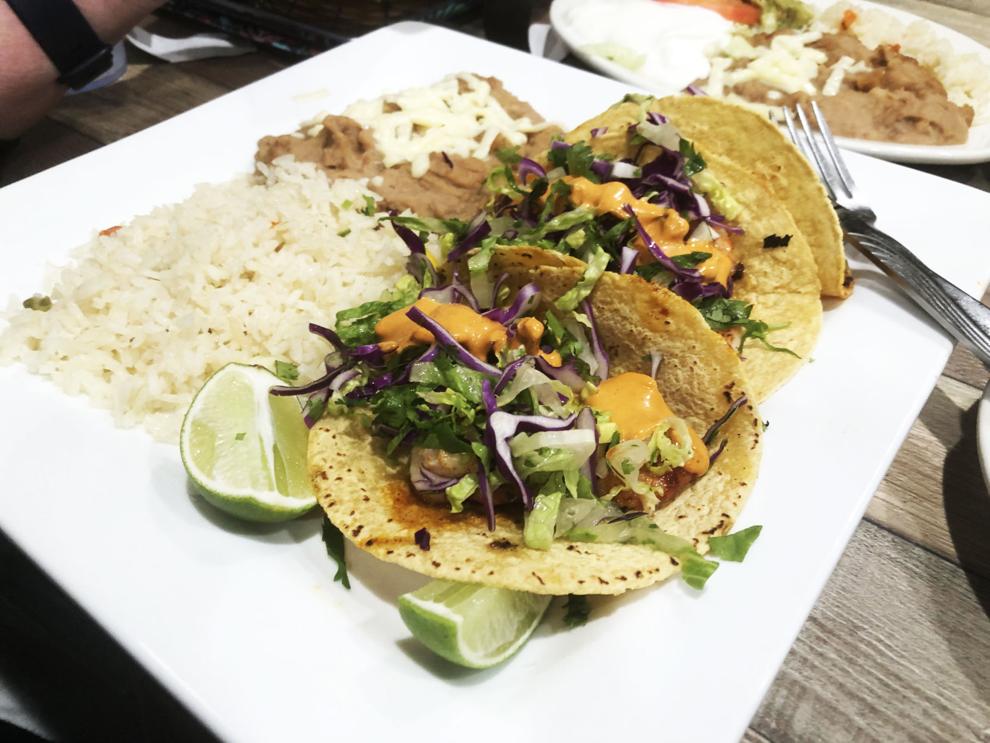 To round things off with a touch of the familiar, we ordered Baja Tacos (shrimp or fish, $14.99). While we were discussing what to order, the guy in the booth behind me came by with his plate and showed us the shrimp tacos he had ordered, and gave them a big thumbs up. That was good enough for us, and the three Shrimp Baja Tacos ($14.99) turned out to be a tasty, fresh choice, with chopped shrimp, shredded cabbage and lettuce and a slightly spicy chipotle cream sauce. They also would have been enough for a meal for someone with a normal-sized appetite who, unlike us, wasn't hellbent on sampling as much of the menu as possible.
By the time we were finished (with a couple of boxes of miscellaneous leftovers — mostly rice, beans and other sides that we never got to) we were pretty much exhausted. Think post-Thanksgiving dinner, except with fantastic seafood instead of turkey and stuffing.
Dessert was out of the question, but we did see several great-looking sweets headed to other tables.
The menu does include a page of more typical Mexican-restaurant fare for non-seafood lovers, and there are some vegetarian choices for those who aren't squeamish about looking at a whole fish or octopus arm on their dining companion's plate.
Our tab came to just over $100 for three people. A good deal, considering that included two house margaritas at $8.50 each and an absolute feast of wonderful food.
Despite the size of our order that night, there's a lot more Mexican-style seafood for us to explore at Riviera Nayarit, and we're looking forward to another visit.