Our Gourmet developed a taste for Tex-Mex while living in Houston and is always looking for the authentic, fresh flavors that characterize this cuisine.
That quest led to two meals at La Carreta in Portsmouth, the first downtown location in New Hampshire for this family-owned chain that can also be found in Manchester (two, on Hooksett Road and South Willow Street), Nashua, Derry and Londonderry.
The first visit was for lunch, and our server — warm, enthusiastic and helpful — mentioned her family connection when OG's Dining Companion (DC) asked about the tamales.
"I make them with my mother-in-law when we cook at home together," the server said as she and DC compared notes on their recipes for the mole sauce in this portable Mexican soul food.
The pleasant interchange set the tone for a lunch that included a fried beef Chimichanga ($12.50), topped with enchilada sauce, nacho cheese, lettuce, sour cream, guacamole and tomato.
DC pronounced it "crisp and savory" and dug in.
OG decided to try something from the fish and seafood section of the extensive menu (it's worth looking at online, so you don't spend 15 minutes in the restaurant trying to figure out what to order). The Pescado Cancun ($16.99) is grilled haddock, shrimp and asparagus in creamy white sauce, served with a side of rice.
It was a generous portion. The shrimp were a delight, slightly blackened on the outside, and tender and sweet on the inside. The white sauce was a pleasant backdrop, with a slight amount of heat. The haddock was fresh and perfectly cooked. The disappointment was the two spears of asparagus atop the dish. The stem ends were woody and not worth gnawing through.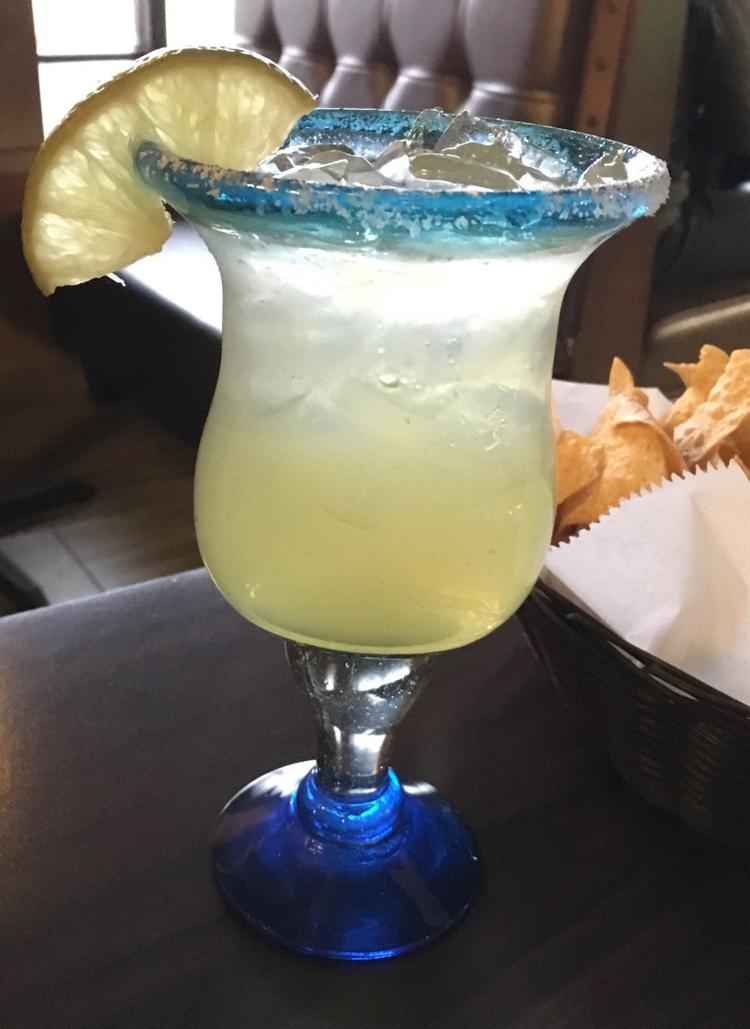 OG had the house Margarita ($9), which delivered just the right amount of salt and sweet, with the pleasant burn of tequila. There is a separate tequila menu for those of you who have more discerning palates. DC was happy with her Sauvignon Blanc ($10).
The second trip was dinner on a busy Saturday night. Our party of four arrived early and got a booth with a good view of the large, rectangular bar, which is the centerpiece of the main room. The decor includes lots of leather, natural stone and Mexican ceramic tile, and the overall effect is inviting. The restaurant opened last April after a complete renovation of the building.
After a round of margaritas, OG ordered La Favorita ($12.50), a "special burrito with beef tips, one mixed tostada and one chicken enchilada." The chicken was juicy, the beef resembled a well-cooked pot roast, and the tostada was consumed by my Primary Dining Companion (PDC), who also helped himself to the guacamole that garnished the dish (it was good guacamole).
PDC chose Taquitos Mexicanos ($10.99) and crunched his way through the two beef and two chicken fried snacks. He would have liked more of the guacamole and sour cream served alongside, which is why he poached OG's.
Dining Companion I (DCI) went with the Burrito Chile Verde ($12.99) and chose a pork filling. Wrapped in a flour tortilla, it is topped with salsa verde and cheese, with a side of rice and beans.
"This has heat," DCI said. "I'm sweating a little."
He liked the tender chunks of pork and scraped the plate clean.
Dining Companion II couldn't resist the Fish Tacos ($15.99). She picked grilled over fried, and enjoyed the bite of the cilantro lime cabbage and chipotle mayo. The three tacos can also be garnished with pico de gallo and tomatillo salsa, lettuce, cheese and tomato.
"It could give a you a hot flash," DCII said, adding the fish was very fresh and grilled perfectly.
Heat is a topic addressed on La Carreta's website:
"All of our dishes are meticulously prepared with an authentic, yet mild flavor. For those who like their food hot, we put a dish of hot sauce on the table."
La Carreta has weekly specials: Margarita Mondays ($6), Taco Tuesdays ($1 for hard shell) and Kids Eat Free Wednesdays (2 to 7 p.m., drinks and desserts not included).
The dining room was filled with families that Saturday, which seemed fitting for a successful chain run by a large, extended family.