Tuscan Village, the high-end mixed-use development on the old Rockingham Park parcel in Salem, is a gold mine in the making. The complex looks to be less than half completed, but already it's a hopping place.
With big-name, big-ticket retailers like Pottery Barn, Williams Sonoma and Arhaus, and apartment rents reaching into several thousand dollars a month, it's not an inexpensive place.
But there is room for regular folks, especially in the spot that Mrs. Gourmet and I visited at dinnertime on a recent Saturday night: the Smuttynose Beer Garden.
The Beer Garden is the evening iteration of Tuscan Village's central plaza, called Lake Park. The space is bordered on two sides by L.L. Bean and the huge Tuscan Market building, with more construction underway on the north side. To the west is an attractive lagoon, which by day doubles as L.L. Bean's fishing hole and paddlesports test pond.
On weekend evenings, the plaza turns into a big, crowded street party. There's a sand volleyball court, Adirondack chairs around tables and fire pits, plenty of room for walking, sitting and even dancing to the live music coming from a small stage that backs up to the pond.
The Saturday night we were there, the place was packed. People were enjoying the music, walking with their dogs, watching kids playing in the volleyball sand, and gazing out at the sunset beyond the pond, where colored lights played on the fountain spraying into the evening sky.
We saw several people coming in with their own camp chairs in the hopes of finding a spot to park them. We ended up sitting on a low wall around one of the planting beds.
How all this qualifies as an Our Gourmet column is that it's a casual destination for fun, food and drink. We spent a couple of hours there soaking up the atmosphere and grazing.
Tuscan Village is, of course, an expansion of Tuscan Kitchen, the successful Italian restaurant group that began a few miles away in the center of Salem. And while the Tuscan Market building dominates the plaza and features an outdoor bar, its drool-inducing Italian deli/grocery/bakery/restaurant is not the only source of food for the evening fun outside.
The Smuttynose Beer Garden is supplied by a line of trucks and stands along the north side of the space. The night we were there, the lineup included a food truck from Curb Appeal Meals of Hampton, an ice cream truck, an Island District tiki bar offering tropical-style cocktails, the Smuttynose beer stand and Tuscan Market's own pizza stand with two stone-lined warming ovens.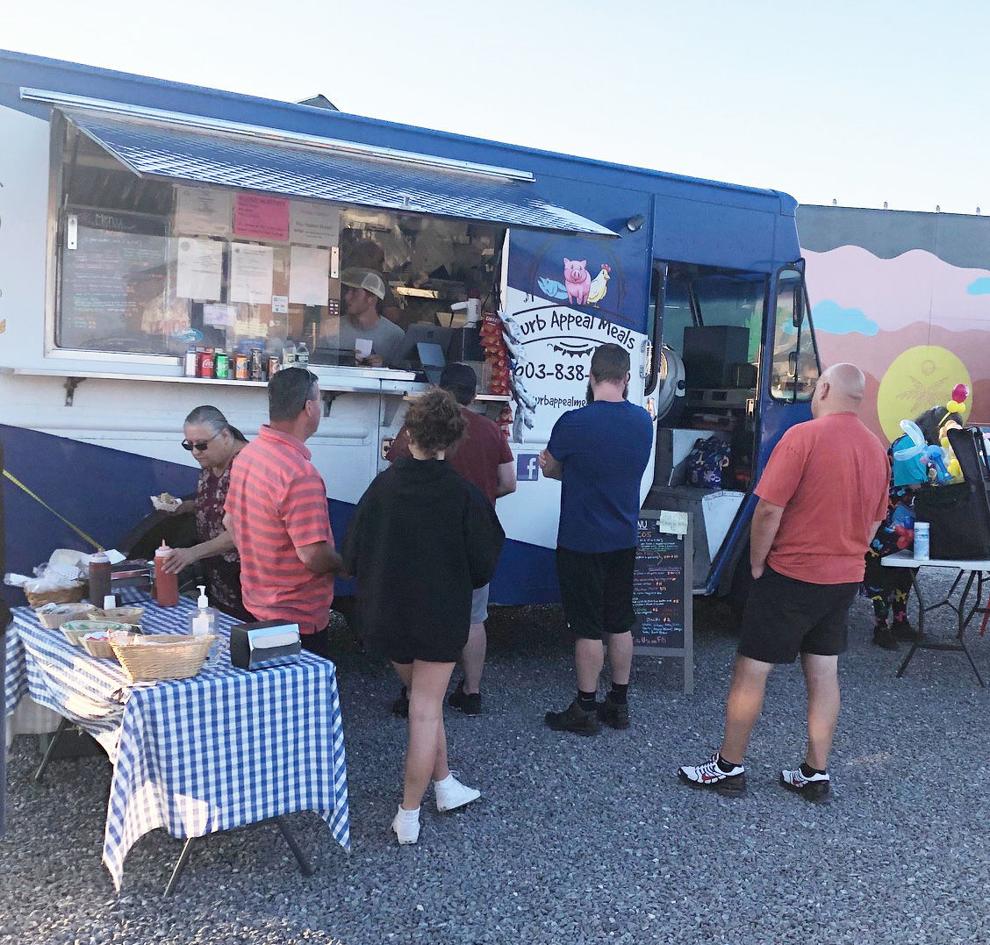 We worked our way around the stands, starting with Curb Appeal Meals, whose crew was serving up a variety of portable dishes, all around $10 or less.
We tried several: The Buffalo chicken wrap featured shredded chicken in a not-too-spicy Buffalo sauce, served in a thick flour tortilla. Their Mexican corn was served off-the-cob with crema, cotija cheese and cilantro (tasty, though it could have been a bit spicier). And the beer-battered fish tacos featured finger-sized pieces of haddock served in a flour tortilla, topped with a Caribbean-style slaw and aioli — our favorite dish of the three.
After a short break, we moved on to the Tuscan Market pizza stand, which was offering cheese and pepperoni slices. "Slabs" would be a more accurate description for these huge, square portions. We decided they were big enough that we could split one, for $5. The slice featured a thick, soft, bready crust carrying crushed-tomato sauce, cheese and pepperoni slices about as wide as the palm of my hand. As a topped bread, it was great, but I'm more of a thin-crust pizza guy.
I decided to wash the pizza down with a Smuttynose Match Play ($8), a refreshingly light IPA that was a good fit for food on a warm summer evening.
We had eaten our fill, but we couldn't leave without doing a little dessert-to-go shopping inside the Tuscan Market. The tiramisu was light, moist and delicately infused with espresso. And the apple crisp-like dessert whose name I failed to note had a thick, wonderfully caramelized brown-sugar bottom. Between the two, it was about $15 well and sweetly spent.
Food is served daily, with music Thursday through Sunday nights until 9. The lineup of food trucks and entertainment are posted on Smuttynose's website.
There are several other restaurant options within walking distance of the plaza, including Pressed Cafe, Chipotle and The Beach Plum.
Our Saturday evening visit gave us a sense of what the developers had in mind in creating a "village" with a big-city vibe, miles away from the big city. It felt a little like a Disney interpretation of a Quincy Market-style gathering place, which we think works.
It's an experience we'll likely be checking out again.