If there were an award for Rural Shopping Plaza with the Classiest Dining, we would nominate Monadnock Community Plaza in Peterborough.
In total, we counted four restaurants in this little strip mall on Route 202 — one Chinese and one pizza place, but also two of the best small restaurants that we've had the chance to review.
A few years ago, Mrs. Gourmet and I had a wonderful dinner sitting at the chef's counter at Pearl, an Asian fusion oyster bar tucked away at one end of the plaza.
This time, we visited what is now Pearl's sister restaurant, Bantam Grill, located a couple of doors down.
Bantam Grill was reviewed in this space several years ago by another writer, who went there for lunch. Since then, the restaurant has changed hands and changed menu. When we learned that it was now under the same ownership as Pearl, we knew it was time for us to check it out.
The storefront restaurant is deceptively deep. We ballparked seating at 70 or so in a combination of tables, booths, high-tops and an eight-seat bar.
After reading some online reviews, we decided to call ahead for a reservation, which turned out to be a wise idea. When we arrived around 7 p.m. on a Sunday evening, the place was packed, but an empty booth was waiting for us, and we were seated immediately.
The lighting was fairly low, but light yellow walls kept the atmosphere relatively bright, even with the dark wood tables and red upholstery. In keeping with the place's name, large photos of baby chicks dot the walls and chicken carvings and other doodads abound.
But make no mistake, this is not a chicken restaurant. In fact, there are only two chicken dishes on the menu, which is concise, with no more than a half-dozen items in any section. But there's a definite Italian influence, including a full section of pasta dishes, as well as an emphasis on local ingredients. (A blackboard near the bar lists the local suppliers and the items they bring to the table.)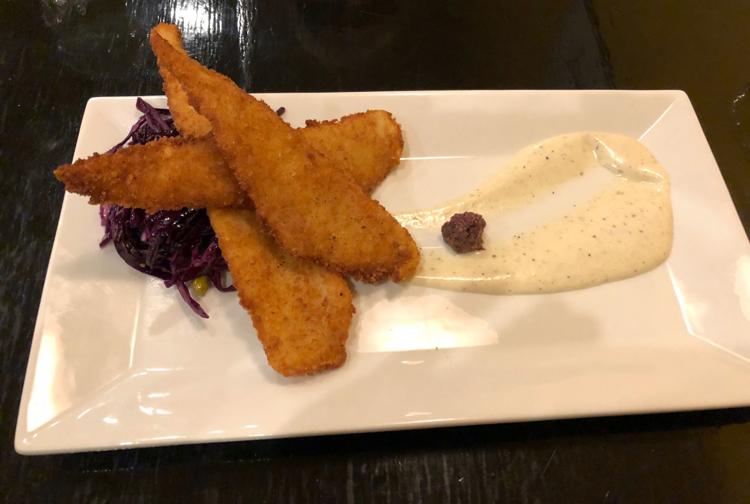 The level of sophistication at Bantam Grill was evident from the first dish that arrived at our table: My appetizer, Flounder Fritto ($9.50), featured three spear-point fillets of my favorite fish, lightly breaded and fried to a delicate crunch. The fish was served on a plate smeared with lemon aioli and a small ball of olive tapenade, which, when combined, made for a bright, savory sauce (of which we could have used a bit more). A nice extra was the red cabbage slaw, lightly dressed with a mild vinaigrette and sprinkled with shelled pistachios. Altogether a terrific dish that could work as a light lunch.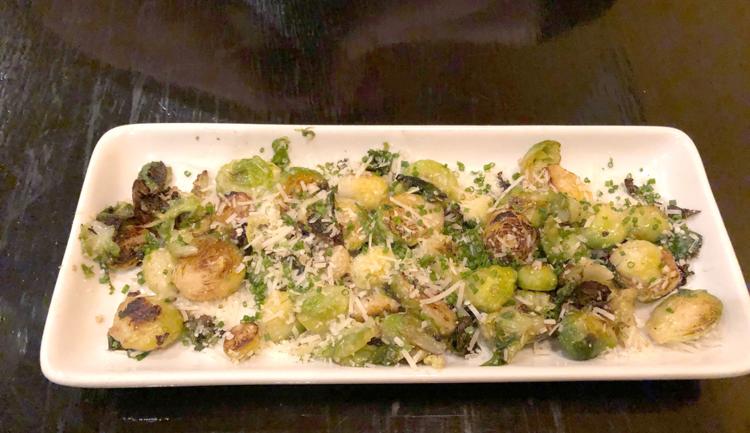 We love Brussels sprouts, and Mrs. G's search for an appetizer ended as soon as she saw the duck-fat roasted sprouts ($6) on the menu. Served in a long rectangular plate, these sprouts were perfectly cooked: soft, with just a touch of char, and sprinkled with shredded Parmesan cheese and chives. Excellent, and enough for two to share.
On the entrees menu, Zuppa di Pesce ($24) sounded great, and it didn't disappoint. The tomato soup base, light and creamy with just a hint of sweetness, would have been good enough on its own (and there was none left once I sopped up the remnants with the big wedge of lightly grilled ciabatta bread served alongside). But what made this dish a winner was the ample supply of large shrimp, chunks of salmon, and mussels swimming in the broth. It was a little awkward to eat, with the mussels in their shells and the tails still on the shrimp, but it was a great combination, especially on a cold winter night.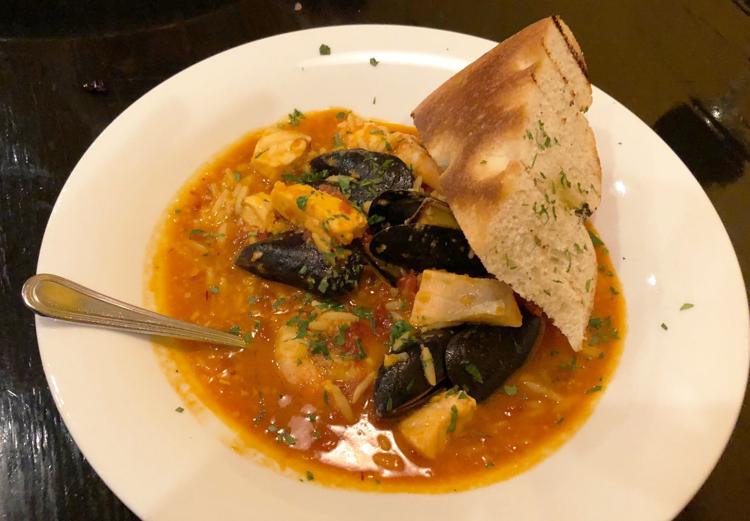 We are also big fans of short ribs, and Mrs. G loved Bantam's version ($25). Think of this as a high-end pot roast, combining luscious, tender beef, roasted root vegetables (carrots, parsnips, rutabaga) plated on a bed of mashed potatoes with a rich pan gravy. Perfect comfort food — and enough for a dinner of leftovers a few nights later.
We topped off our dinners with a creme brulée (hers) and chocolate tiramisu (mine). The tiramisu was excellent, but Mrs. G found the berries incorporated in the creme brulée to be a little too bitter.
We tend not to keep a running tally in our heads when we order, so I was pleasantly surprised when our tab arrived at around $85 for two great dinners and a glass of wine. Well worth it in our book.
Chef/owner Harris Welden, a native of nearby Greenfield, now has two great restaurants side by side — as if we needed another reason to visit the Monadnock Region.