RELATIVE TO ITS permanent population, North Conway may have more restaurants than any other town in New Hampshire. Many have been around for years, but new ones pop up all the time.
Mrs. Gourmet and I were in the Mount Washington Valley while on vacation a few weeks ago, and we decided to look for a restaurant we hadn't heard of before. Some changes have been made to the Settlers Green outlet complex since last we were in the area, and one of the tastier ones is Barley & Salt.
Located in a free-standing brick building north of the main shopping center, Barley & Salt puts equal weight on its big craft beer menu and its food.
From the front door, you enter a big, open space that's got a warehouse/industrial vibe, even though it's bright and brand new. Straight ahead is the bar, with a tile wall on which the 30-plus beer menu and the taps are listed. The ceilings are high, the tables are tall, and there are TVs sprinkled around the room.
There's a covered, fenced-in patio to the right. That's where we decided to sit for our lunch visit. From our table I got a nice view of the cliffs of the Green Hills east of town, while Mrs. G got to watch the bustling Settlers Green parking lot. Score one for me.
The menu is casual and eclectic. Divided into starters, salads, wings, tacos, mussels, "hand-helds," "all-day eats" (aka entrees), bowls and sweets, the mix includes a little Asian, a little Mediterranean and a little American, with an emphasis on locally sourced ingredients.
We were there in mid-afternoon, too early for an early dinner, so we opted to do lunch with a shared appetizer.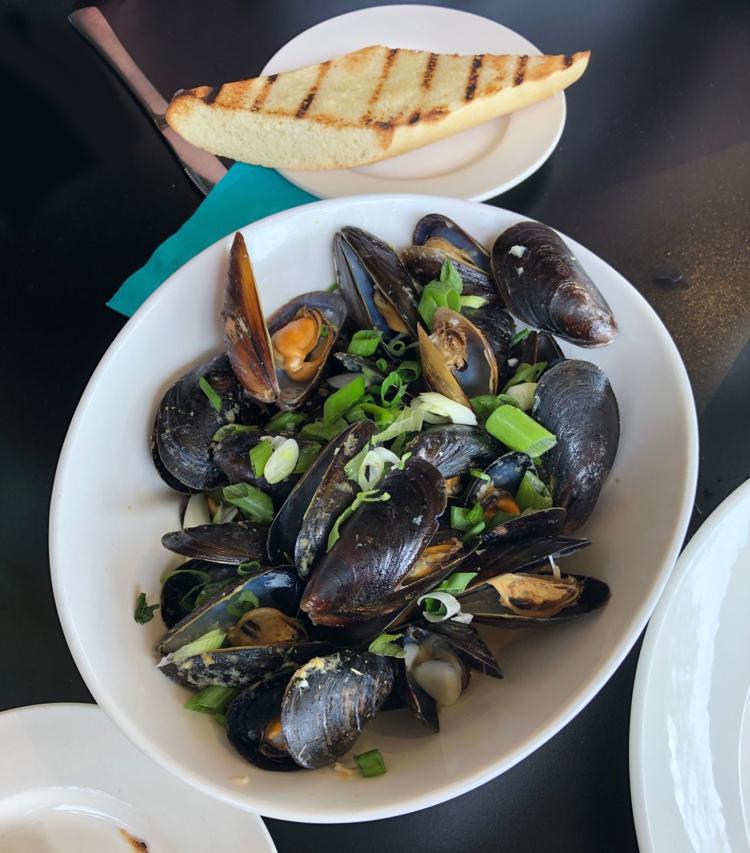 We started with mussels. We love them any way we order them, and Chiang Mai Mussels ($13) was the most exotic (to us) of the three styles on the Barley & Salt menu.
In this Thai-inspired version, the mussels were cooked in a fantastic sauce combining coconut milk, green curry and sake. It was sweet, aromatic, slightly spicy and even more slightly briny, and I found myself slurping the sauce after the mussels were gone. Garnished with chopped scallions and served with grilled crusty bread, this was an excellent starter.
Mrs. G stayed with the Asian theme, choosing the Spicy Thai Noodle Bowl ($16). The combination of grilled chicken breast, bok choy, green beans, yellow and green bell peppers tossed with long rice noodles was beautiful to look at, and Mrs. G loved the spicy, salty miso sauce. (When I swiped a sample, I didn't get any of the sauce so it all seemed rather bland. Too bad for me, Mrs. G said.)
I decided on the B&S Burger ($12), the only burger on the menu. I ordered it medium well, and it arrived perfectly cooked, slightly pink in the middle and still juicy.
The "B&S Secret Sauce" — maybe something in a chipotle mayonnaise — was a little smoky, a little spicy and the perfect complement to the char-broiled flavor of the burger, which was topped with American cheese, lettuce, tomato and onion.
Put it all together inside a great ciabatta roll, and it was a terrific burger.
The excellent food covers the "Salt" part of the restaurant's name, and the extensive beer list (30 craft varieties on the current online list, mostly from New England) covers the "Barley". Beers are offered in pints or in short pours for sampling. I tried a short Jack's Abby Blood Orange Wheat Radler (Framingham, Mass.), and liked its fruit-forward freshness so much I followed up with a pint. Great light choice for a summer afternoon.
We've been visiting Settler's Green for years, and the food offerings have steadily improved. With the addition of the stand-alone Barley & Salt, the complex has a cool new dining option that makes the complex worth the trip, even if you're not doing any outlet shopping.