BELMONT HALL is the kind of place where the waitress calls you "hon," and the coffee knows its rightful place between mellow and dark.
It's where your mug leaves a brown ring on ads for the local plumber and the neighborhood hardware store.
It's where you go for Our Gourmet's favorite comfort food: breakfast.
Like the Puritan Backroom, Belmont Hall has a long history. Since 1932, the building at the corner of Belmont and Grove streets has been home to a restaurant.
Belmont Hall is currently operated by Steve, Cathy, Alexa and Alex Kuliga and welcomes patrons from 6 a.m. to 2 p.m., seven days a week.
While it's best known for serving platters of bacon and eggs, French toast, pancakes and pan fries, the restaurant serves sandwiches, salads, burgers and other lunch fare, and it stays open until 8 pm. for dinner on Friday and Saturday. Belmont Hall also operates a 100-seat function hall and a catering business that offers dinner entrees and barbecue.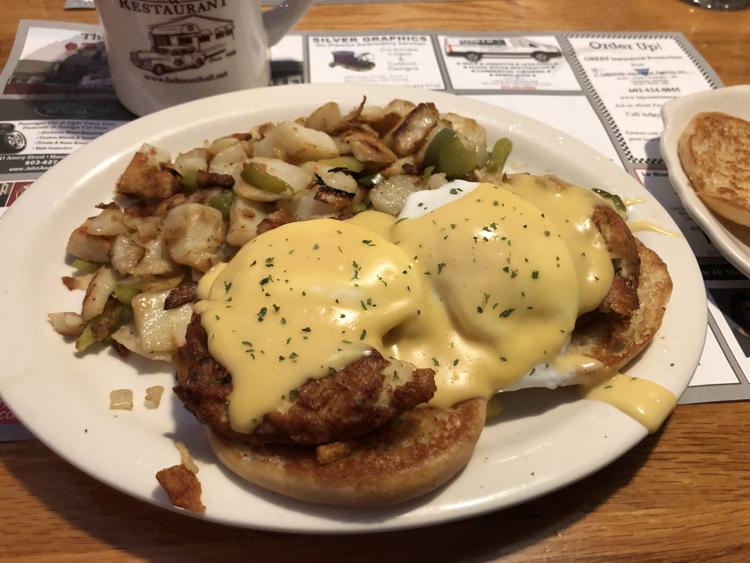 Belmont Hall prides itself on its lack of pretension: "You won't see any items on our menu that you can't pronounce." Its lunch and dinner menu includes local favorites like homemade baked beans, fried seafood platters and pork pie.
But we came here to talk about breakfast, which is available whenever the restaurant is open. On a recent Sunday, Our Gourmet and his Lovely Dining Companion arrived about an hour before the 2 p.m. close, which is the only reason we were able to snag a parking space in the restaurant lot tucked into this residential neighborhood.
We seated ourselves, as is the norm at Belmont Hall. We secured a booth in the main dining area, which was still mostly packed with couples and families. Our tardiness worked in our favor. Expect a wait on Saturday and Sunday mornings at peak times.
On this visit to Belmont Hall, I opted to skip my frequent go-to choice: The Ultimate Pan Fries ($8.99). Listed as the first item under "Customer Favorites" on the menu, this breakfast bonanza features grilled pan fries with sautéed onions, peppers, sausage and bacon, topped with melted cheddar cheese.
It's served in a small casserole dish alongside a couple of eggs and choice of toast, which for me means a grilled English muffin. Part of my strategy for ordering this dish is so that I can enjoy it again the next day. I usually carve off half of it and park it to the side to take home. Otherwise I might be inclined to finish it all, and there's a lot of it.
This time, I chose to go uptown, ordering one of the most expensive dishes on Belmont Hall's menu: Crab Cake Benedict ($10.99). The crab cakes were a bit on the bread-y side, but they were tasty, and the poached eggs and hollandaise sauce were prepared perfectly. The Ultimate Pan Fries may have met its match.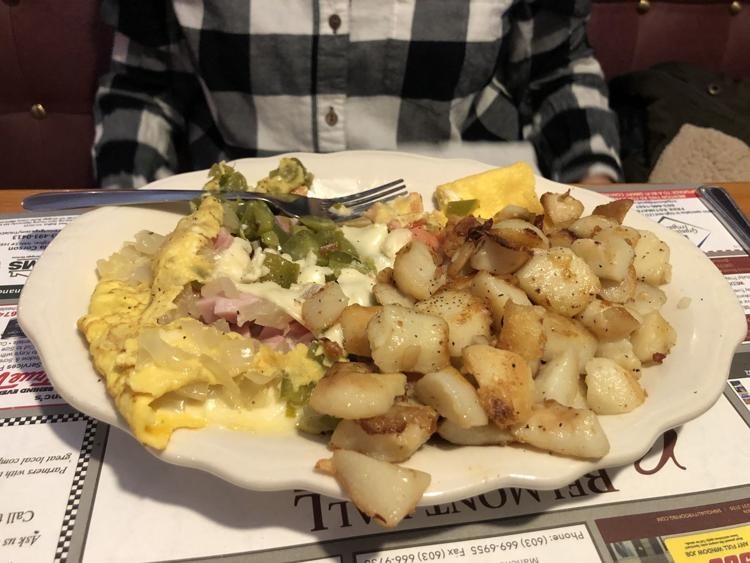 LDC ordered a ham and cheese omelet with onions, pepper and tomato. Belmont makes omelettes with three eggs, so this also is one of those dishes big enough to bring some home, depending on the size of your appetite.
We each ordered a mimosa and a grilled blueberry muffin to share. You can't visit Belmont Hall without sampling some of its home-baked pastries. Our choice is almost always a blueberry muffin split in half and grilled. And, of course, you have to butter that muffin down. This is not a place to be counting your calories.
During a previous visit, a staffer sold my brother and I on some chocolate eclairs that had just come out of the oven. She had noticed us gawking at a plate of them she was holding as she walked by to serve some other customers. Temptation usually wins here.
Belmont Hall's breakfast menu offers a wide selection of your basic breakfast fare at a good value. The priciest item on the menu is the 8-ounce Rib Eye Steak & 3 Eggs ($14.99), though the showstopper is Belmont's Big Breakfast: three eggs, three pancakes or French toast, three slices of bacon, three sausage links and baked ham. ($11.99).
I plan to try that one in a few months once I get my cholesterol levels checked. Maybe I can find an ad for a local doctor on the place mat.