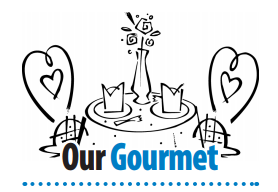 THE THREAT OF afternoon thunderstorms over the weekend, coupled with the fact that one of us isn't quite ready to resume indoor dining yet, had Mrs. Gourmet and me heading Sunday morning for brunch before the weather had a chance to turn bad.
After a little internet research, we settled on a place that several friends have recommended, but I had never tried — the Midfield Cafe at Nashua Airport. We had heard good things about the food, the portion sizes and the service, and online photos showed an impressive lineup of breakfast specials, so we decided to give it a shot.
Finding the place almost took the navigational skills of a pilot — and I already had a basic idea of where it was.
We parked at the far end of the lot near a tan and white hangar building. A yellow hangar just beyond has a Midfield banner hanging on it. A smaller sign on a fence directed us down a walkway between the hangars, then left along a fence past the exit stairway from the restaurant's second-floor deck, then left into the building, and through a space that houses an airplane rental and flight school operation on the first floor. Then we went through a door, up a flight of stairs and down a hallway, where we finally reached the door to the restaurant.
Inside, the cafe is a brightly lit room with big windows overlooking the airfield. Booths line the windows, and a counter with diner-style swivel stools is on the other side of the room. While there was no hostess stand, we were greeted by a passing waitress who told us yes, there were tables available on the deck outside. We headed out, found a table for two and hoisted the umbrella.
As it was pushing 11 a.m. and the weather was hot and sticky, we skipped the hot coffee and started with two large glasses of orange juice while we worked through the extensive menu, which had three pages of a tri-fold binder devoted to breakfast.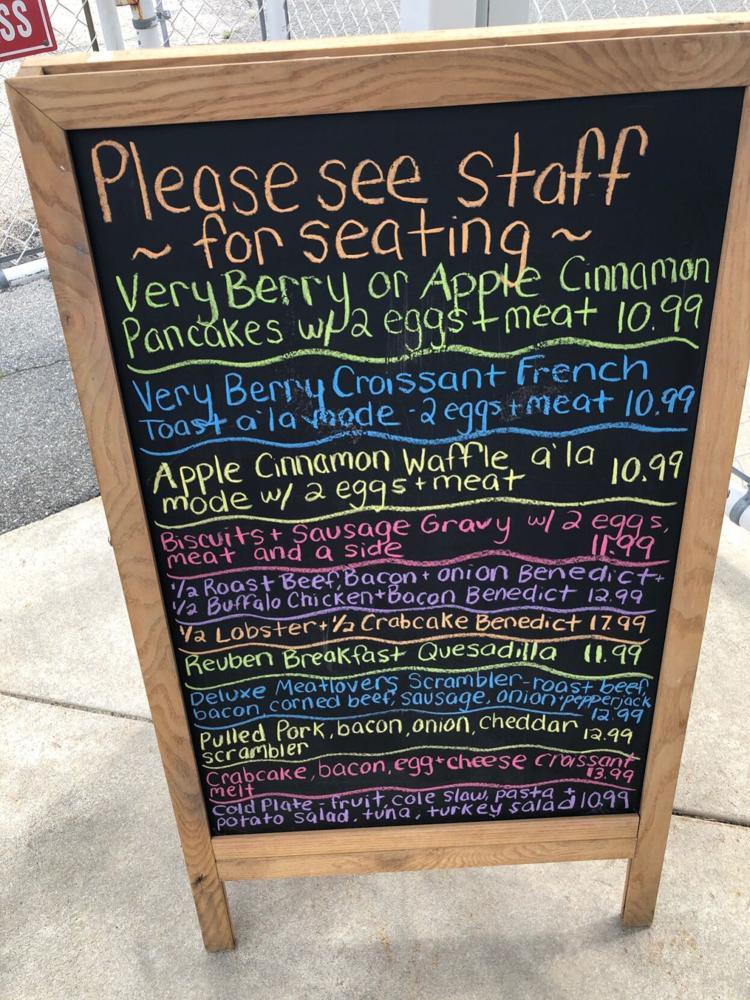 There's a full page of omelette concoctions, another of Benedict choices, along with your standard pancakes, waffles, meats and other breakfast items.
And as if that wasn't enough, we passed a big chalkboard on the way in that included a dozen or so specials. So while the Midfield doesn't do brunch in the formal sense, there's definitely a brunch feel to many of the breakfast dishes available.
We both decided to order from the specials board. Mrs. G went for the Reuben Breakfast Quesadilla ($11.99). As soon as it arrived, she said, "I'm never going to finish this."
Folded inside a large flour tortilla were all the ingredients for a Reuben sandwich: corned beef (in big cubes), Swiss cheese, thousand island dressing and sauerkraut. Plus scrambled eggs.
Mrs. G loves to mock me (lovingly, of course) on those rare occasions when I'm disappointed that a dish turns out to be exactly as described, rather than how I imagined.
At last, the shoe was on the other foot. While the Reuben parts all melded well, she thought the addition of scrambled eggs and the flour tortilla (and the absence of rye bread) made the dish milder than she imagined it would be.
The presence of crab and lobster in several of the dishes on the menu and the specials board caught my eye, so I went with the Crabcake, Bacon, Egg and Cheese Croissant ($13.99). All of those ingredients were on one side of a large, split croissant, with the cheese melted on the top.
This was a big, tasty and satisfying dish. There was so much going on, that I was several bites in before I really noticed the crab cake, which was thin but very tasty with just a hint of spice that stood up well to the rest of the ingredients.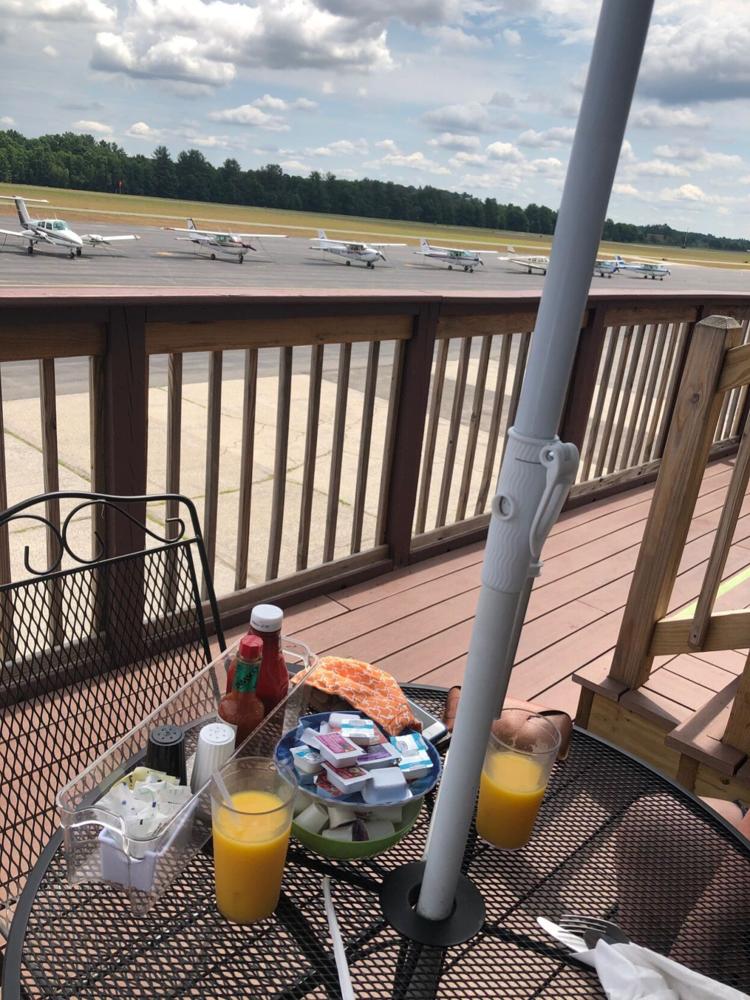 I would absolutely order this one again, but with dishes like a combo roast beef & bacon/buffalo chicken & bacon benedict, or a pulled pork, bacon and onion scrambler, or a lobster and crabcake benedict, it would be a while before I get around to repeating an order.
One note: The specials come with a side, but as first-timers, we didn't realize that the sides are listed in the menu. Sandy the manager stopped by to check on us and noticed that we didn't have any sides — not that we needed any. "How about some fruit?" she offered helpfully, and I accepted.
Midfield is far from fancy — it's really a coffee shop/diner — but just as I had heard from my friends (one of whom happened to be having breakfast with other friends when we arrived), the food is imaginative and plentiful, the staff is friendly and helpful.
A bonus, at least if you're an airplane buff, is the view from the second-floor windows or deck of the activity at New Hampshire's busiest airport.