Having lived in Louisiana, Our Gourmet has a fondness for Creole cooking, so a visit to a new place with New Orleans flavors seemed in order.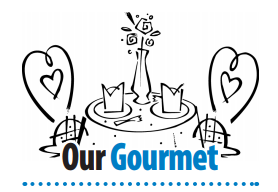 Chris Caddy opened Savannah Kitchen just over a year ago on Main Street in Newmarket, and on his website says the "comfort food restaurant" is influenced by Southern, New Orleans, Cajun and Creole cuisines.
It offers happy hour every day, with appetizer and drink discounts, so OG and the Primary Dining Companion (PDC) decided to take advantage of the 4-6 p.m. specials.
Located in the Newmarket Mills complex, Savannah Kitchen makes the most of its beamed high ceilings with bright wall colors, playful lighting and an impressive bar, which runs nearly the length of the place.
We opted for a table for two next to a window, and started with a couple of lagers.
The appetizer menu is robust, ranging from pork belly to cauliflower to shrimp and oysters. The buck-a-shuck Wellfleets were tempting, as was the steak tartare, but OG decided to try Grilled Oysters Nawlins Style ($14).
Oyster stew was a Christmas morning staple of OG's childhood, as were fried oysters. But roasted oysters had never passed our lips. These were, quite simply, awesome.
"It takes oysters in a whole new direction," PDC said.
Served on the half-shell, the bivalves tasted of smoked bacon, butter, lemon and hot sauce. They were served atop small pillars of salt, which OG mistook for sticky rice until taking a (fortunately) tiny bite.
Because we rarely meet a squid we don't like, our next choice was the Suckers ($14). The fried calamari was cornmeal crusted and presented with pickled okra (tasty!) and creole citrus remoulade. A marinade of Louisiana Crystal hot sauce provided a background note of heat.
The much more famous Tabasco sauce also hails from Louisiana, and a road trip that OG and PDC took to its place of origin on Avery Island was fondly recalled as we ate.
This led to an agreement to re-visit other happy memories, so we ordered a bowl of the Gumbo Ya-Ya ($11).
The depth of flavor created by the andouille sausage, chicken thighs, dark roux, garlic, chilies and okra in roasted chicken stock led OG to declare, "it's got pot likker."
Our friendly and helpful server interpreted that as "pot licker," but OG explained it refers to the liquid left in a pot after cooking something, usually greens or beans.
Speaking of greens. The greens (arugula) served with PDC's entree of fried chicken were perfectly sauteed in olive oil and enlivened with garlic and lemon. PDC chose dirty rice instead of grits to go along with the three boneless chicken thighs (a special that night, $18).
"The rice has the Cajun vibe down," PDC said, digging in and savoring the smoked ham bits in the basmati rice.
The chicken thighs, tender and crisp, were served alongside the restaurant's Nawlins' red gravy, a combination of roasted tomatoes, garlic and Creole spices.
The gravy was good, but next time we'd order it with the gravy on the side. The delicate cornmeal breading on the chicken was a bit overwhelmed by the rich red sauce.
OG chose the Crispy Fried Catfish Sandwich ($15) and was impressed by the filet's flavor. It came with fries, and a choice of truffle parm or Cajun Old Bay fries for a $2 upcharge.
The server's favorite was the truffle parm, and that would have been a better choice than the Cajun version, which was heavily seasoned — a little like eating Doritos. Still, OG is a trouper, and managed to consume a fair number.
"Bons temps rouler" is how they say it in Louisiana, and Savannah Kitchen knows how to let the good times roll.