IT'S BEEN YEARS since we've driven Route 111 between Salem and Kingston, and I'm pretty sure there was no Jamison's in Hampstead's Village Square plaza the last time we were out that way. If there had been, we would have discovered it long before now, and we would have been back several times.
Jamison's is a big presence in the plaza, which is dominated by office storefronts and small retailers.
Inside, there's a big bar area (40 beers on tap, we were told) and a large, much quieter dining room. This being the era of COVID, there's also a huge tent in the parking lot for "outdoor" dining (though with the sides down, it stays around 70 degrees inside, we were told).
We made a reservation, as recommended on the website, but we ended up being the first party seated in the dining room for an early Saturday dinner.
The dining room is full of contrasts. It's a big, new barnlike space with open framing leading up to the roof. Other details reinforce the barn feel as well. But then there are the long, rectangular electric fireplaces built into the outside walls, the high-back velvet chairs, and most striking of all, huge doughnut-shaped LED chandeliers and matching sconces that light the space.
Jamison's menu truly has something for everyone, including vegetarian and gluten-free items. At heart it's about from-scratch American fare, whether you're looking for salads and sandwiches or pizza or high-end steak and seafood.
It was a cold October afternoon, so as soon as we looked at the menu we decided to start with soups ($6). I chose the seasonal soup, which was roast chicken and potato. It was a nice, simple concoction with plenty of chicken and potatoes, along with carrots, celery and, interesting twist, a couple of pieces of sun-dried tomato.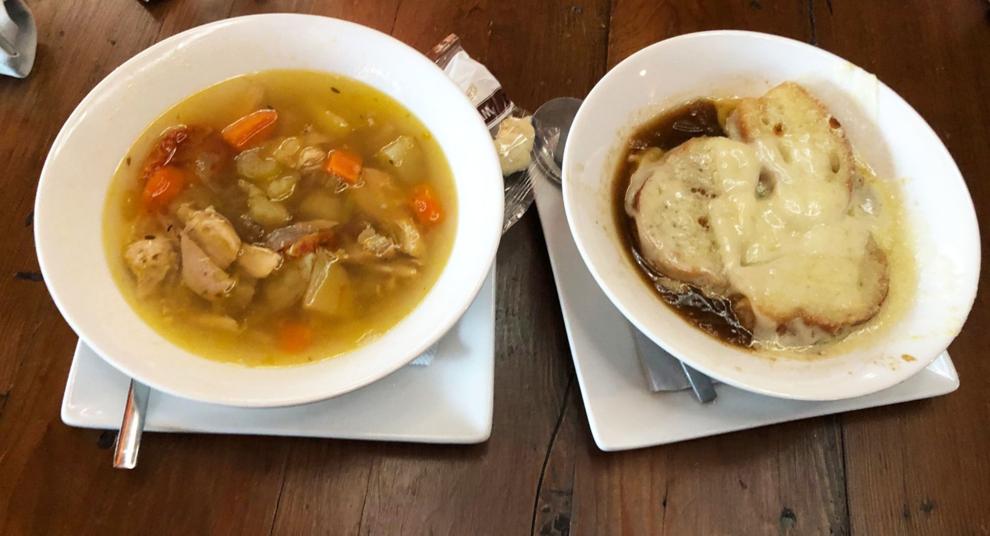 Mrs. G chose an old favorite she hasn't had in a while: French onion soup. This version was a bit unusual, served not in a crock but in a standard soup bowl. The crostini, which is usually at the bottom, was sitting on top of a generous pile of stewed onions in a sherry broth, with Swiss cheese melted over the top. Mrs. G loved it, catching a hint of the sherry in the broth, which was in short supply compared to the onions.
We rarely see duck on a menu in our travels, but when we do, one of us jumps at the chance to order it. This time it was my turn, so I chose the Maple Leaf Farm Duck Breast ($26), which turned out to be a spectacular fall dish.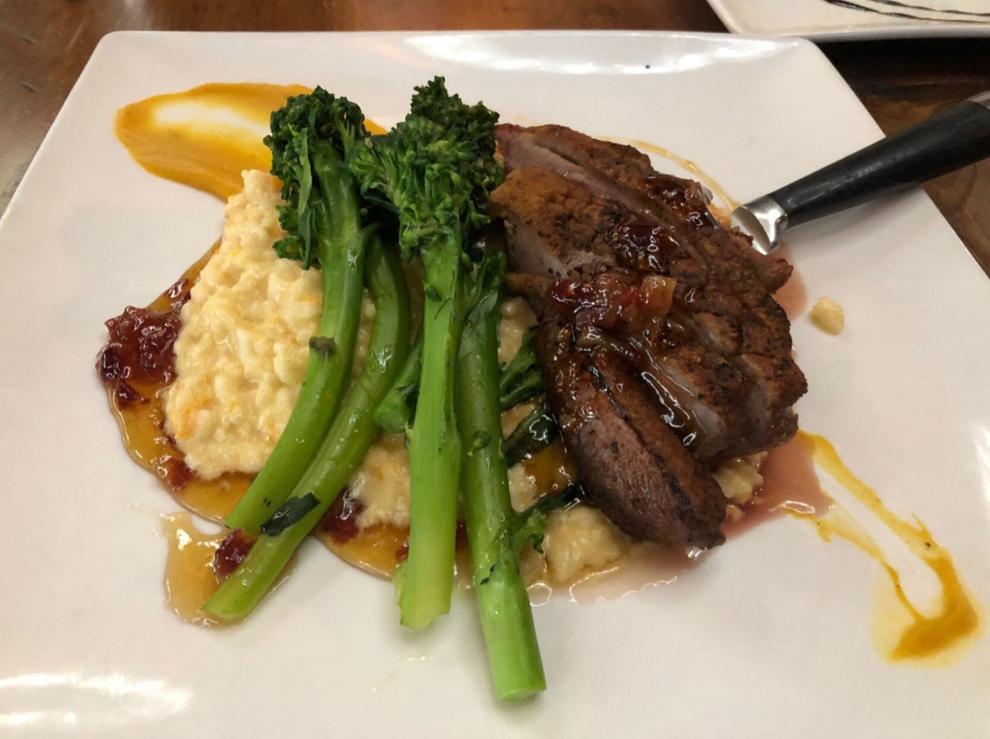 The duck was roasted to slightly pink in the center, with a crisp, savory skin that made me think it could have been bacon. The breast was sliced and served with broccolini atop a bed of "autumn squash" risotto. The risotto, cooked al dente, was slightly sweet, as one would expect of butternut or another fall squash, chunks of which were mixed into the rice.
The plate itself was adorned with a smear of squash puree and a drizzle of bacon agro dolce, an Italian version of sweet and sour sauce — this one mostly sweet, with a bit of smokiness from the bacon. In fact, the duck skin and bacon were key players in this dish, providing a needed contrast to the sweetness of most of the other ingredients.
Mrs. G ordered Blackened Salmon ($24), a filet of salmon cooked perfectly flaky, coated in cajun spices that were seared to a black, crispy crust. The fish rested on a bed of fluffy rice that was topped with broccolini. The salmon was then topped with corn esquites — a delicious, off-the cob version of Mexican street corn, with roasted kernels mixed with cotija cheese.
With the whole assembly surrounded by a swirl of butternut squash puree, it was a beautiful, colorful and creative dish. And it was plentiful; Mrs. G brought about half of it home to enjoy for lunch the next day.
Our server, Lisa, was friendly and professional, happy to answer questions about the menu and fill us in on the history of the place. The value factor is good: While the prices are on the high side, the food is excellent and the servings are plentiful. Our tab for two came to about $75.
We may have been the first party in the dining room, but the bar was hopping. We can imagine that Jamison's must be a go-to spot in the area, whether you're looking for pizza and a beer while watching a game or a quiet special dinner.