THERE WAS A TOUCH of deja vu when Mrs. Gourmet and I pulled up to Cooper's Hill Public House in Peterborough. We had dined at the old downtown theater building before — in 2012.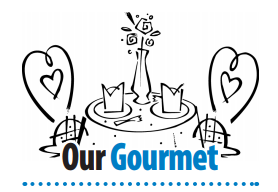 Back then, it was called Marzano's Trattoria, and served food with an Italian accent. But Cooper's Hill Public House is inspired by an estate-turned-bed & breakfast in Ireland that has a special place in the hearts of the Peterborough restaurant's owners. Pub fare and whiskeys are the specialties now.
The restaurant is one open room, with a variety of two- and four-top tables to the left and a full-length bar to the right. It's fairly modern, yet there's a feeling of cozy warmth, emanating mainly from the bar, where more than 170 whiskeys share top billing with the food.
Aside from nostalgic curiosity, it was the menu that convinced us to visit. There are several intriguing old-country pub touches, like fish and chips, bangers and mash, and lots of lamb. There are some modern touches as well, including great salads and vegetarian choices, and an emphasis on local sourcing.
Mrs. G decided to start with Devils on Horseback ($10). The name of this traditional Brit bite alone might have been enough to make us try it, but the description sold us: Dates stuffed with blue cheese and wrapped in bacon.
We expected a little more out of these little nuggets than we got. We liked the smokiness of the bacon, but we were expecting a little more saltiness. We got soft, sweet chewiness from the dates, but we were expecting more zing from the blue cheese. I thought they were pretty good; Mrs. G was disappointed.
My appetizer choice led to the first of several awkward moments for our waiter, Ed. The soup of the day was a mushroom bacon concoction that I was all in to try. I ordered a cup ($4). A few minutes later, Ed came back to report that they were down to one bowl-size serving ($8) left, which they could not divide. OK, I said, I'll take the bowl.
Minutes later, Ed was back, apologizing again, to say that, well, someone had beaten us to that last serving of soup. Being an agreeable sort, I said no problem, just give me a cup of the house potato chowder ($5).
They still had that, and the ramekin-style dish came filled with chunks of potatoes in a milky broth. It was warming and mild and tasty, in a potatoey way, but I thought it could have used a bit more salt — ideally, in the form of some crumbled bacon or salt pork.
We went old-country with our entrees. Mrs. G ordered the Shepherd's Pie ($14), which featured ground lamb, peas, carrots, onion and perhaps some squash under a blanket of mashed potatoes. Seasoning was light, but the lamb and veggies provided plenty of flavor. Everything was tender and fairly moist, but we were surprised by the lack of any sauce or gravy to tie things together under the potato top.
My Fall Vegetable Curry ($12) was an amalgamation of carrots, potatoes, squashes, maybe some rutabaga, and dates in a delicious curry and oat milk sauce. I added shredded lamb ($6) to round out the dish. The curry is offered with two levels of heat. I chose the mild, which had enough of a kick for me to notice; I would have regretted choosing the Sriracha-fueled "spicy" version. It was a great dish, though I thought the veggies, which were cut in small cubes, were just a little too crunchy.
We boxed up half of my curry and about a quarter of the shepherd's pie, which left us with room for dessert. Mrs. G ordered Pecan Bread Pudding ($7), which was a delicious concoction with a surprising presentation; it almost seemed like the bread pudding served as a bowl for a pool of additional custard. It was very good.
After I placed my dessert order, Ed the waiter came back for a third time to tell us something that we had ordered was no longer available. "You're not going to believe this," he said sheepishly, "or by now you probably will." We thought it was pretty funny. And since the sold-out items weren't crucial, we weren't terribly disappointed.
But clearly there was a communication problem between the kitchen and the front of the house on what was not a particularly busy evening. And that was unfortunate, since it detracted from an otherwise pleasant dining experience with good food, a comfortable environment and great prices.