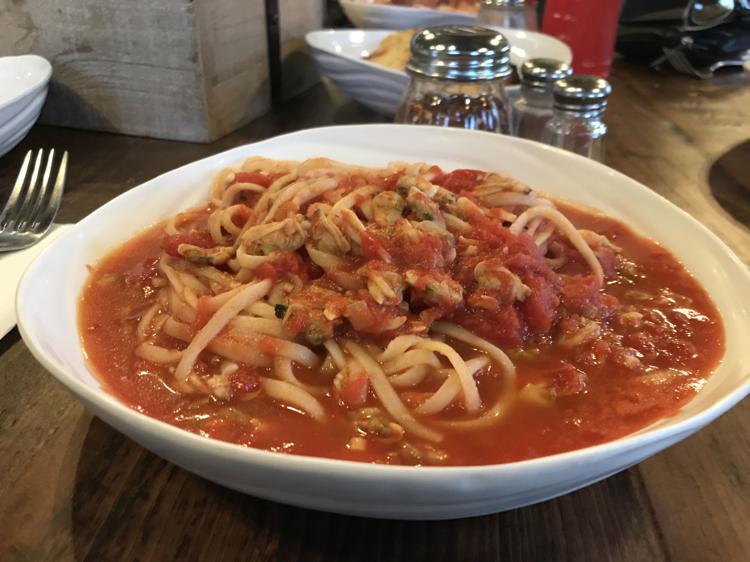 We first learned of Table 8 Pasta in Bedford from a few Facebook entries posted by parents of the Fussbudget's classmates, who had touted a family-friendly atmosphere and good, fresh pasta. Given the 9-year-old's penchant for spaghetti and meatballs, Our Gourmet (OG) and the Dining Companion (DC) had an idea it'd be a hit with the Fussbudget (FB). It was.
Located on Wallace Road near the Rite Aid, on a hill overlooking the major Route 101 widening, Table 8 was inviting from the outside when we arrived one recent weekend night, chosen to avoid construction and rush-hour traffic on the busy road below. The door was propped open as we disembarked from the car, and the air was filled with the delicious smell of garlic, even from across the parking lot.
Inside, Table 8 is "fast casual," a trend that seems to be growing in which you order at a counter, find your own silverware and bus your own table. We're not especially fans of the trend, preferring tableside service if we're out for a substantial meal, but Table 8 makes it work. Friendly staff greeted us as we walked in, knowledgeably explained the ordering and cooking process, and brought out our order with a smile when it was ready.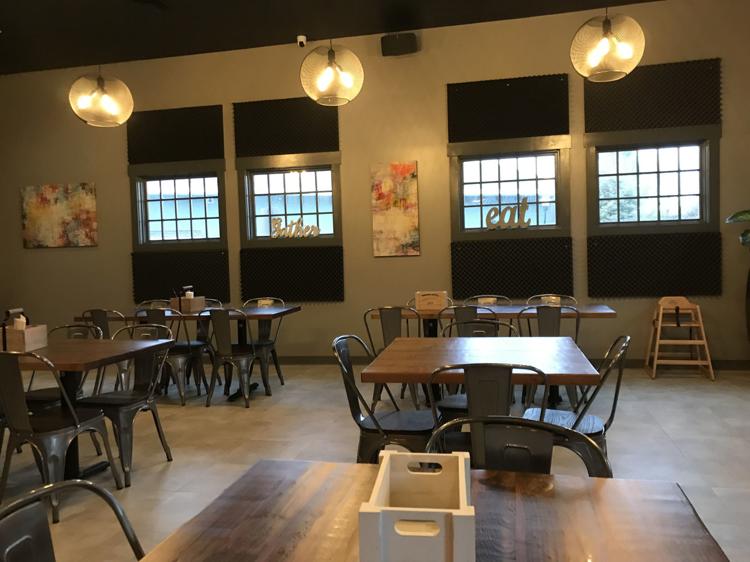 The room feels a tad stark, with open kitchen and pasta-making area to the left, drinks, utensils and a TV on the far wall, and tables to the right. Décor is a soothing gray and metal, with gray acoustic pads on the wall to dampen sound, especially on weekend nights when there might be entertainment. The boy noticed that despite the Table 8 name, there was only one table for eight, and only seven tables.
Opened last year by owner Mitch DeBonville, Table 8 offers pasta in various shapes made fresh daily right on the premises, as well as traditional and specialty sauces made of locally sourced ingredients and customizable with various additions. We were told at the counter the restaurant has no fryer and no freezer … everything is fresh. Table 8 also offers everything to go, as well as "family-style" larger servings and even catering.
And it's good. Very good.
The DC ordered first, opening with a Caesar side salad ($4.50) and choosing gemelli pasta from the list of eight, topped with a simple butter/oil sauce ($9.25). From the list of other ingredients available, she chose mushrooms, asparagus, capers and Parmesan (each an additional 50 cents), making her meal her own vegan variation on piccata, and a bargain to boot.
The salad was a nice size for an appetizer, filled with crisp lettuce and loaded with crunchy croutons. The dressing was quite tasty, although OG, had he ordered the same, would have preferred more on his salad. It wasn't a drawback for the DC.
After we'd sat down, we were told they were out of the gemelli, forcing the DC to change to a traditional spaghetti, which is not a favorite of hers.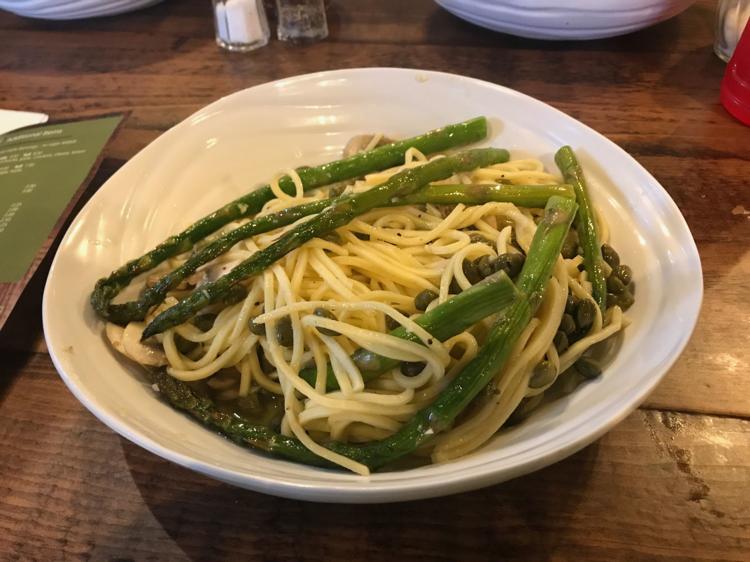 Cooked perfectly al dente, however, the spaghetti was delicious, picking up all sorts of salty goodness from the capers and livened by the lightly sautéed asparagus.
She mentioned she would prefer a thinner pasta (she likes angel hair), and next time would ask for double additions of the mushrooms and capers, but her plate was empty before we left.
The FB was definitive in what he wanted, ordering an adult portion of rigatoni with TWO meatballs and the marinara sauce ($9.75 for the pasta and sauce and an additional $3 for the meatballs), and a side of garlic bread ($2). Heaven for a kid.
Again the pasta was perfectly cooked, and the sauce was fresh and bright and just mildly spiced to give him some flavor without being overwhelming.
As for the meatballs, he declared them the best he has ever had while eating out. That's some high praise. He also loved the garlic bread — the crusty bread split in half, loaded with garlic and butter, then run under the broiler to just toasted and crisp. Delicious.
OG's eyes opened when he saw clam sauce on the menu, a favorite that we don't get too often. We put it atop linguine, of course ($10.75). It was a wonderful decision. The tangle of linguine had a nice chew, but the sauce made this meal, a marinara base loaded to the gills with finely minced, tender bits of clam spread all throughout.
Our only mistake, and rectified quickly, was not ordering more garlic bread to sop up the remnants when our pasta was finished. When we went to order more, it was given to us on the house, a really nice bit of service you don't see often anymore.
We were stuffed and well satisfied by the time we rose from our table, our only wish being that Table 8 was closer to home and that we had ordered enough to have leftovers to enjoy.