YOU CAN LEARN a lot from watching TV. You can also get some inspiration.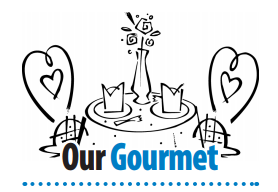 This is twice now that Guy Fieri's "Diners Drive-Ins and Dives" put a dining idea in our heads. This time, the bleached-blond, wisecracking host featured a chef who was preparing some great-looking Vietnamese food.
We don't know much about Vietnamese cuisine (OK, we don't really know anything about it) but watching that episode inspired us to go out the next evening and find out what we've been missing.
We saw high marks online for Pho Tai Loc in downtown Nashua, so we decided to check it out.
Pho Tai Loc is in Nashua's Railroad Square, just off Main Street near Library Hill. It's housed in a big old hotel building that's now home to a number of businesses on the lower floors and inexpensive apartments on the upper. The restaurant is on the first floor, but it's up a half-flight of stairs from the front parking area.
First impressions weren't especially impressive. It's a curious, high-ceilinged space, with what's called a game room to the left, the bar to the right and the dining room beyond that. There weren't many games (or gamers) in the game room. The bar is fairly dark and the dining area is pretty sparse, with simple furniture, bright lighting and minimal decoration.
We studied the menu online before leaving home, but we decided, since we were newbies, that we would ask our server for recommendations before ordering. That didn't really work so well, since there was a bit of a language barrier. So we ended up winging it, with mixed results.
The menu is divided into four main groups: appetizers, pho, rice plates and vermicelli bowls, with a separate section of beverages. The menu lists each item's Vietnamese name and its English translation, along with a very brief description.
We started with Cha Gio (Fresh Egg Roll, $6). Five stubby cigar-sized eggrolls were fried to a gentle crunch, filled with a finely minced combination of vegetables and served with a sweet red pepper dipping sauce. There seemed to be as much wrapper as filling, and the lettuce and mint leaves mentioned on the menu were nowhere to be seen.
Cai Xao Thap Cam Tom (Mixed Vegetables Stir Fried with Shrimp, $10.95) from the Rice Plates section was a very tasty stir-fry of broccoli, peppers, carrots onions and greens with relatively small shrimp tossed in a soy-based sauce. A mound of rice accompanied the stir fry on the plate, to mix with the veggies and shrimp as desired.
We also ordered Pho Tai Bo Vien (Beef Balls Noodle Soup, $10.95). We chose this one from the 12 pho options. not because the English translation made my inner third-grader laugh, but because it was the same as a dish that had been featured on TV the night before.
Our first adventure with pho left us with mixed reactions.
The broth, loaded with slices of eye-round steak, balls of finely ground, densely packed beef, and noodles, was heavily spiced with a mix of star anise, cardamom, clove and more. Scallions, sliced onions and cilantro infused the broth with more flavor. Mrs. G loved the broth but didn't like the meatballs, and I thought the broth needed more beef flavor.
We will have to try again to decide whether we're fans of pho.
We ordered one more dish, and though we took it to go, it turned out to be our favorite of the night: Bun Bo Xao Cu Hanh (Stir Fry Beef & Onion Vermicelli, $10.95). Here was the beefy flavor I was wishing for in the pho. In its takeout box, this dish featured big slices of beef, equally sized pieces of onion, stir fried with peppers and other vegetables in a spicy brown sauce on top of vermicelli and shredded lettuce.
Presentation would have been better had we ordered it with our dinner, but it was a hit that we couldn't wait until the next day to dig into when we got home.
Value factor at Pho Tai Loc is excellent, with nothing on the menu over $12. And though we are inexperienced in the cuisine, the number of Vietnamese people dining there during our visit suggests that the food is authentic and good.