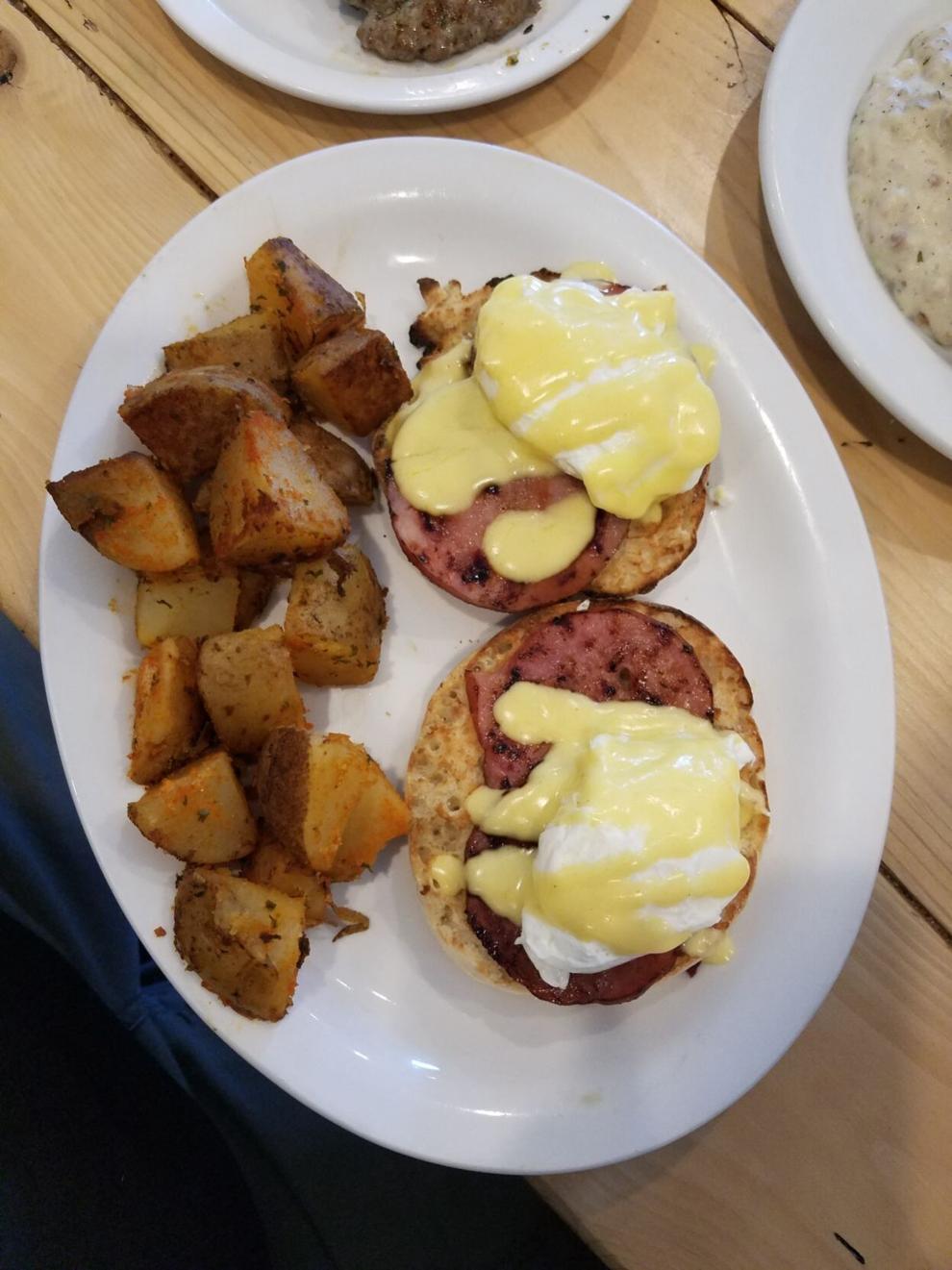 THERE'S NO BETTER test of a new breakfast place than a roomful of ravenous dads and grandfathers with families in tow on Father's Day.
Ginger & Clove Cafe in Hampton, which opened last month, passed the hungry man exam with ease.
Our Gourmet had to work that afternoon, or would have definitely started with a Cold Brew Martini or Pineapple Upside Down Mimosa. A rotation of local beers is served from the restaurant's taps. Quite a few dads (and moms) were imbibing the cafe's selection of brunch drinks, and the atmosphere was celebratory, with every table taken.
OG and the Primary Dining Companion (PDC) made do with the full carafe of iced water delivered to our table by an extremely personable server. Despite the crowd, she appeared unruffled as she answered our questions about biscuits, grits, the artisanal sausage and how much hollandaise was served with the eggs Benedict.
The restaurant, run by sisters Cassy Vazquez and Angelica Spinelli, is on Route 1, but the soothing ocean blue tones of the decor lend a beach-like feeling to the light-filled space. There was plenty of parking, not something you're likely to find on a summer Sunday at the beach.
OG had studied the menu in advance, and had been impressed by its variety of breakfast/lunch offerings.
The Cajun Omelet ($12.99) with Cajun sausage, onions, peppers, pepper jack cheese and spicy hollandaise sauce was tempting, as was the Praline French Toast ($11.99) and the Monte Cristo sandwich ($12.99) with French toast, turkey, ham, Swiss, cheddar and raspberry jam, served with fries.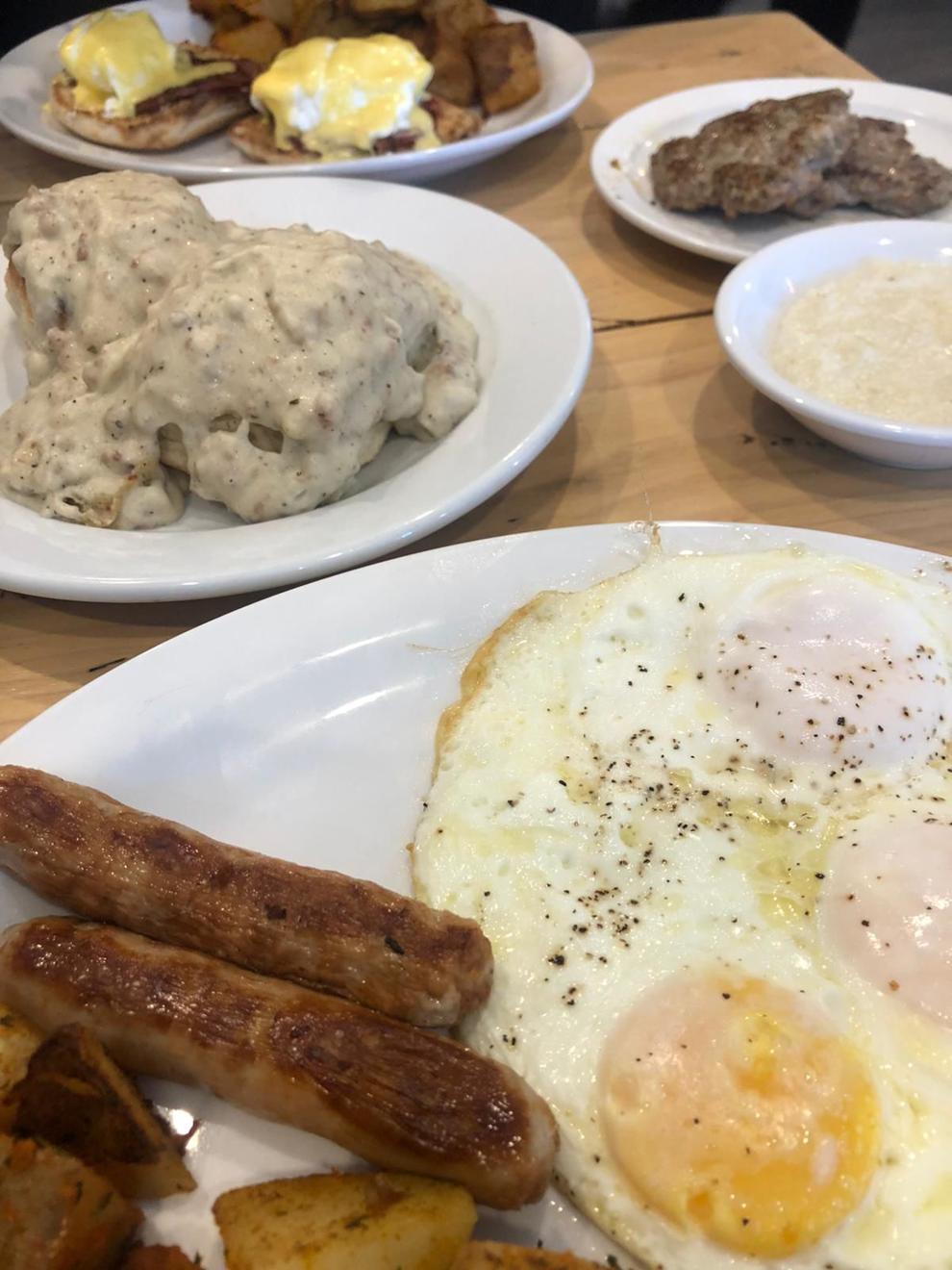 But it was the Southern Breakfast ($13.99) that settled the matter.
OG is always on the lookout for sausage gravy and biscuits and that pairing with three eggs (easy over for OG), bacon, sausage, potatoes AND grits made it a slam dunk. The non-sausage-gravy lovers of the world have the choice of pancakes instead.
The PDC is an Eggs Benny guy, and opted for the classic ($11.99), though there were four other great choices (the Irish Benny with corned beef hash caught OG's eye).
"I like it swimming in hollandaise," he told the server, who assured him if there wasn't enough h ollandaise she would bring more.
Our food arrived in a timely fashion, especially considering how packed the place was (the servers were excellent with line management — frequently checking on those in the vestibule to let them know how soon they could expect to be seated).
The Southern Breakfast was so big that it took up much of our table for two, but OG was not embarrassed in the least — such sacrifices are all in the line of duty and done for your benefit, dear readers.
The grits were light, perfectly salted and buttery. They quickly made their way onto the main plate to be enhanced with bits of sausage links and a crumble of bacon.
The sausage gravy on a split biscuit came on its own plate, and soon was sidled up next to the easy-over eggs. OG grew up with sausage and old-fashioned "milk gravy," but definitely prefers the thicker version served in New England.
The biscuit was fluffy and flavorful, holding up well to the savory meat in creamy gravy.
The PDC's Benny was anchored by mini ham steaks hot from the griddle. PDC also ordered a side of sausage (two large patties, $3.99) and was pleased by its farm-to-table flavor.
The hollandaise met his exacting standards, though he would have liked a little more. But he was distracted by sausage gravy and biscuits and never got around to asking.
The sole disappointment was the potatoes, which were too large and not crispy enough to qualify as home fries. We took them home and sauteed them to our satisfaction for breakfast the next day, served alongside half the sausage gravy and biscuits.
The cafe would be worth a lunch trip — hash bowls, salads, burgers and melts, club sandwiches, a classic Rueben and chicken and waffles are a few of the offerings.
Many of the diners appeared to be headed to Hampton Beach, and the idea of fueling up at Ginger and Clove Cafe on the way to a day of sun and fun seems like a good one.