I HAD DINNER with the hip crowd the other night.
Mrs. Gourmet and I had driven by the relatively new (about nine months) Stones Social in Nashua a number of times, and since we had eaten at its two predecessors in the Amherst Street space — Crush Pizza and Pig Tale — we were interested in checking it out.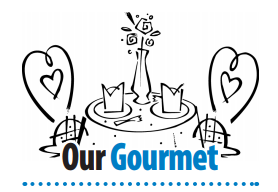 When we looked it up online, we thought the menu sounded interesting and it seemed like a pretty cool place. But we pulled up short when we saw the restaurant's slogan:
"Deliciously Quick, A Bit More Hip."
Much as we hate to admit it, Mrs. G and I no longer qualify as hip. In fact, some people might question whether we ever did. So we decided to forget about Stones Social.
Enter our son and his girlfriend, whom we had been visiting with earlier in the day. "Hey," I said. "You guys are hip. Want to come to dinner?"
Mrs. G had someplace else to be that night, so it was just three of us — cool couple and Dad — for dinner at Stones Social on a Saturday night.
When we walked in, the air seemed a bit smoky — the wood-fired brick oven that's been there through all three iterations was in full flame.
The layout is pretty much the same as it was in the Pig Tale days: tables backing up to the windows, long high-tops for four down the middle of the room, a few seats at the bar. Funky wire baskets and cages serve as lampshades for the pendant lights that hang from the ceiling.
Stones Social is set up for fast-casual type service: You order at the register, and your food and drink are delivered to your table. So we grabbed menus from the counter and sat down at one of the high tops to strategize.
The first page of the menu is taken up with creative cocktails as well as beers ranging from Boom Sauce to Pabst Blue Ribbon. We ordered two beers and a Marge and Rita margarita ($12) and a couple of "Jar Snacks" to munch on for a while.
The BBQ Chips ($5) were homemade, freshly cooked potato chips, fried to a dark brown and served spilling out of a large Mason jar onto a tray. Some were crispy, some were a bit more tender. They were good, but they were a bit too salty — the cool kids mentioned it first, and started wiping the extra salt off each chip before eating.
The House Pickles ($6) were a much bigger hit: A smaller Mason jar was stuffed with a variety of pickled vegetables — cauliflower, green beans, carrots, peppers and a dill pickle spear. Some were tart, some were sweet, and all were bright and crunchy and mouth-watering.
The menu isn't very long, but there's a variety of dishes, ranging from salads to sandwiches, skillet dishes cooked in the big oven and comfort-food entrees, with plenty of vegetarian and gluten-free options.
There were several dishes that appealed to The Girlfriend, who is an avowed vegetarian. She considered the Shawarma Beets and the Mac & Cheese before finally deciding on the Faux French Dip ($12).
Her summary: "The mushrooms, which served as the vegan replacement for what would traditionally be roast beef (or pork in the Stones Social version), were extremely flavorful and tender. With some sprouts, avocado and some sort of chipotle aioli drizzled on top, the sandwich was fantastic on its own but when dipped into the side of pho broth that comes with it, is taken to another level.
"For any vegetarians or vegans looking to satisfy a savory craving for a French dip, this faux version is more than satisfying. Highly recommend!"
My son, whom longtime readers of this column might remember as the Teenage Bottomless Pit, was afraid he had ordered up to his old big-eating reputation when he got a look at his entree choice, the half-bucket of Southern (NH) Fried Chicken ($15).
The chicken (mostly legs, thighs and wings from what I saw) was piled high in a galvanized pail. Seeing the shocked expression on his face, our server quickly reassured him that the chicken was propped up on top of some staging material, so the bucket wasn't really filled.
Thus reassured, he made quick work of the chicken, enjoying it with little cups of blue cheese, Buffalo and sweet barbecue (his favorite) dipping sauces.
I went with the Vegetable Fried Rice ($12), adding the BBQ Short Rib option (for an additional $6). This was a luscious bowl of rice, thoroughly dotted with edamame, chopped scallions and peppers, tossed with egg and a light, savory/sweet soy-based sauce. The shredded beef short rib, served in a mound atop the rice, was moist and tender with just a hint of smoky barbecue flavor. All in all, this was one of the best fried rice dishes I've ever had — and there was enough that I could bring some home for Mrs. G to sample.
We wrapped everything up with an excellent individual-sized peanut butter and M&M tart, which we split more or less evenly for a spoonful each — a fun way to end a great meal.
We enjoyed everything about Stones Social. The food was excellent, the service was friendly and helpful, the ambience was funky and fun, and the value factor was high.
There's a heart behind Stones Social as well: The company donates part of the proceeds from its Hearts on Fire cocktail to the Nashua Children's Home, and they add a 7.5% "Angel's Share" to each tab that goes into a pool split by employees in the front and the back of the house. We didn't notice that on the menu before we checked out, but in this day and age, it wouldn't have reduced the amount of our tip anyway — and we hope it wouldn't change yours.
As it turned out, I was not the only post-hip customer this Saturday night, and nothing about the place would keep me from heading back to Stones Social with Mrs. G — even without the cool kids in tow.