LORENA'S CANTINA brings a homespun yet modern take on Mexican cuisine to downtown Manchester.
About two years ago, Lorena's took over the space formerly occupied by N'awlins Grille. The family-run business is led by Lorena and Enrique Moreno, with help from their children Christian and Enrique Jr., according to the restaurant's website. That family vibe is evident from the sense of pride conveyed when the wait staff talks about the freshness of the food and the restaurant's history.
Our Gourmet and his Lovely Dining Companion decided to visit Lorena's Cantina early on a weekend night when the restaurant was moderately busy. We were immediately brought a complimentary bowl of house-made tortilla chips paired with fresh salsa that had just the right amount of heat.
Despite promising himself he would not wreck his appetite on the chips. OG, with a little help from LDC, emptied both the bowl and the salsa in record time. They went down fine with the Black Diamond margarita — we opted for the best of the house ($18).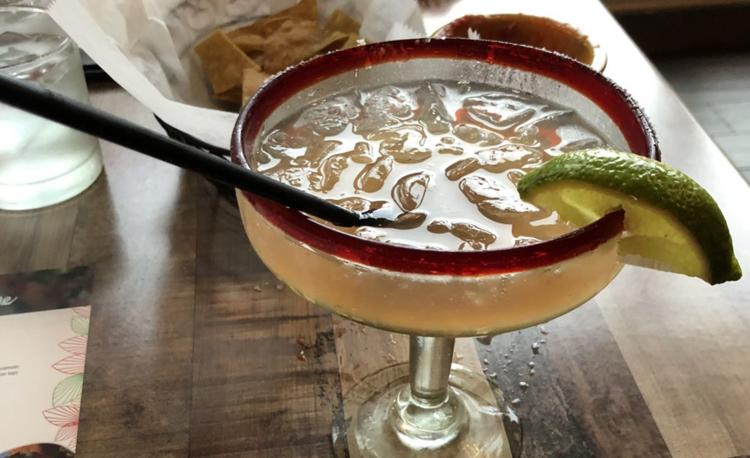 Lorena's has an extensive margarita menu, an essential element of Mexican restaurants (and one, we hear from people in the industry, that elevates the drinks-to-food margin higher than at traditional restaurants.) LDC opted to create her own margarita after discussing the various tequila options with our waitress.
Lorena's Cantina has a substantial menu with all the choices you would expect from a Mexican restaurant — burritos, fajitas, enchiladas, tacos, quesadillas, chimichangas, salads and made-to-order guacamole — as well as some inspired specialties. For our entrees, we both gravitated to the seafood menu.
OG chose the Camerones a la Diabla ($19), a spicy shrimp dish with a tomato sauce base that is a staple of Mexican restaurants. LDC was tempted by the Camerones Chipotle ($19), seasoned, grilled shrimp with a creamy chipotle sauce.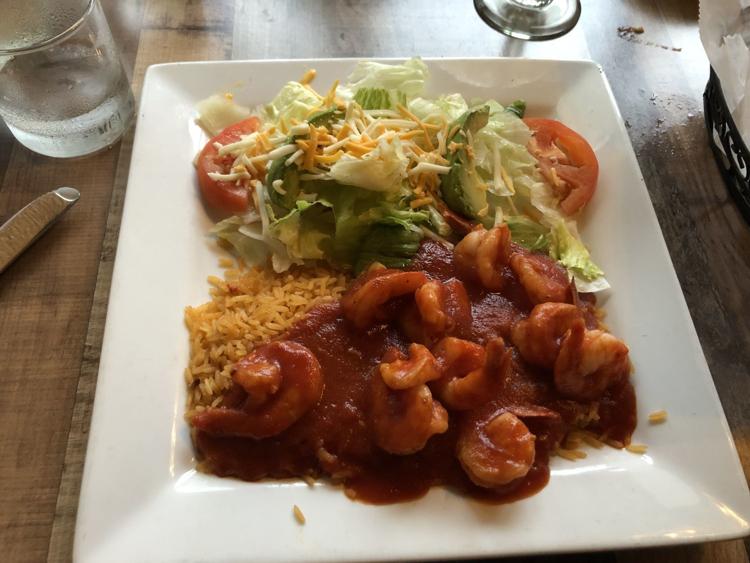 Both dishes were served on a bed of rice with a salad of shredded lettuce and sliced avocado (with shredded cheese for the chipotle shrimp.)
They were elegantly presented on square platters, as pleasing to the eye as they would be to the palette. The Camerones a la Diabla had a good amount of heat. The tomato sauce was a bit thicker than I'm accustomed to but quite flavorful. The avocado on the side tempered the heat.
The chipotle shrimp were a tad spicier than LDC expected, but she tends to like her food on the milder side.
OG would rate the heat somewhere between mild and medium, and the sauce had a smooth, creamy texture.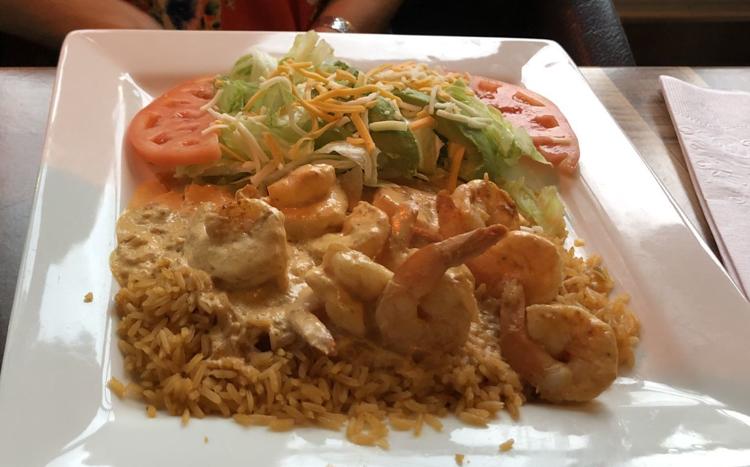 To explore the menu a bit, OG also had ordered a Tamal de Puerco ($5), but it was not served with our entrees and apparently was forgotten.
By the time our waitress returned for me to alert her to the omission, I had already finished my entree.
We opted to have the tamal packaged to go. I ended up eating it for breakfast, microwaving it for a short while still wrapped in the corn husk. Five bucks seems a bit high for a single tamale, but it was tasty, with a mildly spicy center of shredded and lightly sauced pork.
Our waitress was charismatic and helpful with our menu choices, but she had too much to do that night, which meant long stretches without seeing her while she was tending the bar. Perhaps the restaurant was short-staffed that night. And it seemed odd that the table next to us had a different waitress; she might have been better equipped to handle our table as well. We spent more time waiting than should be customary.
We finished our meal with fried ice cream ($7), which was a fine way to end our dining experience. It was topped with whipped cream and chocolate sauce, and had a substantial portion of fried vanilla ice cream buried underneath. We're glad LDC agreed that it would not have been a good choice as a to-go item.
Lorena's Cantina is definitely worth a return trip. I have my eye on a combo platter or steak fajitas. But next time we're sitting at the bar.