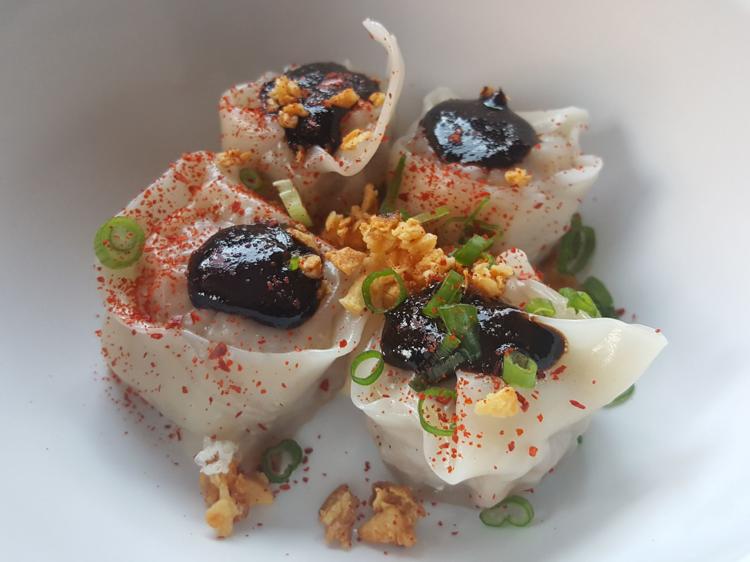 MR. KIM'S OPENED only weeks ago, but the sleekly decorated Korean-homestyle restaurant on Portsmouth's State Street already has the happy hum of a comfortably running establishment. A small sign on the front door reads "positive vibes only," and the staff's upbeat demeanor and the fun food presentation reinforce that message.
The restaurant offers numerous small plates as well as full-sized entrees.
Our party of four settled into a corner area, with two diners in seating built along the wall and two in bright orange 1960s-style plastic chairs. None of us had eaten at a Korean restaurant before, so we had lots of questions which were answered in a friendly, straightforward manner.
We started with Mr. Earle's Scallop Crudo with coconut milk, peach kosho (fermented pepper and citrus) and crushed garlic crackers ($12). Six delicate slices of scallop reposed in a four-leaf-clover of sauce made by the coconut milk and kosho. The wisps of garlic crackers gave each delicious bite a delicate tingling finish, helped along by the slight burn of the peppers.
The food is served with the traditional knife and fork as well as chopsticks, and the four diners utilized all of these.
When the Asparagus "Geotjeori," ($10) a Korean term for fresh salad, arrived in a large white bowl, we asked for a spoon so we could dish out a generous portion to each person. A light coating of black truffle essence made the slightly crunchy asparagus pieces, pickled lotus root and finely grated white cheddar a "texture fest," as one of the dining companions put it.
The Bulgolgi Sliders ($11 for two) arrived and by the time two of us had a chance to sample the Korean barbecue beef with spicy pickled cucumber and charred scallion salsa verde on a mini King's Hawaiian roll, we placed an order for a second set.
There was a slight lull, but then a full-size entree was placed on the table, Lamb Ssam ($18). We quickly decided the oyster mayo it was served with also went great with the one slider that remained.
The Ssam (it does not rhyme with "lamb," but with "mom," our server said in answer to our inquiries) is comprised of lamb meatballs coated in "secret BBQ sauce" (on the sweet side but not too sweet). It comes with a bowl of white rice and Yuzu pickles, in this case cucumbers, carrots and a beet-colored vegetable we forgot to ascertain the identity of. The pickling could have been done just hours before, making for a fine-tuned flavor that did not overwhelm the dish.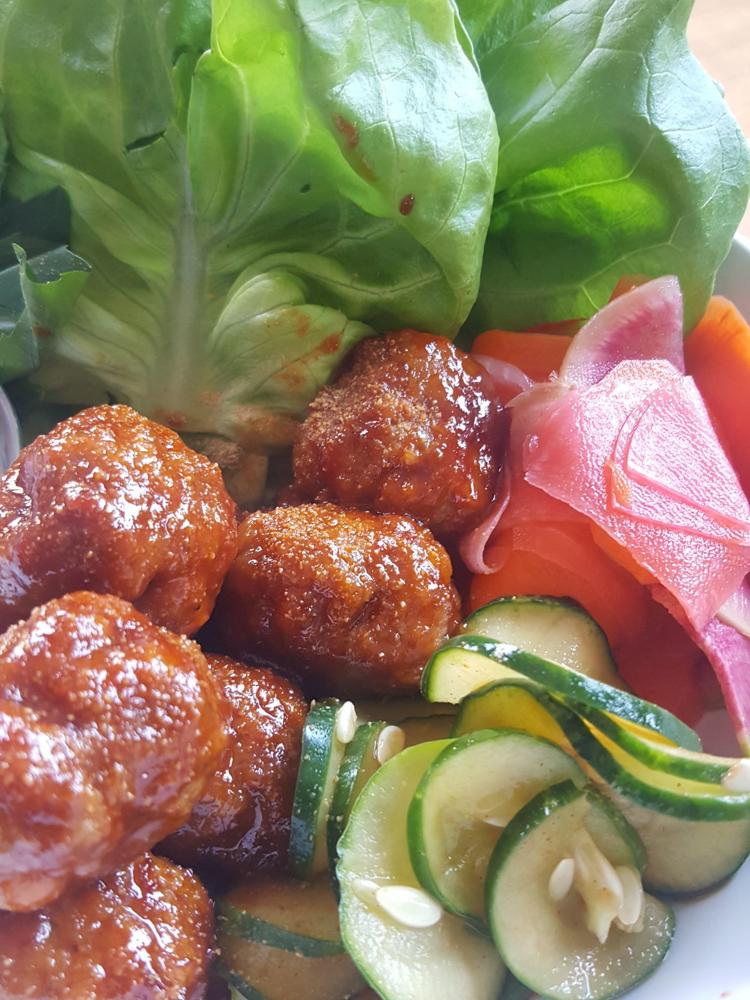 Six beautiful Bibb lettuce leaves were provided to wrap the meatballs and veggies and rice and create a kind of Korean taco.
Next up were Mr. Kim's Dumplings ($11), four dumplings filled with "Maine meat green onion sausage" and aji Amarillo (Peruvian yellow chili) yogurt. It was topped with fermented black bean mole and candied garlic. This dish was satisfying and savory, with a touch of heat.
Mr. Kim's Scallion Waffle ($15) was crisp on the outside and tender on the inside. It was cut in thin strips, each with four waffle holes meant to be filled with Kimchi and Casco Bay cream cheese dip and topped with caviar.
One of our dining companions noted that it was the perfect thing to order if you've had a bit too much to drink and need something to stick to your ribs.
Speaking of drinks, OG and the Primary Dining Companion split a Singha (Thai lager, $5). There are five local beers ($5 to $8), four red wines, four white wines and two bubblys. The other dining companions selected Mr. Kim's handmade sodas ($4, with choices of root beer, mandarin or lavender).
There are eight signature cocktails ($11 to $12) covering the vodka, tequila, rum, gin and bourbon fronts, with names like Express Yoself and Tiger Style.
There is a Siberian tiger print hanging by the front door and upstairs (once home to the Red Door bar) there is an elegant bar with retro-style stools and more dining space.
The walls upstairs and down (formerly home to Dos Amigos) are painted dark, with gold and orange accents, and more tigers. The noise level held steady at pleasant conversational.
With only two desserts on the menu ($8 each), we decided to go for it.
The Hawaiian Butter Mochi was four small pieces of dense yellow cake topped with mango curd, coconut cream and a sprinkling of caramelized Rice Crispies.
"I vote yes for the Rice Crispies," the Primary Dining Companion said, and we agreed that there should be a breakfast cereal for adults featuring the caramelized version.
The Panna Cotta, a traditional Italian dessert of sweetened cream thickened with gelatin, was reborn in this Korean interpretation based on whipped Marshmallow Fluff. "Surprisingly light" is how one DC described it.
When the check arrived, we were pleased to see the total with tax come in at $126.36. Admittedly, that tab included only one alcoholic beverage.
On June 14, Mr. Kim's started lunch service on Fridays, Saturdays and Sundays. We were intrigued by the K-Town Chicken (with Mom's spicy secret sauce), Cowboy Hat Piggy (Chiang Mai-style braised pork) and Chinatown Eggplant.
When we considered the lunch selections and eight dishes we didn't order from the dinner menu, we decided that Mr. Kim's is definitely worth future visits.