IF YOU'RE PLANNING to meet someone at that Mexican restaurant on Second Street, you might want to make sure you're being specific.
Do you mean Puerto Vallarta at 845 Second St. or its sister restaurant, Nuevo Vallarta, at 791 Second St.?
Don't worry if you end up at the wrong one, it's a short drive — or a short walk — between them, and the menus and pricing are similar. And the quality of the food and the service both excel.
In 2018, Jorge Gomez said he planned to move Puerto Vallarta to the former site of Shorty's in Bedford, but those plans ultimately fell through. So the restaurants continue to operate around the corner from each other.
We chose to visit Nuevo Vallarta on a recent weekend night. It's the restaurant that occupies the space that was the long-time home of Clam King and a few short-lived eateries after that. Its current incarnation surely has the brightest wash of colors, a Mexican motif that even includes the sinks in the bathrooms.
While the company's website, vallartamexicannh.com, displays menus and information for both restaurants, there's no indication on the Nuevo Vallarta menu inside the restaurant that it has a sister restaurant in a nearby business park. Our waiter told us that Nuevo Vallarta has more seafood options, which informed Our Gourmet's menu choice on this particular evening.
Our Gourmet and his Lovely Dining Companion began by ordering margaritas. We opted for Patron tequila, which means our drinks rivaled the cost of our food. That is pretty much par for the course with Mexican dining if you're enjoying cocktails.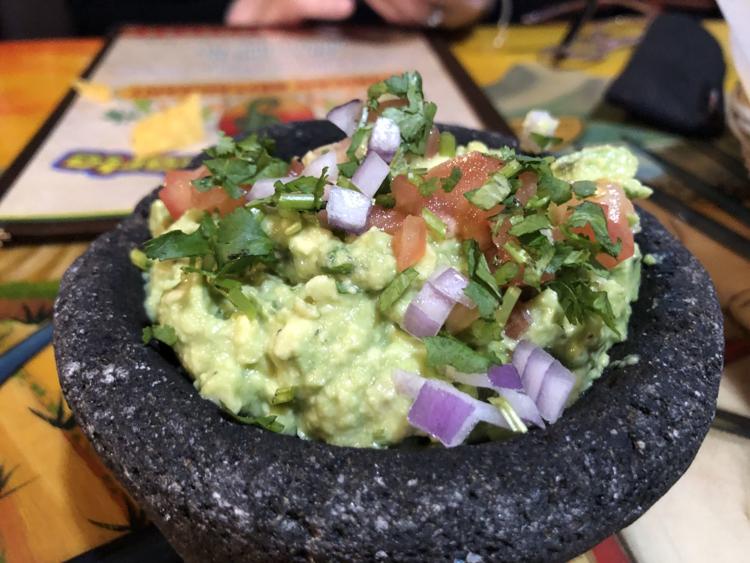 For starters, we augmented our complimentary chips and salsa with guacamole made tableside ($6.50), which meant O.G. ended up with a healthy portion of fresh-sliced jalapenos on the side since his companion shies away from that kind of heat.
Our friendly preparer quickly served us an ample custom-prepared portion, adding cilantro, lime and onion while we watched her work. We scooped up most of the creamy guac pretty quickly, accepting the offer of another basket of chips, though we managed to save a bit for use on our entrees.
LDC stayed with traditional fare, opting to order a ground-beef hard shell taco ($2.25) (shredded beef is also available) and a chicken burrito ($4.25), both from the a la carte menu.
The burrito, covered with cheese and red sauce, was a healthy portion for the price, but it's not to be confused with the giant dinner burritos made with 12-inch tortillas and loaded with meat, beans and rice that sell for about $15 (LDC had to send the burrito back because it arrived as a beef burrito rather than chicken, but her dish was quickly replaced).
I was tempted to try Nuevo Vallarta's take on one of my favorite Mexican dishes, Camerones a La Diabla (Devil's Shrimp) known for its thick, spicy red sauce. But in the spirit of culinary adventure, I selected the Camarones Al Aguachile ($18.75). It was billed as "fresh shrimp marinated in a lemon and serrano habanero (spicy) pepper sauce served in a Mexican traditional molcajete."
What the menu did not say was that it's a dish served cold, which I easily could have learned from a quick online search. This traditional recipe involves "cooking" the shrimp by marinating it in lime juice.
The shrimp were surrounded by thin slices of cucumber in an artful presentation. Inside the molcajete bowl were slices of avocado, red onion and chunks of cucumber. The sauce was served on the side along with some tostada shells. (I couldn't quite figure out what to do with the shells.)
I found this dish way too sour for my taste, but I detract points from my palate, not from the chef. Dipping the shrimp in the serrano habanero sauce or the house salsa did not mask any of the tartness. I'm pretty sure this dish was prepared exactly according to the recipe. I enjoyed it as much as one might when you know you likely won't order it again.
I'm sure we'll be revisiting Nuevo Vallarta or Puerto Vallarta again, having enjoyed both of the restaurants previously. I will be making a date with the devil next time, though. I see hot spicy shrimp in my future.