MRS. GOURMET AND I took advantage of a trip to the League of New Hampshire Craftsmen's Fair at Mount Sunapee last month to visit a restaurant that's been on our list for a while.
The Salt Hill Shanty, practically across the street from Mount Sunapee, is one of five Irish-themed pubs around the Upper Valley run by the Tuohy family. It's a casual place, wood-paneled throughout, with a semi-enclosed bar area in the middle surrounded by two rows of dining tables around the perimeter.
While the Shanty is Irish-themed, it's Irish in a low-key way. It doesn't try to mimic a pub from the Old Sod, though it's a safe bet that it does a brisk business every March 17.
It's more about craft beers, comfort food and live entertainment.
The menu is somewhat eclectic. We liked the sound of just about everything on the appetizer section, from Irish Poutine (fries, shaved corned beef, cheddar curds and Guinness gravy) to Southwest Eggrolls (chicken, black beans, corn and pepper jack cheese). We decided to try something else a little out of the ordinary: Edamame Dumplings ($9.99), one of several vegetarian items on the menu.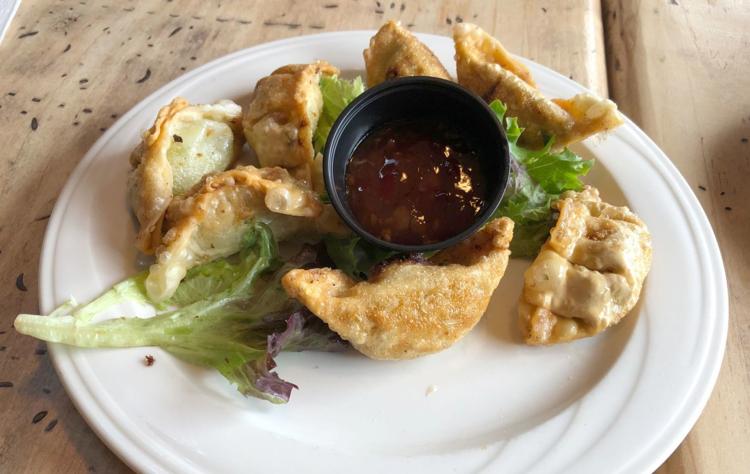 Eight crescents, lightly fried, were golden brown, but the bellies had a hint of green showing through, giving a sneak preview of what awaited inside. The filling, a combination of mashed edamame, mushrooms, ginger, shredded cabbage and carrots, sounded like it might be comparable to a Chinese egg roll. But unlike an eggroll, where all the ingredients play a flavor role, the edamame dominated the other players in this mix. Served with a sweet chili sauce, these dumplings were OK, but the edamame texture and flavor made them seem rather heavy.
The menu has a seven-item entree section, including fish, pasta and beef. But we visited at lunchtime, so we were both thinking sandwiches.
Mrs. G opted for one of her favorites, Steve's Classic Reuben ($10.99). To be clear, she had never had Steve's version, but she does love her Reubens. And it turns out, she loves Steve's, too. "Best Reuben ever," she said. It was as big as a sandwich you'd get at a New York deli, with marbled rye bread piled high with corned beef, Swiss cheese and sauerkraut and oozing with Thousand Island dressing.
Sandwiches come with homemade potato chips, which were medium brown and crunchy.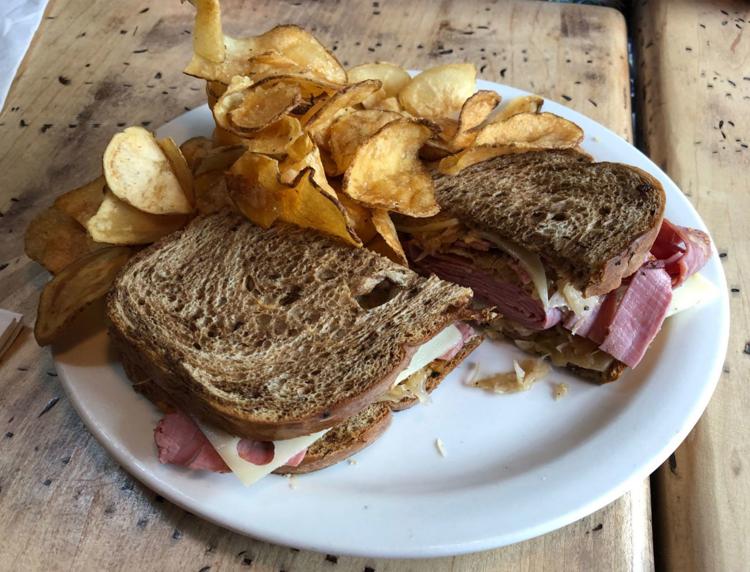 I chose the Chicken Farmer I Still Love You ($11.99) because of A) the description, and B) the name — taken from the famous and mysterious piece of roadside graffiti painted on a rock along Route 103.
The sandwich itself is a combination of sliced Italian sausage, diced chicken, caramelized onions, red peppers, mushrooms and cheddar cheese, all on a fresh Italian roll.
The cheese was bright yellow, looking at first blush like Cheez Whiz (it whuzn't) smothering a great pile of food. The combination was as tasty as I imagined it would be.As I was eating, I thought this sandwich would be a great addition to a ballpark menu (though it would probably cost twice as much). I ordered it with hand-cut pub fries — crisp on the outside, soft on the inside — for a $1.50 upcharge.
Mrs. Gourmet and I visited in mid-afternoon, but it was obvious that the Shanty is the kind of place that you could feel comfortable bringing either the family for burgers or a bunch of friends for brews and an evening of live music (which is featured regularly).
Prices are reasonable, service is friendly and the food is plentiful and tasty. If we lived in the Dartmouth/Sunapee area, the Salt Hill pubs would be on our go-to list for casual dining.