IF WE HADN'T SEEN them a couple hours earlier, you could have called it a family reunion. That's what it felt like, anyway, when Mrs. Gourmet and I went to dinner on a recent Sunday night with our son, his girlfriend and an old friend of theirs who's been like an adopted son to us since he moved to town early in their high school years.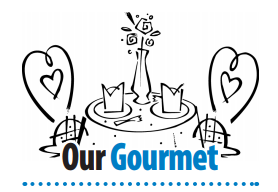 The kids had recently been to Stella Blu in Nashua, and they extended the invitation to us as a way to celebrate Mrs. G's recent work promotion. Since we had never been there (a previous Our Gourmet team reviewed Stella Blu about 8 years ago), we jumped at the chance to check it out.
Stella Blu has been a fixture on East Pearl Street in downtown Nashua for many years. The L-shaped restaurant has a cool, contemporary vibe, with a barrel-vaulted main space transitioning around a corner into a darker, low-ceilinged area that almost seems like a separate room. The fish-hook shaped bar runs the length of the main space and turns a corner into the smaller area of the L.
We were seated in that smaller space, where the dark blue walls and bronze-colored tin ceiling had the makings of a romantic hideaway. We weren't there for romance, though, and neither was the crew seated at the bar a few feet away. Their raucous conversation, reverberating off the metal-clad ceiling, made it virtually impossible for us to hear one another. Our server quickly sized up the problem and asked if we wanted to relocate. We did, and she led us to the very front of the house, in the picture window overlooking the streetside dining space outside.
Stella Blu is known for its martinis (which our son pointed out to me after I ordered a boring old gin and tonic), and for its small-plate offerings. After the kids made their martini selections, we got to work on our ordering strategy — a necessity in a place that features tapas-style dishes.
We finally decided to order a round of small plates to serve as appetizers, and then figure out what to do next.
The small plates covered the needs of everyone at the table — three omnivores, a pescatarian and a vegetarian — with enough food and variety to allow for some sharing.
The Lamb Lollipops ($14) were a serving of three, garnished with mashed cauliflower and mint pesto, though only getting to try one of the three made it hard to capture the full essence of the dish.
One of the diners pointed out that you could actually taste the truffle oil in the Parmesan Truffle Fries ($9, also seasoned with garlic and Parmesan), which isn't always the case.
The Eggplant Rollatini ($8, served with marinara) was a bit of a disappointment thanks to a crunchy panko coating that seemed a little overcooked.
The simply named Brussels Sprouts ($9) turned out to be a slaw of shaved sprouts dressed with olive oil and salt (we ordered bacon on the side). We had just finished talking about how we all prefer our shredded Brussels sprouts to be slightly blanched, but these turned out to be uncooked, in all their crunchy earthiness.
Our last small plate was Chicken Lemongrass Dumplings ($8). I only got half of one of the four steamed dumplings, so not enough to describe, but the Thai chili sauce that came along for the ride was excellent.
For the next round, we departed from the small plates and ordered full-on entrees. Around the table were two orders of Grilled Jerk Swordfish ($28), Garlic Herb Chicken ($24), Shrimp Scampi ($28) and House Mac & Cheese ($8) with a Brussels Sprouts Caesar Salad ($9).
The sharing and sampling subsided for the most part when the entrees arrived, so I can't speak to each dish. But Mrs. G and I were both impressed with our choices.
My shrimp scampi was far from the typical version. Tomato and a kick of pepper were the dominant flavors in this generous dish, which featured a half-dozen big shrimp (with tails thankfully removed), mushrooms, onions and roasted tomatoes over spaghetti in a butter-white wine sauce. Garlic, typically the lead actor in a scampi sauce, was probably in there, but only as a bit player.
Mrs. G had the chicken, which she described as a semi-boneless leg, perfectly seasoned and pan-seared, atop a delicious combination of cheddar grits and sauteed spinach. She said it was one of the best chicken dishes she's had, and considering the amount of chicken we eat, that's saying something.
As if we hadn't had enough to eat already, we wrapped up the evening with some decadent salted caramel and Butterfinger crunch donuts (five for $8) and Bananas Foster ($10), which featured caramelized bananas and bourbon over vanilla ice cream.
Our server, whose name we unfortunately didn't catch, was great from the start — attentive, helpful and friendly, not always easy with a larger group and a menu that requires many choices.
An evening at Stella Blu isn't inexpensive — for the five of us, including two rounds of cocktails, the bill came to $325. But we thought it was money well spent on a great night, filled with laughs, creative drinks and terrific food.