THIS WAS SUPPOSED to be a column about Tostao's Tapas-Bar, a wonderful little restaurant that's been open for about eight months in downtown Nashua.
I spotted it as I was driving through town one day, and immediately made plans with Mrs. Gourmet to check it out the following Sunday night.
We were going to tell you that we had a great evening, enjoying some terrific food and chatting with the very nice couple that owns the place.
The day after we ate there, I was telling my newsroom friends about our great discovery when my Flavors section colleague stopped me cold: "What's the name of the place again?" she asked.
"That sounds really familiar," she said. "Are you sure it hasn't been reviewed already?"
"Not possible," I said, "It's only been open for a few months."
Now, I have great confidence in my ability to remember previous reviews. (In fact, I often am certain that a place Mrs G suggests we try has already been reviewed, even when it hasn't). But to set my colleague straight, I went back to our exhaustive Our Gourmet archives to double-check.
Sure enough, one of our former OG columnists did indeed review Tostao's, back in May, shortly before his departure. Heck, it couldn't have been open more than a week at that point — barely enough time for them to find the light switches.
See, we have a rule of thumb in Our Gourmet circles that says we should avoid re-reviewing a restaurant for four or five years after the first visit. While it's not an ironclad rule, it's one we try to adhere to.
So that's why, even though we've already gone and eaten and spent good money, I won't be writing about the warm, inviting atmosphere at Tostao's, a narrow Main Street storefront with a bar on one side and 10 or 12 high-top tables against the other wall. Or about how Spanish-language concert videos on the big high-def TV over the bar helped set the mood for the tasty treats on the tapas menu.
And that's why even though we're at the height of the hectic holiday season and there's no time to go somewhere else, I'm not going to write about how the menu has been updated since the first time an OG reviewer visited Tostao's. Or about how the main section consists of appetizer-type dishes, most with Hispanic themes. There are also sections of sandwiches, salads and seafood. Most are small plates, designed and sized to share.
We won't be writing about the terrific dishes we enjoyed in a couple of rounds of ordering, starting with Beef Empanadas ($7.50 for three corn-flour tarts stuffed with moist, tender chuck and bits of potato, sort of like a chili-seasoned pot-roast pocket, served with guacamole and a mild salsa verde) and Stuffed Peppers ($7 for three half peppers, red, green and yellow, filled with pearl couscous and mixed vegetables, drizzled with balsamic glaze). We would have told you that the empanadas were terrific, but the peppers were fairly ordinary.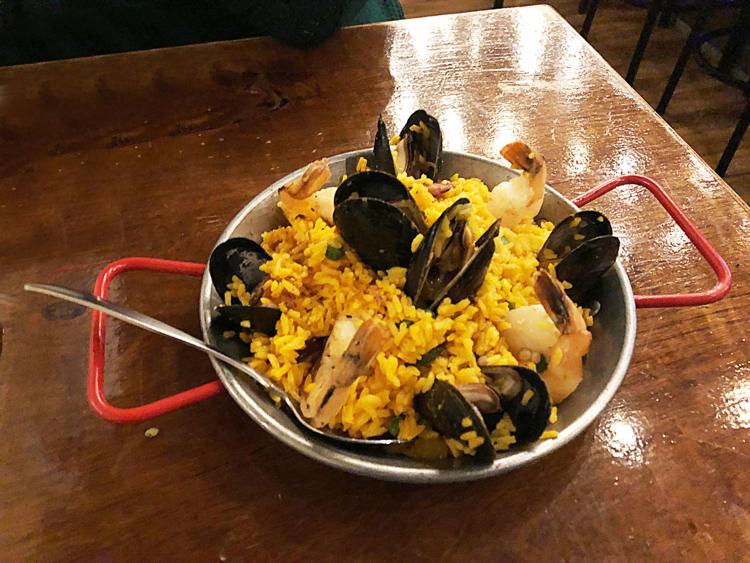 Nor will be talking about our amazing next round, a wonderful little Paella ($20.50 — a rich mix of seafood-stock-infused rice, shrimp, mussels and chorizo that was only lacking the crusty bottom of a classic paella) and Pineapple Shrimp Chuzos ($13.50 for one grilled skewer featuring five big shrimp alternating with chunks of pineapple — a great combination that we will be trying to replicate at home on the grill).
And we won't be writing about the luscious flan ($6) that was the perfect, sweet touch to wrap up our meal.
Nor will we mention (again) the friendly, welcoming couple who owns Tostao's. The quiet Sunday night we were there, Jonathan was the bartender/waiter, tending to the front of the house; Paula was the cook, preparing each of the tasty dishes we enjoyed.
It's really too bad we aren't able to write about Tostao's. It's a great little spot, with excellent food, a good value factor and nice people.
If we could, we would tell you that it's one of our favorite restaurants of the year.