The smiling pig has been a fixture on Route 16 billboards for almost 40 years. And for all those years, carloads of hungry people heading for the lakes and the mountains have followed the piggie all the way home — to the Yankee Smokehouse, at the intersection of routes 16 and 25 in West Ossipee.
Mrs. Gourmet and I have been to the Smokehouse a few times over the years, but when we were in the area recently, we were pleasantly surprised to discover that none of our Our Gourmet predecessors ever reviewed the place. That was all the incentive we needed to make another visit.
We were early arrivals on one of those recent hot, humid evenings, and decided to sit outside, in an awning-covered area out front furnished with picnic tables. Calling it a patio would be an overstatement, but if you like people watching, being perched right beside the parking lot (and the driveway to the convenience store next door) isn't a bad thing.
As we perused the menu and battled the setting sun in our eyes, we remembered eating outside once before — but out back, at the picnic tables in a more peaceful, woodsy setting. But that time, we had ordered our food to go. If you want waitservice, you'd better be sitting indoors or right where we were.
Inside, the space is somewhat chopped up with a bar and several dining rooms. There's a lot of knotty pine, and a certain 1990s country feeling to the decor.
But you're not coming to a place like Yankee Smokehouse to bask in trendy decor. You're coming to roll up your sleeves, tuck in your napkin and eat. And that's what we did.
Barbecue rules at the Smokehouse, and it's found in all sections of the menu, from apps to sandwiches and salads, pizzas and entrees. (It could be in the dessert menu too, but we didn't make it far enough to find out.)
We decided to order appetizers while we thought about how best to attack the meat menu. Figuring that it would be the closest we'd come to vegetables (not counting the cole slaw or baked beans), we started with an order of Fried Green Beans from the nightly specials menu ($7.99).
We got a big basket piled high with fried beans served with a ranch dipping sauce. The coating was a thick, breadcrumb-style batter that was slightly crunchy, slightly spicy, and definitely filling, as we would soon find out.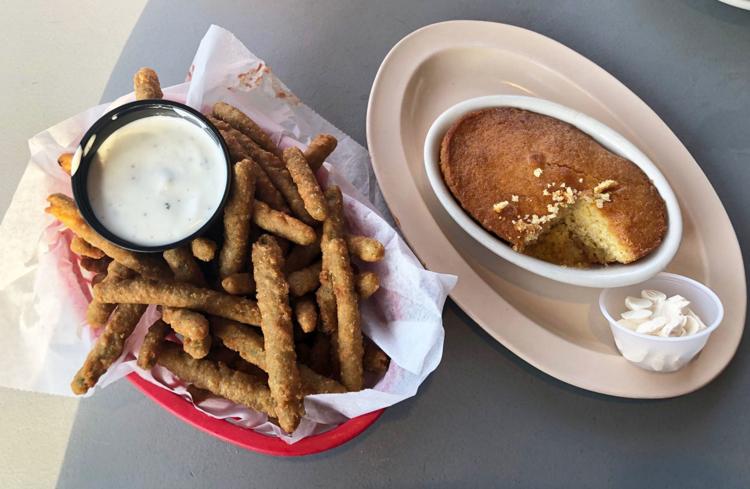 Mrs. G decided to try the Corn Bread with Maple Butter ($4.99). I expected to see a syrupy concoction, but the maple was infused into the crumbly, not at all soggy mini loaf served in a form-fitting boat-style dish. "It's like I'm eating breakfast," Mrs. G said. And indeed, she saved more than half and had it for breakfast the next day.
Because we ordered appetizers separate from our entrees, we had extra time to continue to attack the green beans and corn bread, so that by the time our meals arrived, we were already starting to feel a little full.
The dinner menu offers ribs, chicken, brisket and pulled pork, as well as fried haddock, chicken fingers and beans and franks. The barbecue items are available solo or in two-way combos, or as a four-way sampler. Cole slaw, baked beans and "Smokehouse Fries" come with all dinners.
Mrs. G ordered a pulled pork and ribs combo ($18.99). The menu includes baby back and "smokehouse" ribs; this combo (and the one I ordered) featured the larger smokehouse ribs. She swapped out the standard fries for sweet potato fries for a $1.99 upcharge.
While both meats were tender and moist, Mrs. G thought the pork a little heavily sauced and the ribs a little too smokey for her liking. The bright orange sweet potato fries were big, fairly soft and tasty.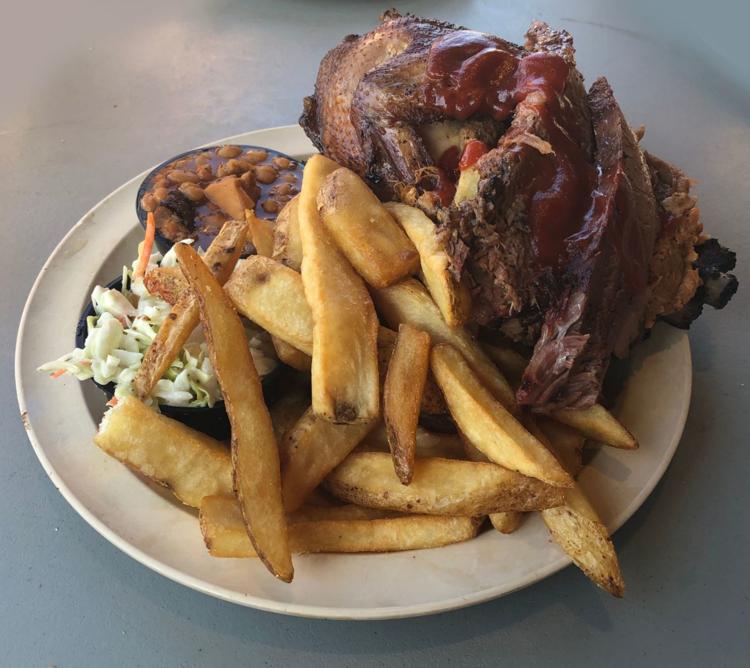 I went for broke and ordered the four-way sampler ($24.99), which included pulled pork, ribs, brisket and a chicken breast quarter. The plate was piled high, and when it arrived, I knew immediately that I would be bringing at least half of it home.
The ribs were tender and tasty, and as Mrs. G noted, very smoky, but hey, it's barbecue. The brisket (three slices) was fall-apart tender, reminiscent of corned beef in texture. I thought the pulled pork was excellent, with a nice level of smoke and spice. (The amount of sauce was fine in my book.) The chicken was just OK, moist and with a nice brown, smoky skin, but I'm not a white-meat fan.
As predicted, we brought lots of food home for a great dinner of leftovers a couple of nights later. This was probably the biggest stack of boxes we've ever taken home from a restaurant. Our tab, with two pint beers, came to just over $80.
There's nothing fancy about the Yankee Smokehouse, but fancy doesn't matter when you've got great food, value and a good location working for you. Yankee Smokehouse has all of that, and a consistency that has kept it a successful landmark for many years.