THE CARRIAGE HOUSE has always had a hometown following, so when longtime owner Paul Mackey announced he was retiring last year, there was concern this Seacoast institution was coming to an end.
Never fear. New owners R.J. Joyce and James Woodhouse have created a freshly renovated, welcoming space with a menu that relies on creative use of local ingredients.
The two-story restaurant features bright, airy space below (with brilliantly colored Audubon bird prints bedecking the walls) and a clean, modern take on the well-loved upstairs bar, which has always been a hot spot. We arrived around 6:30 p.m. on a Friday, and the bar was abuzz.
Our host graciously seated Our Gourmet (OG) and the Dining Companion (DC) in a cozy corner downstairs. The DC knew Joyce and Woodhouse from their previous tenure at Louie's in Portsmouth, an Italian restaurant they were forced to close because of a 2017 fire in an adjacent building.
"Get a cocktail," the DC advised. "You will never be disappointed by one of their cocktails."
OG chose a We Good ($10), a classic whiskey sour with egg white topping whipped into a latte-like pattern. DC ordered Sam from the Dram ($12), a gin and tonic that she pronounced perfect.
There is also a six-page wine list and beer selections.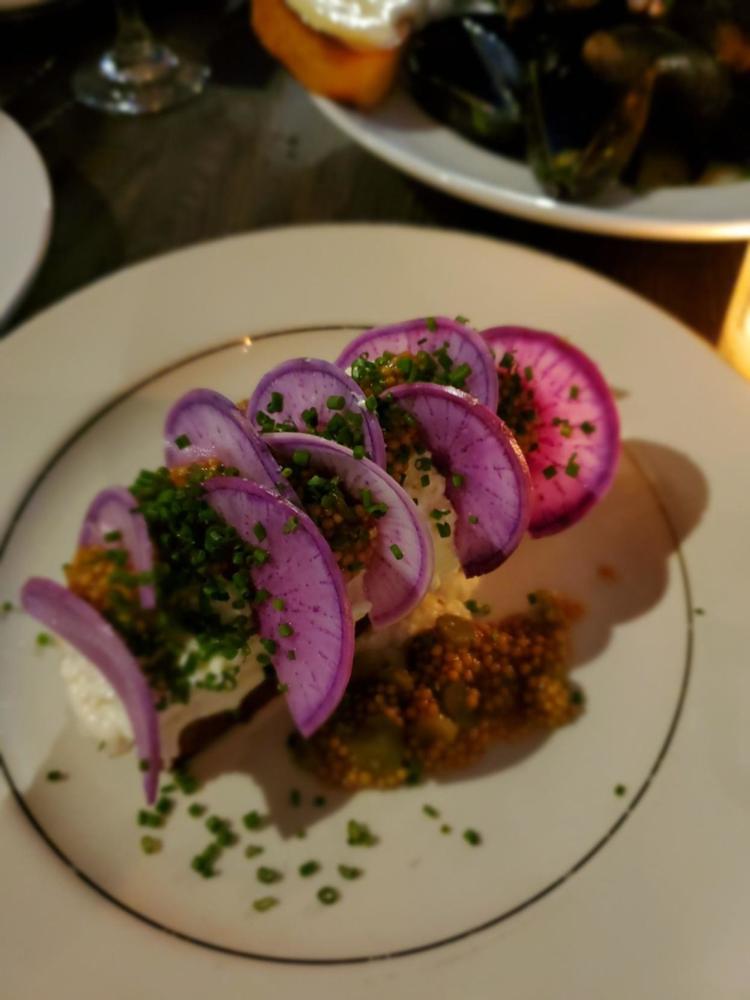 The menu offers plenty of seafood as well as a raw bar — fitting for a restaurant across the street from Jenness State Beach in Rye. We chose three appetizers in this category — Steamed Mussels ($13), Scallop Crudo ($12) and White Fish Pate ($12).
Our server had already brought us a basket of Italian bread, and we used this to dip into the buttery, garlicy broth the steamers were served in, a classic preparation.
The scallop crudo was "like satin," according to the DC, the raw fish infused with the flavors of fresh basil and garlic scapes, the tender top of the stalk that grows from the bulb.
But it was the white fish pate that "exceeded all expectations," said the DC, who even went so far as to call it "mind-boggling." OG agrees: It is a must-order item.
The word "pate" tends to make people think of liver, but pate can be made of any seasoned ground meat, poultry, vegetables or seafood.
This creamy, light pate was built on a foundation of warm, crispy fried potatoes and accented with watermelon radishes. The combination of the salty, soft crunch of the potatoes with the fresh-from-the-ocean fish and the pickling spices served alongside was surprising and utterly delicious.
Other seafood apps included Clams Casino ($12) and Fish Chowder ($10).
We took a pause to finish our cocktails and watch the light fade, making the line between sky and sea indistinguishable.
For entrees, the DC ordered the Filet Mignon with Fingerling Potatoes, Carrots and Au Poivre Sauce ($36).
Paul's Carriage House was famous for its steak au poivre, and this version lives up to it (the OG had a bite or two).
"Best I've ever had," DC said of the filet, noting the pepper had a powerful presence but did not overwhelm the dish.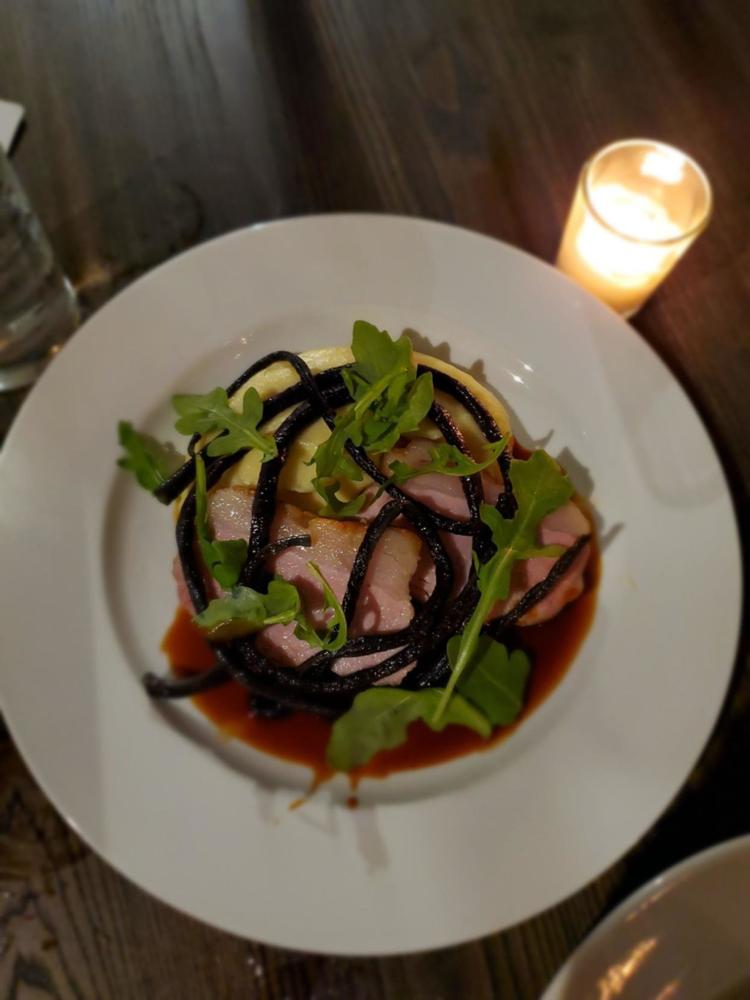 Our server, who was there when needed and unfailingly polite and helpful, did such a good job selling the three local pork specials (a chop, a tenderloin, and a roast) that the OG caved.
The pork roast ($34) was tender, juicy and had a "fat cap" that made the meat sweet and savory. It was served in a demi-glace (a rich, brown sauce) with potato puree and spirals of red pole beans cooked just enough to squeak pleasantly against the teeth.
The DC zeroed in on the puree, which was like a dollop of mashed potatoes that had ascended heavenward and returned to earth as something lighter, smoother and more yummy. We asked our server the secret and he used words like "emulsify" and "chemistry." It worked for us.
OG failed to fend off the DC's fork, which scraped the plate clean of the potatoes.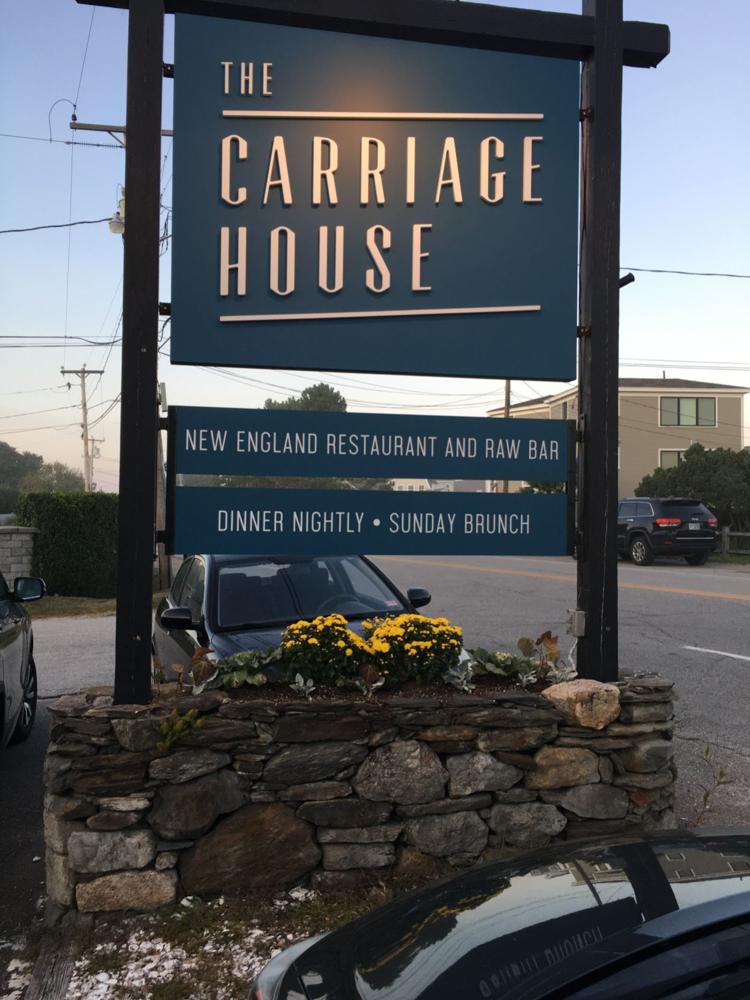 Other entree options include Haddock Piccata, Hanger Steak, Cornmeal Crusted Pollock, Pork Schnitzel, Bolognese (farfalle pasta, roasted tomatoes, parmesan, mint), Fried Whole Flounder, Pan-Seared Scallops, a Roasted Half-Chicken and the Carriage House Cheeseburger (bacon, garlic aioli, pickles, grilled onions, skinny fries).
A goat cheese and beet salad, heirloom tomato salad and local greens are also on offer, along with Parker House rolls with rosemary butter (a steal at $4).
We really, really wanted dessert, but reader, we failed you. We were simply too full.
The Carriage House also offers a Sunday brunch from 11 a.m. to 2 p.m.
The total for our evening was $138.43, plus tip. Definitely worth it.