THE LAST COUPLE of times Mrs. Gourmet and I were out for Asian food, we were with relatives at old family-favorite Chinese restaurants. Mrs. G and I hadn't been to either place in years. Neither was very good, and we both wondered how those places got to be old family favorites.
With those lackluster family dinners just a few weeks behind us, we decided to shift gears and try Asian of a different sort, hoping for a lighter and less greasy experience.
We found it at Yoshimama.
Yoshimama is a small storefront restaurant, one of four — Italian, Thai, Japanese and Vietnamese — crammed into a small strip mall along Nashua's busy Amherst Street. Inside, warm orange walls surround the combined bar/dining area, which seats maybe 40 people. The bar, where drinks and sushi are prepared, is along the right wall, just inside the door.
When we arrived, we were asked if we had a reservation. We didn't, but we were given the option of sitting at one of the few open tables or at the bar. We took the bar, which was unoccupied at the time.
The menu is split between sushi and "kitchen" dishes, both covering a range of styles and ingredients. Mrs. G knew she was going to order sushi, so I focused on the other side of the menu. While we studied the menu, we chose two appetizers to share.
We started with Shumai ($6.25), which we ordered fried. Arranged on a plate with an integral bowl for the light chili dipping sauce, these six little nuggets looked a little like Tater Tots, but you'll never find these delicious tidbits at that drive-in with the annoying TV commercials. These were filled with a ground combination of shrimp and vegetables with a subtle, light flavor. There were no hints of pink in the fine white filling, so without peeking at the menu, our guess was that scallops might have been the source of the delicate seafood flavor.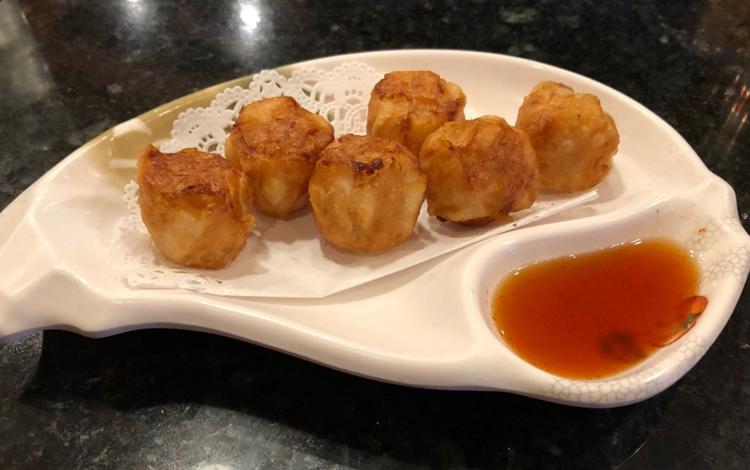 Next up was Fresh Spring Roll ($7.95). This beautifully presented dish featured tiny matchsticks and chunks of cold vegetables, rolled in a wafer-thin wrapper. The roll was then cut into seven pieces and served on a long, thin plate in a bed of a sweet-and-sour pepper sauce. It was a wonderfully refreshing appetizer that would work as well after an entree as before.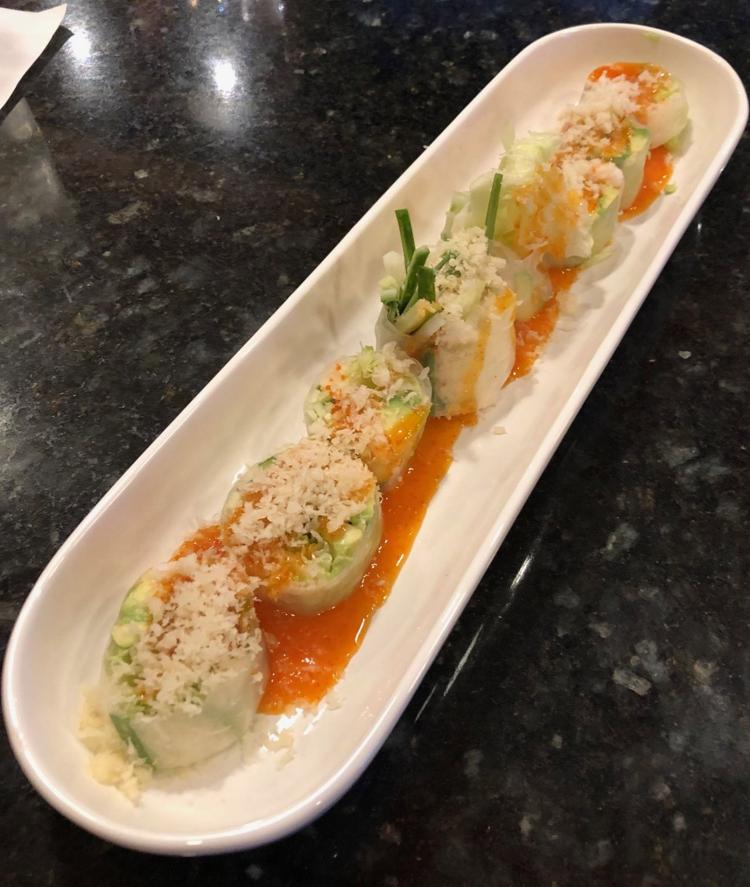 With two excellent appetizers under our belts, we had high expectations of our entrees, and we weren't disappointed.
I chose the Seafood Teppanyaki ($20.95), which combined shrimp, scallops, salmon and white fish with carrots, peppers, onions, broccoli, zucchini, bean sprouts and noodles with a delicious sauce with soy, ginger and vinegar. Served on a sizzling platter, it was a delicious dish that was big enough to bring almost half home.
Many entrees at Yoshimama are served with salad, soup and rice. The velvety miso soup was mildly flavored and a nice touch on a cool fall evening. I asked if I could substitute a seaweed salad for the default house salad. Our waiter consulted with his colleagues and said yes, but the salad never materialized until I mentioned it at the end of the meal. Since it was added to the cost of my entree, I asked for the salad to go. It was bright and green and tasty the next day, though it needed a shot of soy sauce.
From the Sushi Entree section, Mrs. G confidently chose the Hot Mama Combo ($17.95), which featured six pieces each of Spicy Salmon Roll, Spicy Tuna Roll and Spicy Yellowtail Roll, artistically presented on a long rectangular plate.
Despite their names (and the waiter's advisory), none of these rice-covered maki was particularly spicy, and Mrs. G quickly gave in to her temptation to add a touch of wasabi to each bite-size-plus piece.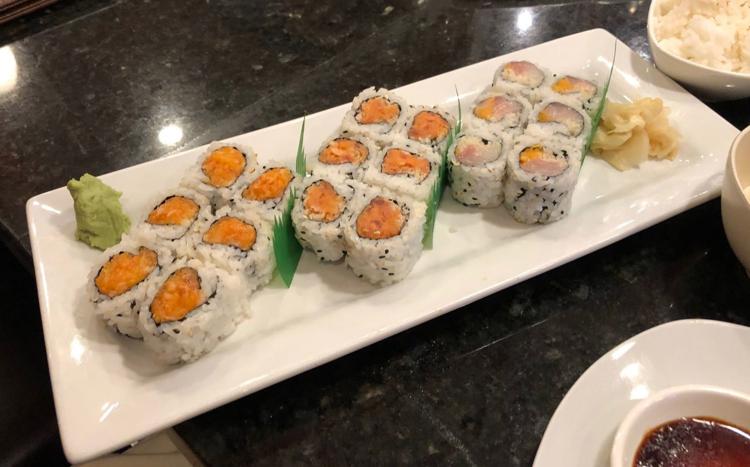 Next time (and there will be a next time), we probably wouldn't choose to sit at the bar. The quarters are a bit tight, and we couldn't help but feel like the crew on the other side was a little too close for comfort. But aside from that, and the forgotten seaweed salad, our experience at Yoshimama was great.
The service was polite, the environment was inviting, and the food was both beautiful and delicious.
We're still not sure what made those greasy old Chinese restaurants favorites among our extended family, but when it comes to Asian fare, Yoshimama is a new favorite for Mrs. G and me.