Thanks in part to a Granite State rock star, a long-time local restaurant is going upscale.
Zachary "Zack" Woodard said he completed a top-to-bottom renovation of The Lobster Tail into a high-end steakhouse with the help of his friend and regular patron Sully Erna, the vocalist and guitarist for the four-time Grammy-nominated rock band Godsmack.
Woodard and his wife, Brandy, bought the 16-year-old business from previous owner Mark Smith in 2016. Woodard has been The Lobster Tail's chef from day one, and previously worked as a commercial fisherman for four years.
On Friday evening, Woodard plans to kick off Zachary's Chop House on Cobbetts Pond Road with a grand opening.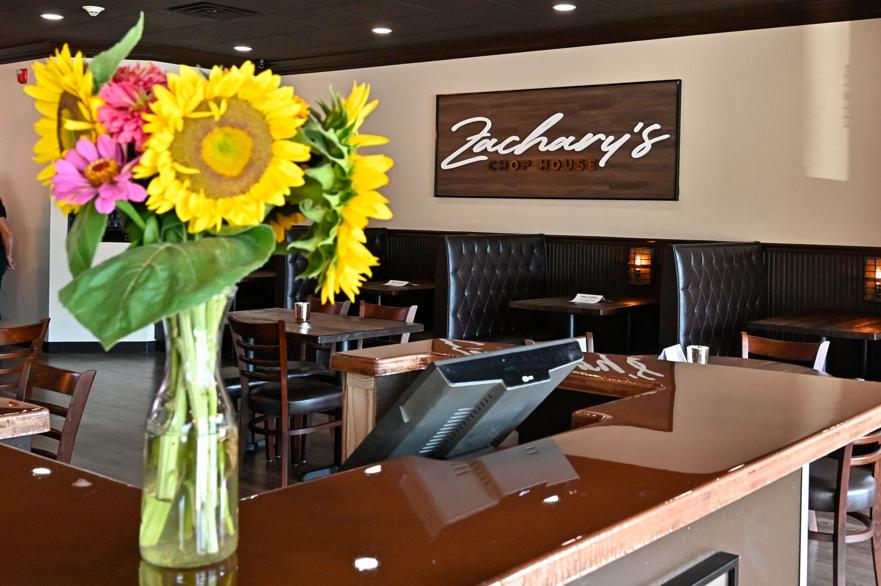 The rebranding comes with significant changes to the menu and dining space, after Woodard, Erna and contractors worked for the past two months gutting and rebuilding the space.
"He just didn't have the atmosphere to match the level of cooking that he can do," Erna said of Woodard.
Erna, who lives in Windham with his girlfriend Sarah Davis, struck up a friendship with Woodard years ago, becoming a fan of Woodard's food.
Woodard said he paid for the work himself and kept the entire cost around $130,000. Erna offered to cover any cost that went over budget, but that didn't happen, and he called in every favor he had with local contractors to get the best prices for Woodard.
"Through his connections and him helping me out with pricing and getting this place done in a good budget, that's where it all was, that's where he helped me out the most," Woodard said.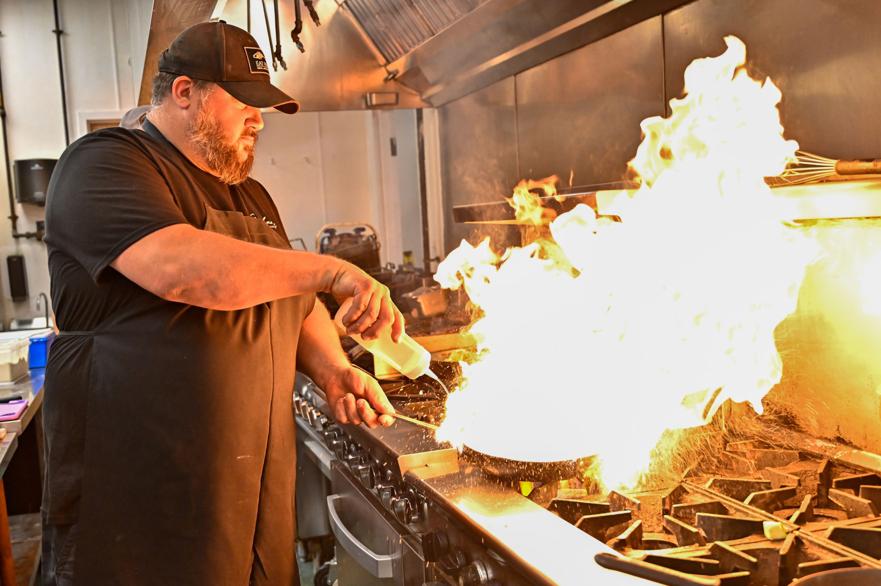 Erna said he developed contacts with local contractors after hiring them for projects in his home or for the Godsmack HQ studio in Derry. Erna said he also helped come up with the restaurant concept, based on his experience dining in restaurants around the world.
"I leaned him into it," Erna said of Woodard.
Erna used the example of Godsmack's latest album, "When Legends Rise," which came out in April 2018. He said that album went "a little more mainstream," but cast a wider net and gained new fans.
When asked, Erna said he has no plans to get into the restaurant business himself.
"Sully and Sarah are some of the most solid people that I have ever met," Woodard said. "They're really good people and they want to see people do well."
The redesigned space created a direct front entrance, eliminated the dividing wall between the bar and dining sides, and put in a new bar in the back where the kitchen window was located. The earth-tone furnishings and dark brown interior woodwork create a high-class atmosphere, Erna said.
The restaurant has a maximum capacity of 100. Woodard said he's not worried about opening at 50% during the pandemic and is confident the business will thrive.
The chop house will source most of the food locally, Woodard said. Beef and vegetables will come from local farms like Johnson's Highland View Farm in Windham, and seafood will be freshly caught from the Gulf of Maine.
"We have some of the finest in everything around us right at our fingertips," Woodard said.
The menu offers prime cuts of 32-ounce ribeyes, 16-ounce New York strips, two-pound lobsters, baked cod, seared tuna, shrimp scampi and fresh-daily oysters.
Woodard said he currently has 32 employees and hopes to hire a couple more chefs and a bartender.