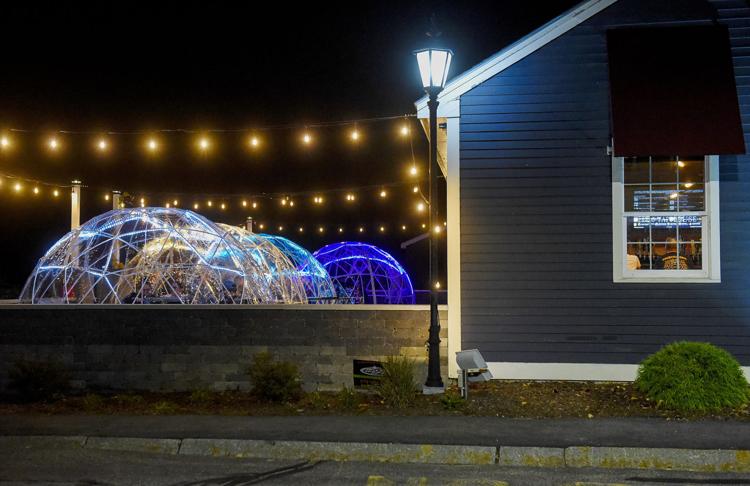 The weather isn't cold enough yet for real igloos here in New Hampshire, but the temperature at 1750 Taphouse is just right.
The restaurant on Route 101 in Bedford set up four plastic domes — called "igloos" — two weeks ago for diners to enjoy a socially-distant unique experience. Lights that change colors inside the 7-foot-tall space add to the atmosphere — and draw attention from the roadway.
Other such bubbles are set to pop up across the state as businesses try to find safe and creative ways to extend patio seating beyond November. The industry recaptured some of the declining revenue by expanding dining onto newly built patios, sidewalks and blocked off parking spaces in recent months.
Restaurants across the country have reported more than 40% of sales have come from outdoor dining spaces during the pandemic, according to the National Restaurant Association.
The igloos have become popular in larger metropolitan cities in winters past, including the roof deck at the Envoy Hotel in Boston.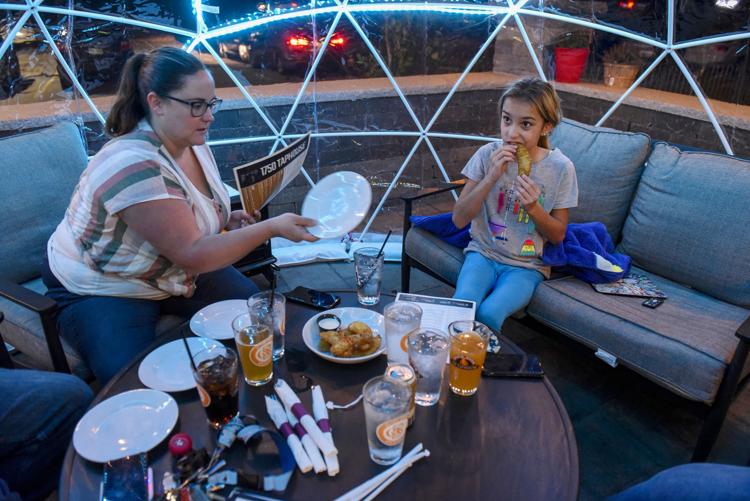 At 1750, customers have lined up to reserve an igloo even though the official start to winter is still months away. The igloos are available by reservation at 4:30 p.m., 6:30 p.m. and 8:30 p.m. Each reservation is for an hour and 45 minutes. The 15 minutes gap is used for cleaning and to air it out.
"The phones have been ringing off the hook ever since we posted on Facebook about them," said Charlie Waitt, managing partner.
The space fits six people who can sip on cocktails — such as "Apple Pie Cider," caramel vodka and Jack Fire mixed with apple cider — or order one of the restaurant's brick-oven pizzas. Two of the spaces are decked out with patio furniture and called "living rooms." All include a fireplace-style electric heater.
"There were a couple nights it was in the 50s, and we saw that nobody wanted to sit outside, so we figured colder nights were going to be more common than not," Waitt said.
So far, the restaurant has booked more than 100 reservations into November. Posts on social media have reached 120,000 people.
"It's the most attention we've ever had," Waitt said.
603 Brewery in Londonderry opened four igloos on its patio in January before the pandemic hit, which remained open until mid-March, according to Morgan Kyle, marketing and events manager. Come mid-November, eight will be available for reservation.
"They were a huge hit," she said. "They were full all the time."
Barrio Tacos in Portsmouth also added igloos, which they aptly nicknamed, "Barrio Bubbles."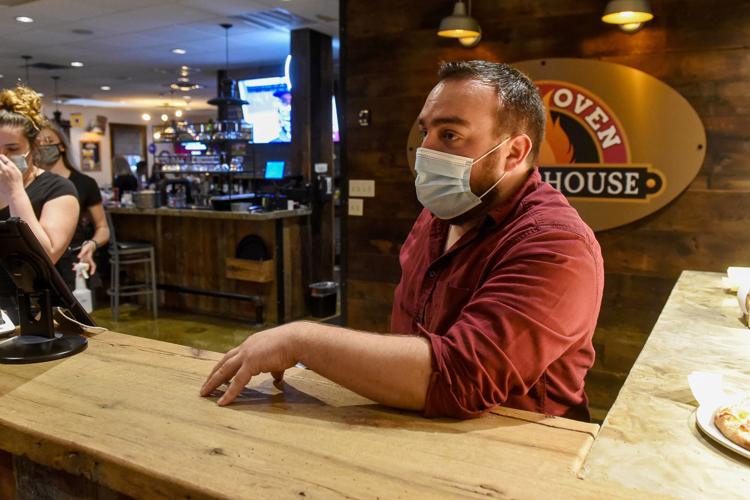 An evening out
On a recent evening, Samantha and Tiffany Piascik of Milford booked an igloo at 1750 to celebrate the adoption of their 10-year-old daughter, Ariana.
"It's cozy, it's warm, it's inviting," said Samantha Piascik.
Ariana kicked off her shoes and sprawled out on one of the couches and made herself at home.
"We had seen it and thought it looked really cool," said Tiffany Piascik. "It is a great way to still go out to dinner right now that is safe. It's something different."
Like 1750, 603 Brewery will limit the igloos to six people. Before the pandemic, the limit was 10.
The spaces are decked out with outdoor furniture, including couches, chairs and a coffee table. The igloos are dog-friendly.
The heater keeps the temperature around 75 degrees.
"The igloos will be sanitized and thoroughly cleaned by professional cleaners before the next party goes in," Kyle said. "There is an air filtration system as well."
Constant changes
The 1750 Taphouse didn't have a patio before the pandemic.
"One of the silver liners of COVID and quarantine was it kind of accelerated some of our plans," Waitt said. "We had plans to build this patio but weren't pedal to the metal on it."
While focusing on takeout orders early in the pandemic, they planned to build the patio and use space in the parking lot when restrictions were lifted.
The igloos weren't bought as a survival tactic, but rather for "adaptation and progress," Waitt said.
Some operators don't have the ability to install heated tents or igloos, but other options include adding space heaters, firepits and offering blankets for guests to use and then take home. Hot beverages such as hot chocolate or cider have been offered on arrival at some spots, according to the restuarant association.
Many restaurants just don't have the needed space, especially in crowded downtown areas.
"We are lucky. We have an abundant amount of space to put these things," Waitt said. "Main Street restaurants don't have that space."
More to come
The igloos at 1705 Taphouse and 603 Brewery are made by Gardenigloo USA, which saw a 300% increase in orders.
"Business has been hectic," said John Susel, general manager of the Pompano Beach, Fla., company. "We are trying to meet the demand and right now we are currently on back order … we think it is going to continue all the way to the end of the winter season."
He estimates at least 100 igloos will pop up at different restaurants across the Granite State.
Waitt, managing partner at 1750, said they had no trouble getting the igloos.
"Now people are scrambling to try to get them, because the colder weather is here, and they are seeing less people want to sit outside," he said. "They are tough to come by now."