BRIDGEWATER - Shirley Ziebarth credits good genes, a loving husband, and luck to being able to do many things — like water ski — well into her platinum years.
After water skiing down and then back up the eastern shore of Newfound Lake from her home on Whittemore Point last Tuesday, she said she doesn't think about her age (93) when she undertakes what some might consider to be a high-risk activity.
"Some of it" — the "it" being what might differentiate her from other nonagenarians — "has got to be genes," said Ziebarth. She says her dad, his brother and her paternal grandfather were all competitors in Scottish Highland games.
Born in 1928 and raised on her family's farm in Howick, Quebec, she didn't get into sports until later in life, after she met and in 1950 married the late Alvin Ziebarth.
"I miss him every day," she said of Alvin, who died in 2000.
Not only was Alvin an accomplished athlete in his own right as a hockey player at Clarkson University, he was a successful salesman for International Business Machines and thus a good provider.
Because of his job at IBM, the Ziebarths moved to the United States, first to Syracuse and then Buffalo, N.Y., before settling in Erie, Pa., where they had a small boathouse on Lake Erie.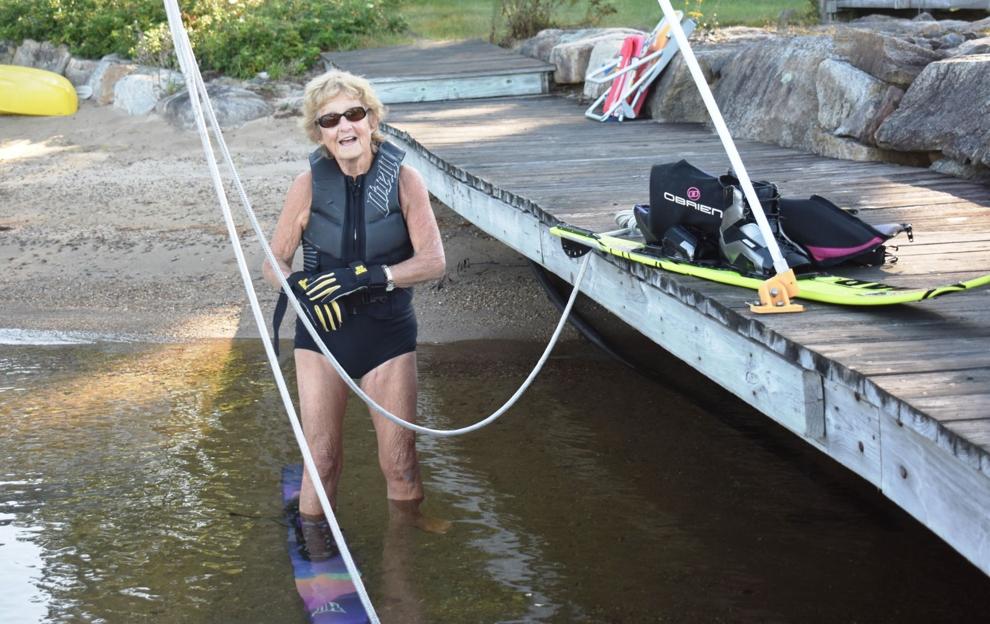 In Erie, Shirley took up golf for a year, but abandoned the sport because it took too long.
"I broke a hundred," she explained, "but it's a whole day" to play 18 holes.
So she found a new passion: tennis. "I was a three five," she said of the former rating system that placed her halfway to being a professional. But in recent years, her eyesight has diminished, making the tracking of a tennis ball in flight difficult and she no longer plays.
While her vision affected her ability to play tennis, it didn't curb her passion for Alpine and water skiing, which first manifested itself when she was in her 30s.
On a ski trip to Utah, Ziebarth recalled, the après-ski conversation included mention of Alvin's dream of living "on a clean lake."
One man suggested that New Hampshire's Newfound Lake would fit the bill, but Shirley was unconvinced.
"What?" she remembered asking the man. "Whoever heard of that?" While everyone in the group knew about Lake Winnipesaukee, in those days, Newfound Lake was on few people's radar.
Nonetheless, two years later, with her windsurfer mounted atop their car, Alvin and Shirley headed to Whittemore Point, where they drove down to the water and found a lot for sale. She and Alvin "managed to scrape up the money" and bought the lot on which they built their home, which they moved into in 1994.
Shirley continued water skiing and windsurfing while also pursuing competitive alpine skiing through the NASTAR program.
Shirley took third place in a national NASTAR competition and had planned to compete in her NASTAR age group in 2019, but she broke her left leg while skiing at Ragged Mountain. She recovered and was ready to ski last winter, but she said safety protocols imposed because of COVID-19 made skiing too cumbersome.
She does hope, however, to return to NASTAR racing and also to keep water skiing.
"I just water ski. It's fun," she said. "I've had the opportunity and that makes a big difference, and I had a husband who supported me a lot."
Todd Fahey, executive director of AARP New Hampshire, said he is not surprised that "this wonderful woman" is still water skiing on Newfound.
"I think she represents the possibilities of all people over 50, and my hands are raised in applause" for Ziebarth, said Fahey.
What Ziebarth and like-minded folks are doing, he said, is "disrupting age" as well as "breaking down stereotypes of aging."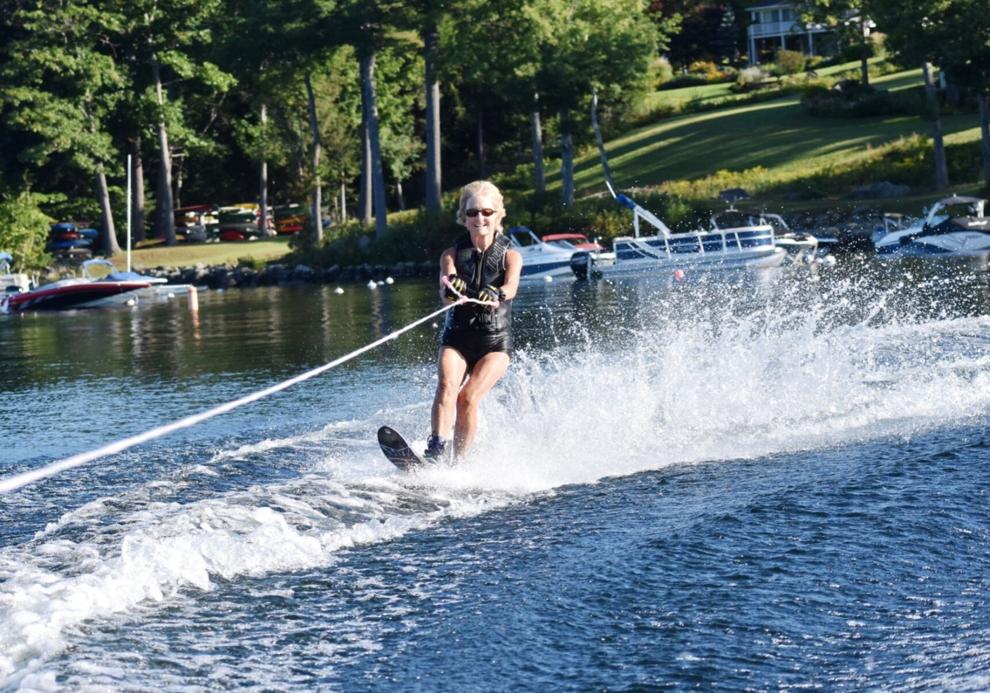 "This should be a beacon to all people that age is not a limiting factor in one's possibilities," said Fahey, noting that because of its diverse intellectual, artistic and outdoor pursuits, the Granite State is the "perfecting setting for aging and a hospitable place to live a full life as one ages."
As to the risk inherent in such active sports, Fahey pointed out that there's also a risk "in doing nothing."
"You could say that if you sit by yourself alone then you're safe, but that's not a full life, and I think it's all about calculated risks," he said.
While the human body loses ability over time, it nonetheless remains "pretty exceptional," he said, and lets people like Ziebarth do amazing things.
Ziebarth says she looks forward to returning to NASTAR racing, to continued water skiing, to spending time with her children Carol Ann, Thomas and Liz Ann, and her four grandchildren; and to possibly windsurfing again.
"I don't like gardening," Ziebarth said, while looking at the vibrant waterfront garden that is filled with beach roses planted by her husband, "and I don't like weeds. But every weed helps keep the lake clean."
"I'm very grateful for the opportunity to be living here," said Ziebarth. "I want to take my last breath here."