Longtime vendors at the Concord Farmers Market were excited to see their regulars and new faces at the market's bustling opening Saturday, after uneasiness about the coronavirus kept some vendors and customers away from last year's market.
"It's a good start," said Wayne Hall, of Rocky Ole Farm and president of the market. The wind on Saturday morning left some vendors scrambling to shield their plants and keep wares from blowing away. But the wind and lingering virus worries did not deter hundreds of shoppers browsing locally-grown vegetables, meat and flowers, local bread, honey and wine, and coffee beans roasted nearby.
"I think people are just excited to get outside," said Christopher Evans, of Granite Ledge Coffee. "It just feels good."
Evans sold his beans at the Concord market last year, but said most of his revenue has been coming from sales to grocery stores, and online sales.
"Online sales are really strong," he said, but he said there was no replacing the feeling of seeing customers in person.
The Bread Peddler, otherwise known as Bob Chertoff of Sanbornton, said he was happy to be back at the market, after doing online-only sales in 2020 to limit his exposure to the coronavirus.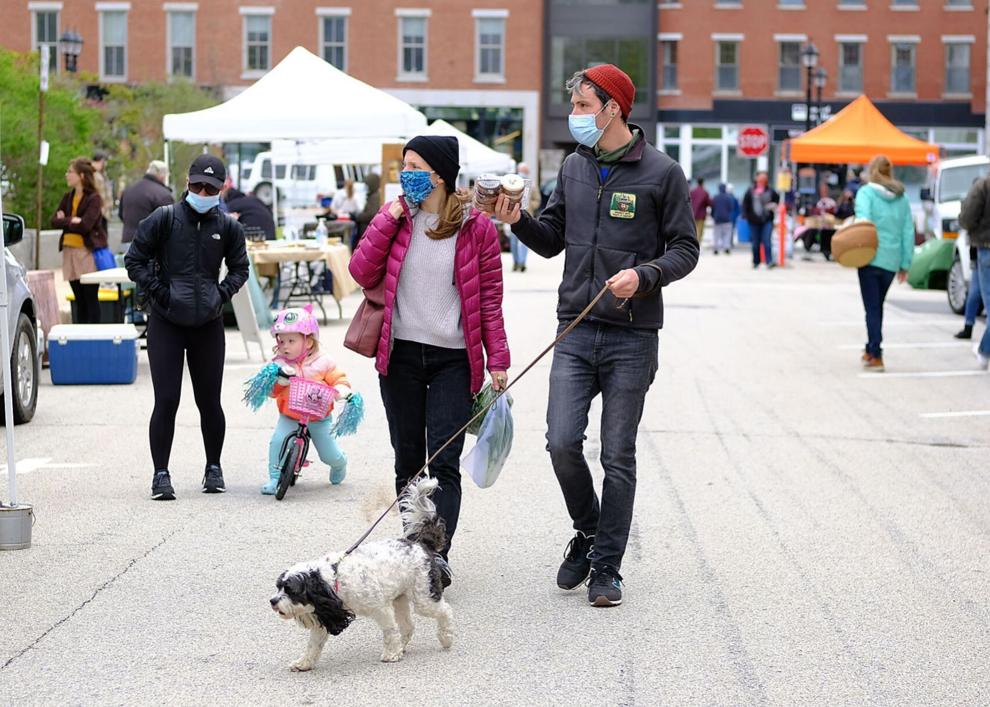 Chertoff's customers were glad to see him back too — and glad to see his bialys. Chertoff said there aren't many purveyors of bialys, a cousin of the bagel, in New Hampshire.
"I have a very active market in bialys," Chertoff said.
He sold out less than halfway through the market Saturday.
As the season goes on, and more produce becomes available, Hall said more vendors will start coming to the market. And, he hopes, more people. Pre-pandemic, the city block cordoned off for the market was often packed with people. On Saturday, it was easy to keep a six-foot distance from others.
"Our biggest thing is the people. We love seeing the people, and they're very loyal," Hall said. "We have the best patrons anywhere, just ultra-good people."
Opening day at the farmers market was another sign of almost-back-to-normal for Brenda White of Hopkinton, selling Blakeney's baked goods on Saturday morning.
"I think a lot of us have missed the camaraderie that we have here," she said.
Now, White said, she is looking forward to the day when she can see her customers' smiles, without masks.