A group of "horse people" inspired by the 2003 film "Calendar Girls" and the pandemic never expected their slightly racy creation to be such a hot seller.
Beth Sautter, who owns the Now or Never Farm, first proposed the idea — for a calendar featuring 12 photos of strategically unclothed people — to the Facebook group Chester NH Horse People as a fundraiser for the Chester Food Pantry at Chester Congregational Church.
"Everything was shut down. Nobody was doing anything," Beth Sautter said of the pandemic. "We really needed to lift our spirits."
The group totals about 190 people from Chester and neighboring communities.
At first, Sautter said there was a big group of volunteers, but that quickly dwindled as the reality of what they had signed up for dawned on them.
"It got harder and harder to get 12 shots as we got closer," she said. "But we got it."
Sautter said the winter shoots for December and January were taken on the same day, with a fresh coat of snow on the ground. It was cold, but the subjects were laughing and having a great time, Sautter said.
"We were freezing!" Sautter said. "We had a couple of wardrobe malfunctions on the group shots."
Sautter had 50 copies of the finished calendar printed, and they sold out at the Chester Fair. She said people are still asking where they can get a copy, so she plans to use the proceeds to print a second run and sell those at upcoming Christmas fairs.
Each batch of 50 calendars raises $500 in profit for the food pantry.
"We were really overwhelmed by how much of a hit it was," Sautter said. "It looks like it's going to be a pretty sizable donation now."
"I take any kind of donations that anybody has. I thought it was a riot," said food pantry coordinator Cindy McLaughlin. The pantry serves both Chester and Auburn.
McLaughlin said she didn't find out about the calendar until she saw the chatter all over Facebook.
"They didn't let me know because they didn't know how it was going to go over," McLaughlin said.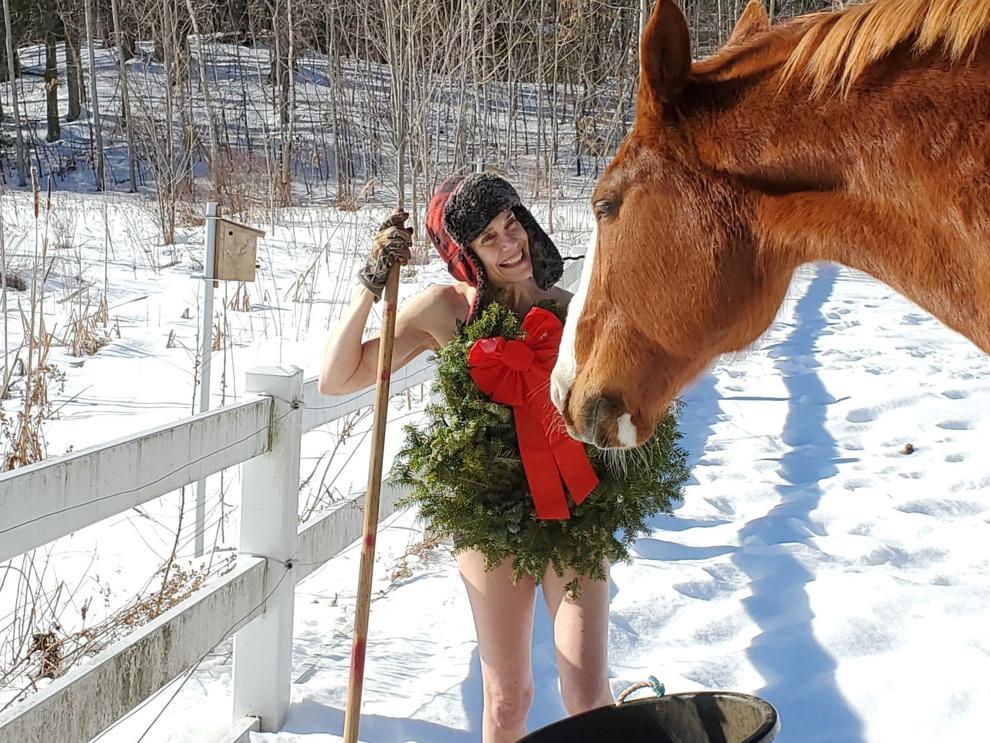 Lori Potter owns Whispering Winds Farm and has four horses, four donkeys and 11 goats. At the time of her calendar shoot — for March — she said she had just recovered from a year of chemotherapy, breast removal and implant surgery.
It turned out participating helped boost her confidence.
"I said, 'I got these fake breasts now,' so I said, 'What the heck.' It made me less shy, so to speak," she said.
She had a lot of fun and is glad the calendar is supporting an important local charity. And her experience with cancer has given her a new outlook on life.
"You just really can't be all that uptight about stuff," Potter said.
Other women in the group who were instrumental in organizing the calendar include Manette Pacheco, Kim Hughes, Amy Towle Lapham and Sandy Wright, the creator of the Facebook group and the owner of Chester Hill Farm.
Wright (February) remembers being approached by Sautter about the project.
"I was a little hesitant at first. I'm over 50 and not used to putting myself out there, especially half naked," Wright said.
But she's glad she did. Wright said her husband thought it was "great," but her daughter is "mortified."
Pacheco (August) said she and her husband Jim (July), the owners of two horses and Trusty Boys Farm, were excited about participating from the start.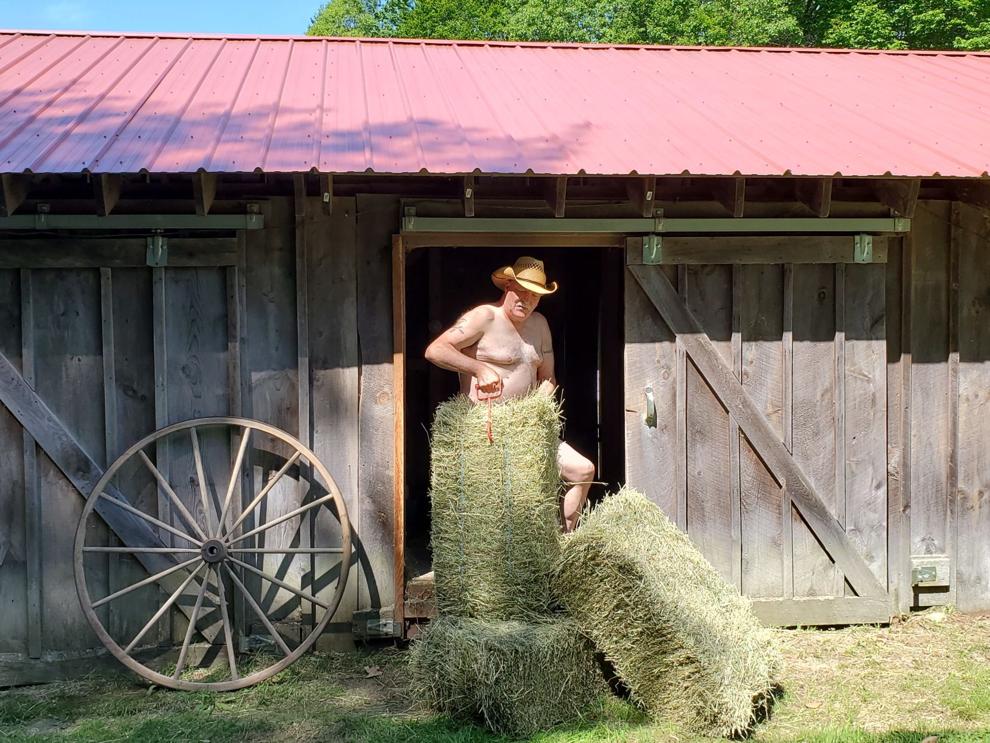 A couple of other men involved in the photo shoots were Tod Himmer and James Pike, both horse-owning neighbors, according to Pacheco.
Sautter and Pacheco said they hope the calendar becomes an annual tradition, and that they can convince groups such as the police or fire departments to come up with their own versions.
"I really hope it goes in both directions," Pacheco said. "It's a lot of fun."
Sautter said the plan is to have the 2022 calendars available for sale at the Chester Lions Club Fair and the Christmas in the Village events. Meanwhile, calendars can be ordered at chesterhorsecalendars@yahoo.com.