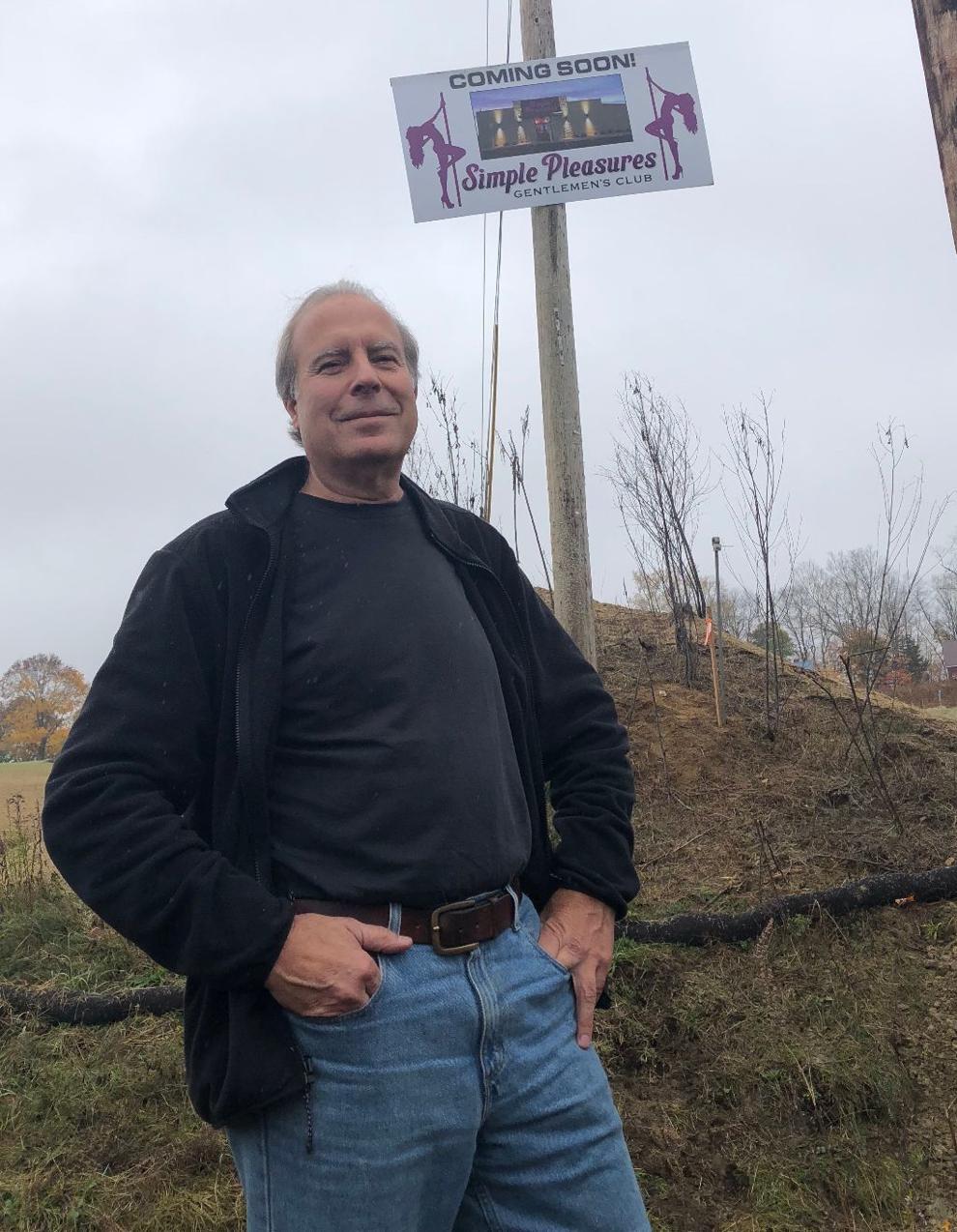 Michael Fecteau's phone started blowing up first thing Monday morning when people began noticing the large sign attached to a utility pole on his vacant 7-acre piece of commercial property.
The sign displayed at the highly visible intersection of routes 27 and 125 in Epping read, "Coming Soon! Simple Pleasures Gentlemen's Club."
It featured two silhouettes of women pole dancing and an image of what appeared to be an artist's rendering of the building that would allegedly house the new club.
"I've gotten calls from planning, the police department, and the selectmen's office," Fecteau said.
The sign got some people wound up because it was the first anyone had heard about a strip club at the site.
It was also news to Fecteau.
Fecteau confirmed that no, he does not have plans to bring a strip club to Epping.
He learned about the sign through a text message from someone at the police department. How did the sign end up on his property?
"I'm quite certain it's a friend of mine who thought he was being funny," Fecteau said.
The selectmen's office fielded several calls from residents. One told Town Administrator Gregory Dodge that she would have put her house up for sale if the town approved such a plan.
"At the time we didn't know what was going on, but we spoke to the owner and confirmed it was a joke played on him and he was going to remove it," Dodge said. "It was meant to be funny and people took it very seriously."
Fecteau cleared the land in recent years and plans to develop it, but said he has "no specific plans at this time."
"I've had people call with interest in the property, but I have not even established a price yet," he said, adding that it'll be an "attractive property for somebody to develop once the pandemic subsides and people start doing retail and commercial again."
Fecteau hoped to remove the sign on Monday, but when he arrived to get a closer look he realized it was out of reach.
He plans to wait until Tuesday, when he can get a bucket truck.
Monday's prank quickly made the rounds on social media, with some people convinced a strip club was planned, while others pointed out that it was nothing more than a joke.
"I just saw that Epping is getting a strip club!!! Are u kidding me? Who approved that one," Kelly Symmonds posted on an Epping "Neighbor Helping Neighbor" Facebook page.
"A strip club or strip mall? Big difference," responded Facebook user Jay Dee.
Justin Stephens seemed surprised that so many people fell for the prank.
"Epping definitely has the most gullible residents in America," he wrote.
The incident reminded some of the time in 2016 when someone added a silhouette of a stripper on the pole for a state "Attractions" sign at Exit 5 on Route 101 in Raymond.
While the strip club sign caused a stir, Fecteau took it in stride and said it was all in good fun.
"In these crazy times of a pandemic and political discourse, it's probably not a bad thing to have a little chuckle over a Halloween prank," he said.