Joy to the world! It's December! As we jump down the chimney with both feet, we are drawn to the many events taking place this holiday season. We've pulled together 10 events to help make your month memorable, festive and filled with the spirit of the season. There are many other events to explore, but be sure not to miss some of these: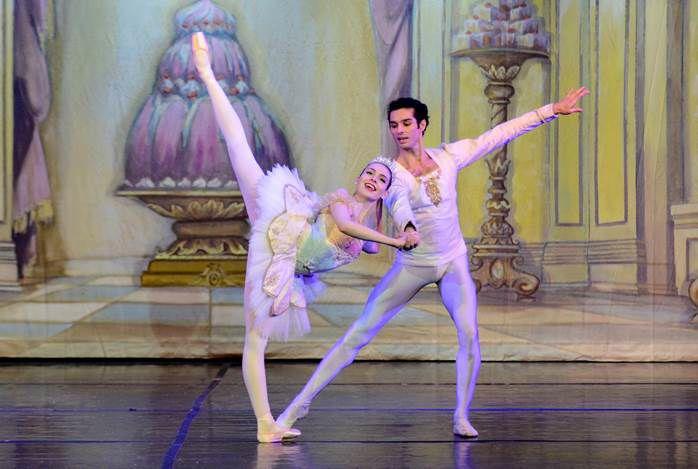 The Nutcracker (Dec. 1): Tchaikovsky's classic ballet is traditionally performed by Southern New Hampshire Youth Ballet, accompanied by a live orchestra led by Grammy Award-winning conductor John McLaughlin Williams. This magical ballet, set in 19th century Germany, opens with the mysterious Dr. Drosselmeyer giving his niece, Clara, a toy that takes her on a magical and unforgettable journey. Make this one a part of your family's tradition. At noon and 4 p.m. at the Palace Theatre, 80 Hanover St., Manchester. Tickets $25-$46.
Jingle Bell Chocolate Tour (Dec. 1-22): The Jingle Bell Chocolate Tour, which started out as a one-day event, now takes place over four December weekends in Jackson. The Christmas spirit is alive and well in this charming North Country village, where you'll start at the wintry wonderland known as Nestlenook Farm Resort. Board an Austrian horse-drawn sleigh and let it take you over the hills and through the woods of Jackson Village — to several establishments on this tasty tour. Each business will have chocolate treats available — and they'll even bring them out to you so you'll never have to leave your sleigh! After collecting handmade chocolate treats you'll return to cozy Nestlenook Inn. This has become one of the most distinctive and enchanting holiday events in New Hampshire. Make it a part of your holiday. Saturdays and Sundays from 11 a.m.-4 p.m. at Nestlenook Farm Resort, 66 Dinsmore Road, Jackson. Tickets $30.
Candlelight Stroll (Dec. 7-22): The 40th Annual Candlelight Stroll turns the Strawbery Banke Museum into a Christmas card straight out of history. Held annually since 1979, the event highlights 350 years of seasonal and holiday traditions with the museum's historic homes as a backdrop. The grounds glow with hundreds of candle lanterns lighting the way to homes decked out with decorations handmade from live greens and dried flowers from the gardens onsite. The air is filled with the sound of holiday music and the scent of wood smoke from the bonfire. Visitors are invited to stroll from home to home where costumed performers will recreate traditions of yore. Rediscover the joys of a simpler time. No one does it better than Strawbery Banke. Saturdays at 5 p.m. and Sundays at 4 p.m. at Strawbery Banke, 14 Hancock St., Portsmouth. Cost: $20 for adults, $7.50 for children ages 5-17, $55 for a family (2 adults, 2 kids).
The Button Factory Open Studios (Dec. 7): The Button Factory has been opening its doors to artist studios during the holidays for years. This tour takes you behind-the-scenes and into the studios, where you will encounter artists at work. Tenants of the Button Factory also will host a number of guest artists inside their studio spaces. Get your Christmas shopping done early this year and find something unique at this festive fête of whimsy. From 10 a.m.-5 p.m. at The Button Factory, 855 Islington St., Portsmouth. Free.
Christmas at Canterbury (Dec. 7 and 14): We love to celebrate holiday traditions and there are few places better to do so than New England. Celebrate Christmas at Canterbury and experience the delights of Christmas from a simpler era. Visit the historic Shaker buildings, watch a 19th century magic show, meet Father Christmas, make Christmas crafts, admire a toy train display and listen to fiddlers. Enjoy hot cider and warm up your pipes to sing carols as the Village Christmas tree is lit. From 3-8 p.m. at Canterbury Shaker Village, 288 Shaker Road, Canterbury. Cost: $5-$25.
23rd Annual Inn to Inn Cookie Tour (Dec. 14-15): Spend an afternoon with the proprietors of the country inns of the White Mountains and come home with a colossal cookie haul. This sweet self-guided tour highlights some of the prettiest and most festive inns of the region. The tour visits 11 decked-out inns from Jackson to Eaton, where you will not only receive signature holiday cookies and candies, but you'll get the original recipes in a Holiday Recipe Cookbook to take home, along with some festive decorating ideas. If you stay at one of the inns, you'll also receive a keepsake ornament. From 11 a.m.-4 p.m. at Country Inns of the White Mountains. Begin at any of the participating inns. Tour tickets are available in advance by reserving a Lodging Package from participating inns. After Dec. 1, limited tickets may be purchased by calling Old Red Inn at 800-338-1356. $35 per person.
Lights on the Hill (Dec. 14): Celebrate the true meaning of Christmas at the annual Lights on the Hill celebration. This events draws the community together for an evening of activities for all ages. A highlight of the celebration will be the hundreds of luminaries lining the paths of the village campus to take you from destination to destination. Listen to live acoustic music while warming your hands with a cappuccino. View crèches from all around the world in the historic Smyth Building, decorate gingerbread men, have your photo taken by the Christmas tree, visit the barn to meet the animals and listen to the story of the first Christmas. Toast marshmallows and warm up by the campfire, sing Christmas carols, and enjoy live performances at the annual Christmas Show. From 2-8 p.m. at Candia Congregational Church, 1 South Road, Candia, and other campus locations. Free.
Victorian Christmas (Dec. 14): Make some room in your Christmas schedule to visit the beautifully decorated Jones Farmhouse. Role players in period dress will allow you to experience the wonder of a Victorian Christmas. Enjoy early 19th century Christmas music in the parlor. Visit the blacksmith and explore the barns. Make a hand-dipped candle to take home and roast chestnuts and popcorn over the fire. Enjoy gingerbread and hot cider in the farmhouse kitchen. From 10 a.m.-3 p.m. at New Hampshire Farm Museum, 1305 White Mountain Highway/Route 125, Milton. $5-$10. Severe weather date: Dec. 15.
Boston Pops Holiday Concert (Dec. 21): Conducted by Keith Lockhart, this special performance by the Boston Esplanade Orchestra returns to Manchester, marking its 19th consecutive year. The Boston Pops performance captures the magic of the holidays and the charm of winter in New England, including the signature "Sleigh Ride," as well as other holiday classics and new arrangements of seasonal favorites. The Pops will be joined by the Metropolitan Chorale, one of Boston's choral ensembles. At 7:30 p.m. at SNHU Arena, 550 Elm St., Manchester. Tickets $43-$78.
Recycled Percussion (Dec. 26): If you've never seen a performance by the Granite State's legendary drumming group Recycled Percussion, you're about to get hooked. Starting with this performance the day after Christmas, the group is scheduled to perform 29 shows from the end of the year through the end of January at various venues across the state. They have always come home for the holidays, but this run is truly record-setting. See them kick things off in Rochester with three big shows. Once you have seen Recycled Percussion perform, you'll understand why they are such a phenomenon; their shows are an unforgettable experience. At 12:30 p.m., 4 p.m. and 7:30 p.m. at the Rochester Opera House, 31 Wakefield St., Rochester. Tickets $35-$45.