For the past four years, Carlos and Vicki Santana have been visiting The Rocks Estate in Bethlehem to buy their Christmas tree on the Saturday before Thanksgiving.
The Mansfield, Mass., couple heard from workplace colleagues about a potential shortage of Christmas trees this year, but they decided to stick to their schedule for their trip over the weekend to the 1,400-acre reservation.
This year, the couple had their 10-month-old daughter, Olivia, to share in the family tradition. Vicki Santana said she is following in the footsteps of her grandfather, Joseph Monahan, who grew up in the nearby Twin Mountain section of Carroll and used to get his tree at The Rocks, a forest reservation owned and managed by the Society for the Protection of New Hampshire Forests.
"It's a great family tradition, and we want her to be a part of it," said Santana, adding that visiting The Rocks to choose a tree "is a lot cooler" than buying a pre-cut tree at a big-box store.
Nigel Manley, director of North Country operations for the Forest Society, has been farming Christmas trees at The Rocks for 35 years. He's certain 2021 will be a "banner year" for selling choose-and-cut as well as wholesale trees, but they'll be a bit more expensive.
He's watching for a possible spike in sales of natural trees. Supply-chain interruptions could leave artificial trees made overseas marooned on cargo ships that are waiting to be unloaded at U.S. ports.
The Rocks used a reservation system in 2020 because of the pandemic yet still sold about 2,000 cut-and-choose trees and upward of 4,000 trees to wholesalers, said Manley, who serves as the New Hampshire/Vermont representative to the National Christmas Tree Association.
The Rocks' wholesale customers, which included other Christmas tree farms, were in the lower part of New Hampshire and also in Connecticut and Maine, he said.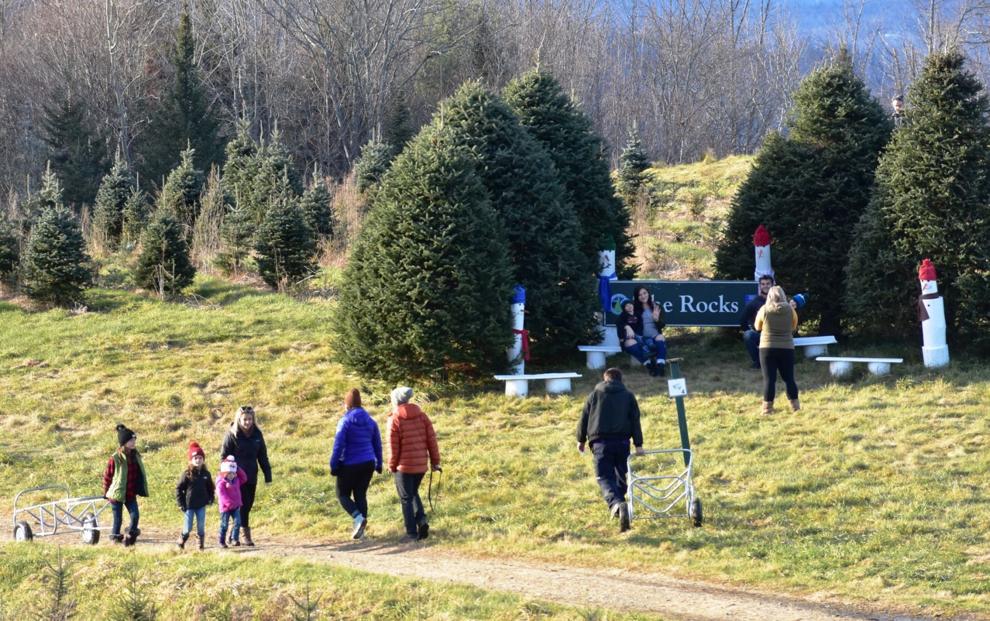 After being cooped up by the pandemic, customers "bombarded" tree farms, including The Rocks, as soon as they opened this time last year, Manley said. For The Rocks that meant a more than 30% increase in sales, he said.
For 2021, the cost of both cut-and-choose trees and wholesale trees is up 10%, which Manley explained was "catching up, quite honest," to where the prices should be, given years of below-cost pricing.
He said COVID-19 has made it difficult for the Rocks to hire employees and also to find trucks to deliver its trees to market.
In the past, the Rocks would fill three trailers full of trees; this year the trailers are being used elsewhere, and deliveries are being made using pickup trucks, Manley said.
Tim O'Connor, executive director of the Colorado-based National Christmas Tree Association, said while "there's a lot going on" with the 2021 season, "the headlines that talk about shortages of Christmas trees are sensationalized and lacking the full story."
In the 1990s, prices were high, and growers planted accordingly, said O'Connor, before they and the rest of the country encountered "the Great Recession" of 2008.
"The supply of trees is tight; it's been tight since 2015," O'Connor said in a phone interview last week. "Yet the entire time — with headlines year after year after year — we as an industry have never run out of Christmas trees. Anybody who wants to get one will be able to get one."
He compared talk of a tree shortage to last year's pandemic run on toilet paper.
"We saw a shortage in March and April of 2020 when you went to buy toilet paper or baking flour and couldn't find it at the store, even at another store, and that's what a shortage looks like," he said. "With a Christmas tree, if one place is sold out, there's another place down the road."
An example of that on Sunday was the Lowe's store in Tilton, which had plenty of trees on hand, while the Home Depot, a few miles to the east, had just a handful.
Home Depot says it's not experiencing a shortage.
"Our supply of fresh cut trees is similar to previous years — we're not seeing this in our business," Home Depot corporate spokeswoman Margaret W. Smith wrote in an e-mail Monday.
Despite their availability, the supply of trees may not be spread evenly, though, and that may prove challenging for groups that sell trees for fundraisers, said O'Connor, who also said consumers should expect a 10% increase.
But the trees will be there. The season will end, O'Connor said, "with unsold precut Christmas trees, and that's not a shortage."