In troubled times, "Look for the helpers," the inestimable Mister Rogers liked to say. "There's always someone who is trying to help."

In New Hampshire, you don't have to look far. The Union Leader put out a call asking readers to tell us about "acts of kindness" — everyday people who go about quietly doing good, with no expectation of recognition or glory.

We heard from plenty.
There was a happy hum last week in the community room at St. John Neumann Church in Merrimack, where eight women sat around a large table, their fingers flying, surrounded by colorful blankets, shawls and baby items. They call themselves the "yarn ministry."
"We've been doing this for maybe 20 years," explained Jean Barry, the group's coordinator. "We make prayer shawls, comfort shawls, chemo caps, caps that go to the hospitals for the babies... We knit and talk and have a good time and support each other."
"I'm earning my way to heaven by making prayer shawls," said Beverly Gagnon of Hudson, who adds whimsical buttons to each creation, her signature touch.
It's not just the cozy shawl, blanket or scarf that provides comfort to the stranger who receives it, Norma Horan of Merrimack said. "The people knitting it, they are also praying for whoever the recipient may be," she said.
Every morning, Dora and John Antonellis of Londonderry visit their local Market Basket, where both used to work after they retired. Every time, they find a mother, usually with kids in tow, and give her a gift card for groceries.
"We give it to mothers with children because we know the food bill for them is probably big," Dora said.
Their gifts are usually met with disbelief, hugs and tears. The mothers often share stories of hardship, like one woman who was shopping with two children recently. When they handed her the gift card, "she started crying hysterically," Dora said. The children's mother had died of breast cancer and their father from a drug overdose, the woman told her. "She's the grammy; they live with her," she said.
She's heard so many stories like that that she's convinced "it's a higher power that draws me to certain ones," she said.
Dora keeps a notebook with the first names of the moms and kids she meets, if they give her permission. The notebook contains hundreds of names.
John, 65, was an accountant; Dora, 71, was a high school teacher. They've been married for 33 years. "We met through the personal ads," Dora said. "I was looking for a car," her husband said.
They have had their own share of hardships, including a serious illness that landed John in a Boston hospital and required a series of surgeries in the years since. But they also have been lucky, they'll tell you. Six years ago, they won some money in the New Hampshire lottery. That changed their lives — and their sense of purpose.
"God has blessed us, and we like to share what we have with others," Dora said.
"I just like seeing the expressions on their faces," John said.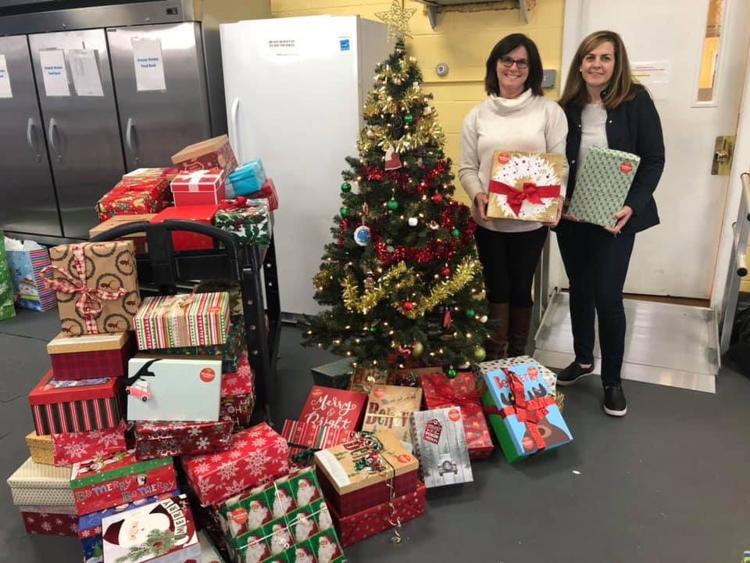 Kristen McLaughlin is a fourth-grade teacher at Lancaster Elementary School in Salem. She's also the coordinator for southern New Hampshire of something called the Shoebox Project. "It's a simple concept," she said. "As a mom and as a teacher, we make sure that our kids get what they need for the holidays."
"But oftentimes, the women neglect themselves," she said. "They don't have anything to feel special."
So volunteers fill boxes with "little luxuries," such as body wash, fuzzy socks, a warm hat and gloves, some chocolate and a gift card. In addition, McLaughlin said, "The people that make the boxes are encouraged to write just a little note of encouragement, that someone's thinking of them, that they're not alone during the holidays."
McLaughlin delivers the decorated boxes to women's shelters in Manchester, Nashua, and Lawrence and Haverhill, Mass. "I think that it's important that they know that people care about them and that they're not alone going through this, and there is someone out there that cares," she said.
Diana Tompkins of Derry plans to spend Black Friday shopping online. But it's not for her own loved ones.
Each year, Tompkins collects money from everyone she knows and uses it to purchase coats for her local Salvation Army's winter coat drive.
Last year, she donated 80 coats.
"I feel like so many people want to do things, they want to do good deeds, but everybody's just so busy," she said. "This just makes sense for me."
In past years, Tompkins has also used the same approach to recruit friends to bake cookies that she then delivers to area nursing home residents. The first year, she put out a call on social media. "I ended up with 4,000 cookies," she said.
For Tompkins, projects like these are "a reminder of what the season is all about," she said. "It's just a way of feeling like you're part of something bigger."
Mary Selvoski contacted the newspaper to talk about her cousin by marriage, Michael Surderski, a special needs senior who lives with her and her family in Bedford.
Her late husband's mother, Michael's Aunt Helen, took the boy in when Michael was 3 years old; his parents wanted to place him in an institution because of his developmental disabilities, Selvoski said. Under Helen's caring tutelage, he thrived, graduating from high school and helping her with her volunteer work for the American War Mothers.
Helen and Michael came to live with Mary and her husband in New Hampshire about 25 years ago. Michael turns 71 this week. To Mary, who has six children of her own, he's like another son, she said.
She proudly shows off the plaques and programs from volunteer appreciation events at the Manchester VA Medical Center, where Michael escorts veterans to Mass and sometimes plays bingo with them. And he's popular with customers at Market Basket in Manchester, where he works as a bagger, she said.
"Everybody likes Michael, but the outside world doesn't know how much he does," Sevloski said.
How does his volunteer work make him feel? "Good," said Michael with a smile.
Laura Barker of Stratham started Hero Pups seven years ago, after her son, a Marine, was wounded in Afghanistan and she spent a month at his hospital bedside. "Somebody brought in a therapy dog," she said. "And I know it sounds like a cliche, but the rest is history."
Barker (yes, that's really her name) had experience in training working dogs, so she decided to start a nonprofit organization to raise service dogs for wounded warriors. "They signed that blank check," she said. "I thought the least I could do was train a dog and donate it to a hero."
Barker relies on donations and volunteer puppy raisers, including a handful of inmates at the Merrimack County Jail. She has placed more than 60 service dogs with veterans; there's currently a waiting list. "You can't buy the feeling of watching that veteran leave with his new dog," she said.
Most of the Hero Pups dogs come from shelters, and Barker carefully matches them with the right veteran. "Dogs don't care what you did," Barker said. "They don't care what you had to become when you were in war. They care about right now."
"Let's save a dog and save a hero," she said. "To me it seems so simple."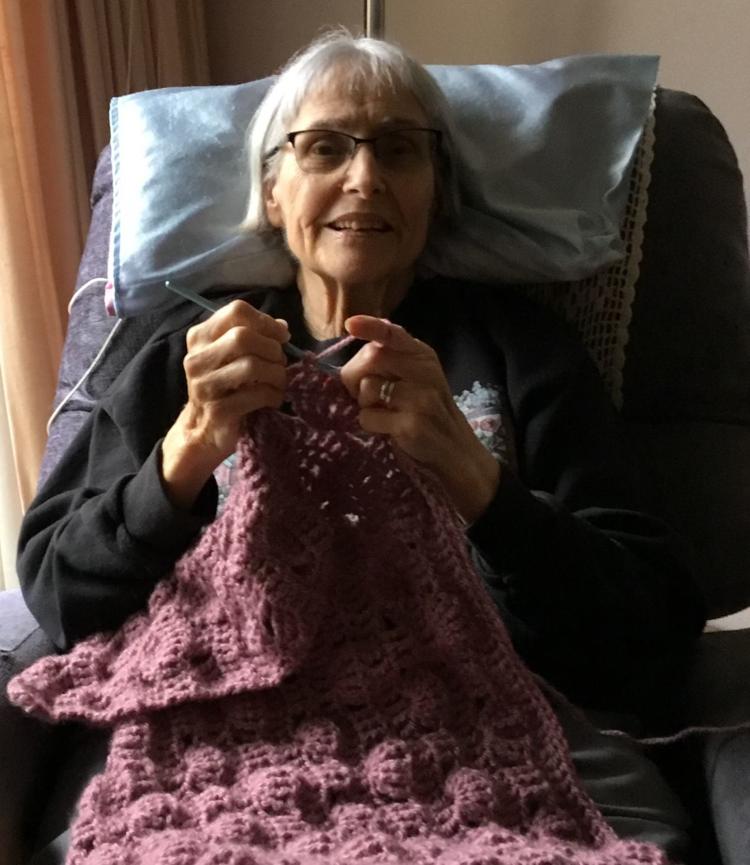 Robyn Manley of Bennington is the southwest New Hampshire coordinator for Project Linus, one of three chapters in the state. The program is named after the "Peanuts" character who relies on the constant reassurance of his blanket.
Hundreds of volunteer "blanketeers" across the state create handmade blankets and quilts to give to children who are sick or have been through some kind of trauma. Manley delivers them to hospitals, surgery centers, shelters and social service programs.
"We never see the child who gets a blanket," Manley said. "But they're so appreciated by the families who receive them. It can be a troubling time when your child is in the emergency room or in the hospital for some kind of procedure."
"Last year, we received and delivered 3,700 blankets," she said. "It's incredible that there are that many people making blankets — and it's also unfortunate that there's that much need."
A group of volunteers for the Visiting Nurse Association of Manchester & Southern New Hampshire delivers home-cooked meals to hospice patients in their homes. They call it Angel-Food-To-Go.
Rachel Chaddock, vice president of the VNA, said the idea came from the volunteers themselves: "When we have families that are in need, they just go to town, and they buy the food and they prepare the meal and deliver it to the house."
"It's food being delivered from the goodness of someone's heart, like an angel looking out for you," Chaddock said.
One of her favorite stories is about a couple who had always enjoyed date night together; after the husband fell ill, they could no longer go out. The Angel-Food-To-Go volunteers "put together a meal, and they brought the music and a bottle of wine, and the home health aide got them all gussied up," Chaddock said.
"They had their date night at home."
Here's the thing about kindness: It's contagious.
Beverly Gagnon was buying yarn at a crafts store when she noticed the man behind her had only one item. She offered to let him go ahead of her, and he asked what she was going to do with all the yarn. She told him about the prayer shawls she makes, and he asked if she gets reimbursed for the cost of the yarn. No, she replied, but sometimes people donate.
The man stepped up to the cashier and announced he was paying for the lady's yarn. "Of course I thanked him half a dozen times," Gagnon said. "It was over fifty dollars."
John and Dora Antonellis said kindness has its own rewards. "It's hard to describe the feeling," Dora said. "I always say if everybody was just a little bit nicer to each other, what a wonderful world we would have."
Her advice: "Just be kind."