GOFFSTOWN — Fall may be synonymous with pumpkins, but in Goffstown so too is a regatta involving giant hollowed-out gourds retrofitted as boats and piloted down the river that flows through the center of town.
While there are plenty of pumpkin festivals across New England, this weekend's Goffstown Pumpkin Regatta has become a tradition in this community along the Piscataquog River, where contestants maneuver their crafts to a finish line in pumpkins ranging in weight from 800 to 1,400 pounds.
The two-day event coincides with the end of the pumpkin harvest and the agricultural fairs that are a fall fixture in New Hampshire, where giant pumpkin growers plant seeds that grow into dinghy-sized pumpkins for the event, says Charity Frost, executive director of the Goffstown Main Street Program, which hosts the regatta.
Five boats competed in 2018, but Frost expects at least eight this year, though that number could grow to 10 by weigh-in day.
This year also marks the return of outboard motors to propel the pumpkins. The use of motors had been banned due to a milfoil infestation over the past few years. While captains of the pumpkin boats will still be allowed to have an oar, now those oars will be used for steadying their craft instead of propulsion.
Begun in 2000 as a way to bring tourists to Goffstown and help promote the New Hampshire Giant Pumpkin Growers Association, the event's success inspired a similar regatta in Damariscotta, Maine, that uses only Maine-grown gourds.
Although the Damariscotta regatta happens a week earlier, Frost believes that Goffstown's spectacle is unique enough to share the spotlight with Maine regardless of the date. "It's a cool enough thing that it can be in a couple of places and it's not a big deal," she said.
And like in Damariscotta, the Goffstown regatta is just the centerpiece of a two-day festival that celebrates all things autumnal.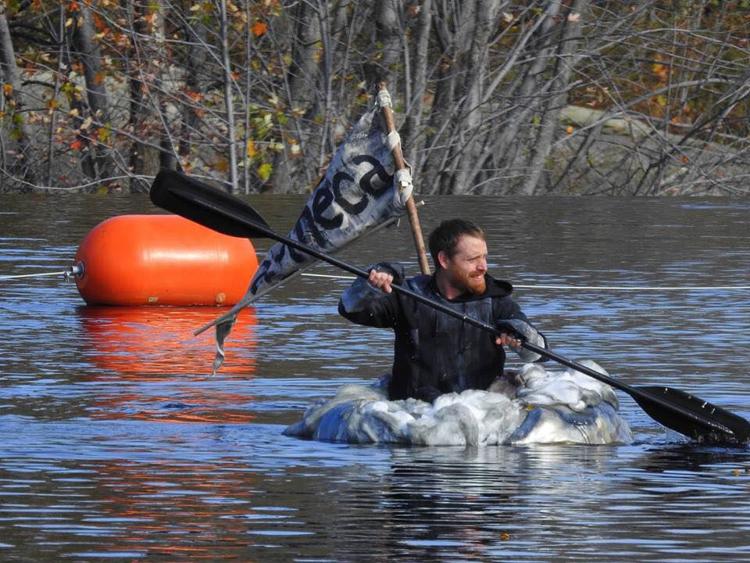 More than two dozen pumpkin dishes are expected to be submitted for judging at the Goffstown Main Street office. There will also be an art exhibit and a talent show planned, and various other activities available on Saturday, Oct. 18, and Sunday, Oct. 19.
The weekend celebration is a highlight of the year for businesses in Goffstown Village. Even if the weather is inclement, 8,000 people could attend, with thousands more expected if conditions are idyllic, according to organizers.
For some businesses like Main Street's Apotheca, the event is a chance to reconnect with old friends and introduce new ones to the heart of Goffstown.
Owner Alyssa Van Guilder has now seen 14 pumpkin regattas, and for her the event never gets old. For Van Guilder, it turns into a family reunion of sorts when her 6-foot, 5-inch tall brother, Caleb, visits from Minnesota to pilot the store's pumpkin. One year, his vessel sank.
"It's just a way to celebrate this town we love and to see people who wouldn't be here," she said. "We're just a tiny little village, but during the weekend we have people from all over. It's pretty unusual for grownups to float down the river in a pumpkin. It makes no sense, but it's such a great way to have a good time."
More information on the event, including a complete schedule, is available on the Goffstown Main Street Program's website: goffstownmainstreet.org.