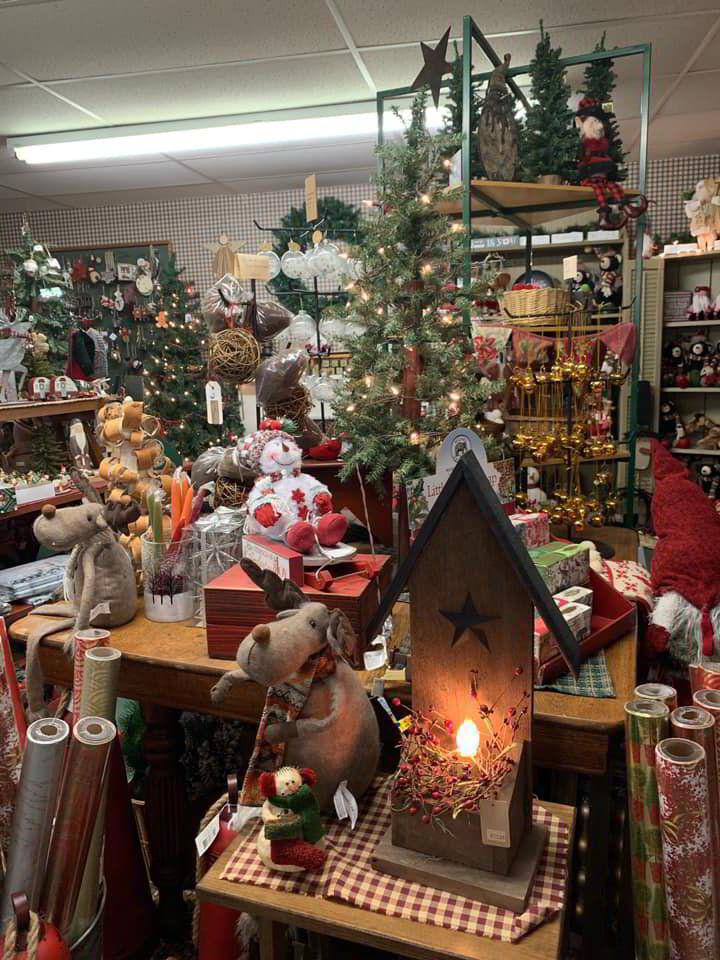 THOUGH HER TWO SHOPS couldn't be more different, Karen Robinson, co-owner of Jingles Christmas Shop and Monadnock Flooring & Outdoor Living, sees a surprising amount of crossover. "Someone will come in for gifts or fudge, see the flooring, and remember that they need new flooring," she said. "Or they'll come in for flooring, and leave with a Santa ornament or a pound of fudge."
Western New Hampshire has its own charm. It wasn't nicknamed the "Currier and Ives" corner for nothing. Its smaller towns boast a robust history of glassmaking, fiber spinning and other crafts, while Keene offers city amenities and the richness of a college town. A trip to a Christmas shop such as Jingles will set the tone for a delightful afternoon. Be prepared to do some driving: Monadnock towns are far-flung, but worth the trip.
While Robinson didn't grow up in a Christmas shop, she inherited a rich tradition. She and her business and life partner, Matt Lilly, own Monadnock Flooring in Westmoreland and were friends with Larry and Jan Muchmore, Jingles' founders. When the Muchmores wanted to retire, Robinson and Lilly bought the inventory and the name. The Muchmores owned the shop for 34 years, and the younger couple bought it three years ago.
Robinson and Lilly moved their flooring business to Westmoreland, and set about running the two businesses under the same roof. They carried out many of the Muchmores' traditions, including Amish furniture, braided rugs, and fudge that is reportedly to die for. "Larry and Jan gave us the recipe," she said. There are jams, jellies and maple products to stuff a special person's stocking.
And there's the Christmas piece, where Yule enthusiasts can pick up the latest Byers Choice caroler, Department 56 house, Annalee doll or Snowbabies or Willow Tree figurine. They can also discover a new designer or a perfect-for-them ornament.
A trip to Jingles is a Monadnock-area tradition, according to Robinson. She regularly hosts the Muchmores' customers, their children and their children's children. "You meet a lot of fun people, and everybody is so happy," she said.
"People make it a ritual."
While she features new designers and new designs, Robinson observed that New Hampshire is trending away from trends, at least this Christmas. Santas and snowmen and angels top the list. She does have a few topical ornaments, such as Santa in a COVID mask and images of toilet paper rolls, but for the most part, her people want what they know.
Though she does a healthy business every year, even Robinson was surprised at the 2021 market. People have been buying Christmas items "like crazy" since July, according to her. She doesn't know if it's a pent-up demand after COVID, fear of supply-chain issues, or simply a desire to celebrate like never before.
Robinson sold out of Nativity sets earlier in the fall, and she advises customers, "If you see something you want, buy it." She's seen the lack of product in every area of life, including her dealings with her Amish craftsmen: "They have a shortage of Mason jars."
Jingles is located in the same building as Monadnock Flooring & Outdoor Living at 1024 Route 12 in Westmoreland. Visit www.monadnockjingles.com.
Food & fun stops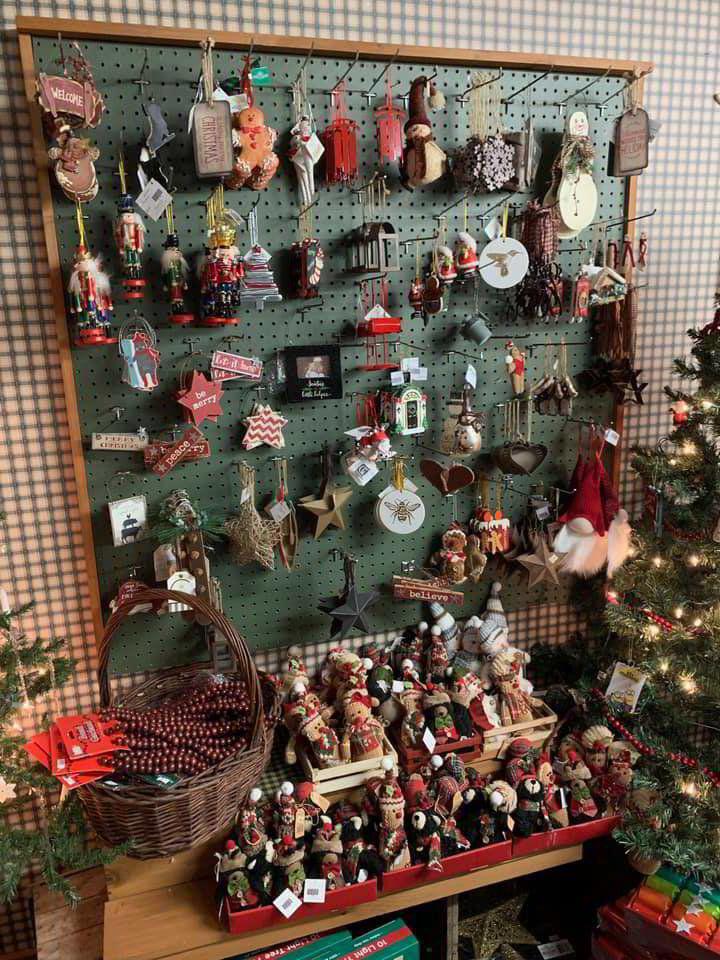 There's more shopping to be done at Willow Brook, 852 Route 12, where a collaborative of creatives offers "vintage, handmade and unique" items including milk paint, home and garden, wooden bowls, metal suncatchers, tea towels, soaps, macrame hangers, blankets, unique clothing and jewelry. For more information on finding that perfect gift, visit www.willowbrooknh.com.
Stop at the Village Eatery, 784 Route 63, for country charm in a 100-year-old building and former general store. The Eatery offers a variety of soups, salads, sandwiches and snacks. For a menu, check out www.westmorelandvillagerestaurant.com
The smaller towns in the Keene area offer unique boutiques. Head out Marlborough Road for Muse Gifts and Books, 180 Main St., Marlborough, for gifts for your favorite Wiccan. The store features ritual and decorative items, Wicca supplies, crystals, books, tarot cards, incense, candles, statuary and jewelry. Call 603-876-4242.
Fill a Christmas stocking with all-natural products from The Purple Goat, 233 Old Homestead Highway, Swanzey. Choose from natural, pure and organic body lotions, scrubs and bath products, makeup, candles and more. Visit www.thepurplegoat.shop.com.
Harrisville offers color and charm in a restored mill village. Head to Harrisville Designs, 4 Mill Alley, for everything you need for the fiber arts, from looms to potholder kits, needle felting supplies, books and classes. Visit www.harrisville.com for more information.
Take a walk around the village before fortifying yourself for the drive home with a snack or early dinner at the Harrisville General Store, 29 Church St. The building has been a general store since 1838 and is now operated by Historic Harrisville Inc. The menu includes salads, sandwiches, grass-fed burgers, baked goods, pizza, and more along with a selection of souvenirs and New Hampshire-made products. Visit www.harrisvillegeneralstore.com.
If you've still got time, energy and gas in the tank, Brattleboro, Vt., is a short drive away, and Keene offers bookshops, boutiques and dining to finish off your day.