T here's no single, pivotal moment that sparked the change in the family, but there have been indications over the past year that something was brewing.
It started Dec. 16 of last year — before that year's Christmas celebrations had even passed --when Joe Aiello bought his first of many sets of pixel lights and began plotting a bigger, more intricate display outside his Newton home for 2021.
Unlike traditional strands of bulbs that operate a fixed unit, pixel-light strands can be programmed individually, so Aiello was intrigued by the notion of controlling the color and blink factor of each individual light.
He set up shop in a room in the house and started building props and tinkering with a computer program called xLights to sequence an elaborate light show choreographed to holiday tunes.
The sequences, stored on a Raspberry Pi mini computer, make the house look like it's in a constantly shifting state — with lights rippling across the roof like one of those rolling stadium waves one moment, and then window frames dancing in beat to a song the next.
By the time autumn 2021 arrived, Joe's wife, Amanda, was posting reassuring messages about the 6,000 LED lights on the Aiello Family Light Show page she created on Facebook.
"For anyone who drove by and saw this tonight, I swear we're not crazy … just running tests," she joked in an Oct. 16 message on Christmas Lights in Southern NH, where 10,900 members go to share ideas, tips and addresses for night-time driving tours of festive locations.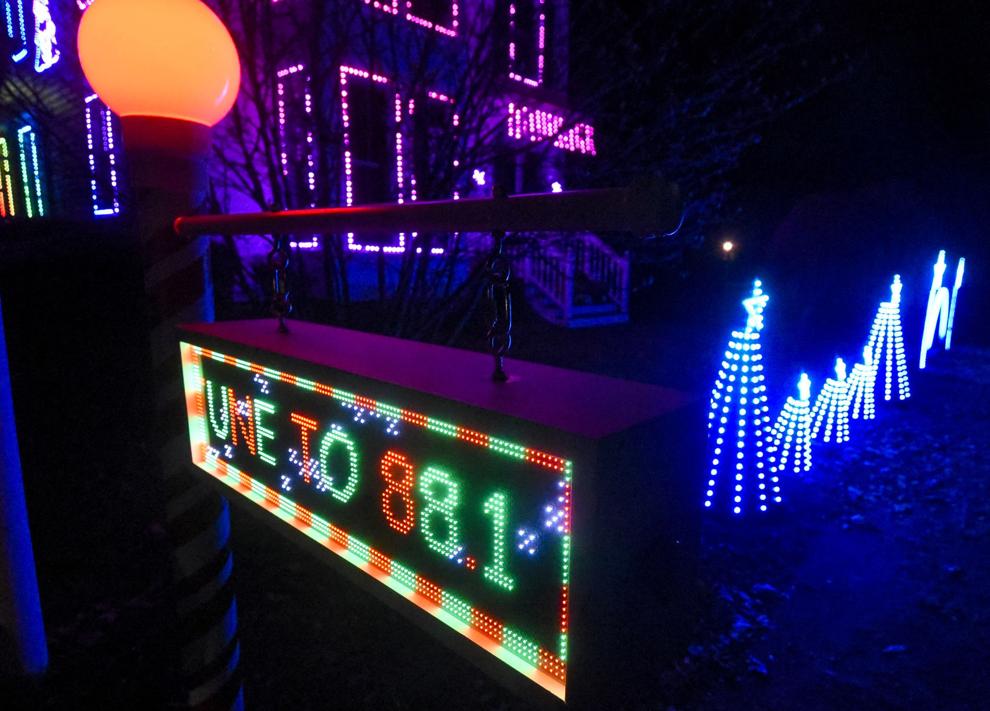 The profile picture on the Aiello's social media is Chevy Chase in his Clark Griswold guise from the 1989 holiday classic "National Lampoon's Christmas Vacation." He's got that glazed, slightly crazed expression as he plugs in a chain of extension cords in another over-the-top holiday display.
That movie still is so popular that Chase himself is doing a tour of screenings and Q&As with audiences, including at the Capitol Center for the Arts in Concord at 7 p.m. Saturday, Dec. 11.
But what makes people go Griswold?
For the Aiellos, who tease that their teenage children aren't as enthusiastic about decorating as their parents, it started with childhood memories of putting up Christmas lights and spending time with family, who unlike the Griswolds were usually in good spirits.
Plus, there are all those movies about feuding neighbors, including 2006's "Deck the Halls" with Danny DeVito and Matthew Broderick, and reality-television competitions such as the "Great Christmas Light Fight."
"It makes you want to go crazy with lights," Amanda Aiello said, laughing. "People need something positive, especially after these past couple of years."
The display, outside 2 Whittier St. in Newton, will be lit up from 6 to 9 p.m. every night through New Year's Day. Tune radios to 88.1 FM to hear the music.
People have joked that the Aiellos should stick a box outside for donations to help with their electricity bill over the next month. There's a lock box out there for sure, but it's for donations to the Make a Wish Foundation.
Too much is just enough
For every New Hampshire newbie asking for advice on social media, including the Light Up New Hampshire page on Facebook, there are scores of Christmas lighting veterans who say the reactions they get to their displays fuel their holiday spirit.
"When I am outside decorating a lot of parents will yell to me from their cars that my display brightens up their kids' night, and that makes me feel good," said Steven Downie, a Nashua resident who goes by Steven Katz in his funny online posts.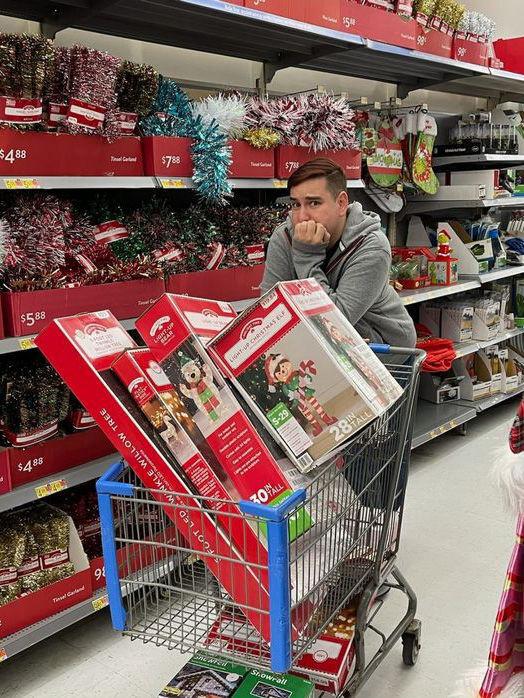 In one, he's in the Christmas decorations aisle of a store in early November, peering sheepishly over a shopping cart piled with boxes of decorations, including inflatable characters, lights and a twinkling willow tree. "I already have too much stuff … but it's a sickness. Help!!!" He followed the admonition with five cry-laughing emoji faces.
His display can be seen at 12 Cobble Hill Road, Nashua.
Downie has been decorating for the holidays for the past 20 years, both at his parents' house and his own, and he has several tips for first-timers.
"I see a lot of people when starting out go overboard on inflatables. This is usually due to a lack of trees, so they will plop down an inflatable. But too many inflatables can make your display a hot mess! Get creative. You can buy some PVC piping and make arches — they are actually very easy to make. You can make mock trees by getting large yard stakes and draping lights from them."
When it comes to lights, he stays away from too many multi-light sections or pure white features.
"I like eye-popping color. While I add multi colors to my display, they are wildly spread out. Solid colors tend to draw more attention and really make your display pop."
And the most important tool? Extension cords.
"I save money by buying the single-plug cords and adding an inexpensive three-way splitter on them. Buy your cords through the year because come November they are hard to find," he said.
He also has a tip about avoiding an electric shock. Before putting up decorations, check those extension cords for any possible critter damage. Another of his self-deprecating posts is a close-up image of bite marks on a green cord. He went to put up some lights and when he grabbed the strand, his arm suddenly started vibrating and tingling.
"Oops, this is what happens when mice invade your garage and you put up the lights in the dark. Stay safe out there, folks," he said.
His enthusiasm and sense of humor is spreading, with families eager to see what he's put together for this year.
"It's worth the effort to put a smile on a lot of faces especially when times aren't so great, like with the pandemic. One of my favorite memories from two years ago was when a mother came up to me to thank me for the display because her child with autism would see them and be happy throughout the night. Those are the reasons I go bigger every year!"
Dreams do come true
Some displays are about intricate computerized light shows and others are a winterscape of vignettes, but this one — at 100 Becker St., Manchester, is about a colorful burst of holiday spirit — with a playlist that playfully invokes Mariah Carey, the self-proclaimed Queen of Christmas whose 1994 song "All I Want for Christmas is You" is a season staple.
"Every year on Nov. 1, she does something funny on her social media pertaining to ending Halloween and starting Christmas," said homeowner Ryan Kalantzis.
For her social media video this year, the Grammy Award-winning icon with the multi-octave range donned a shimmery full-length red dress to take a candy-cane striped baseball bat to the pumpkin display on the porch as the familiar bell-like intro to her Christmas hit started playing.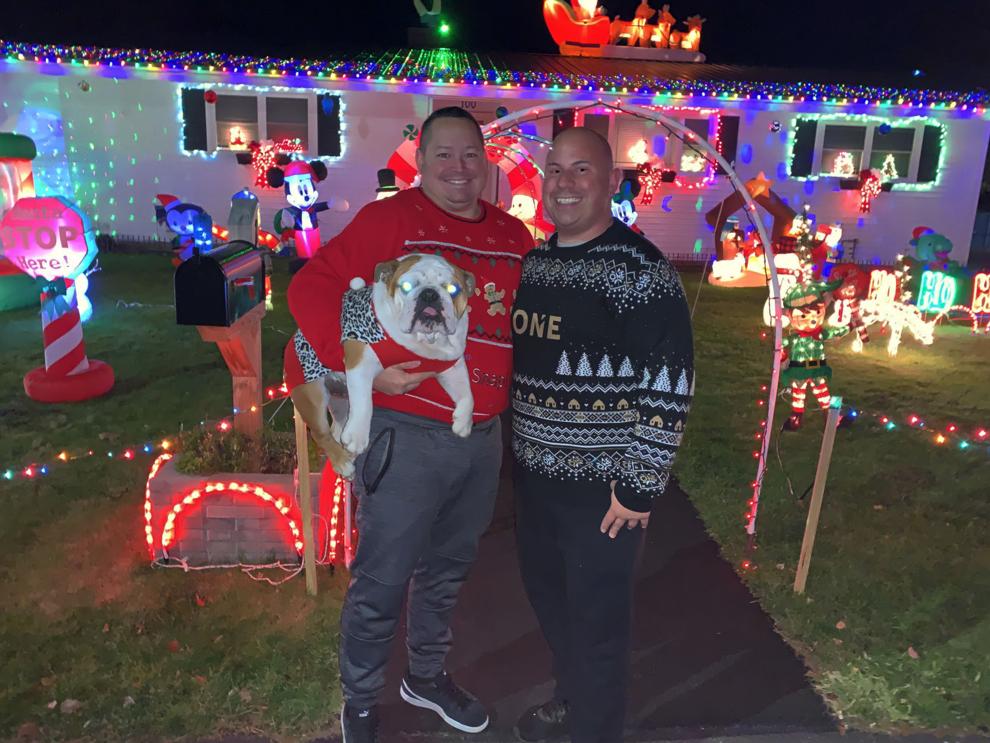 The ranch house that Ryan Kalantzis shares with Chad Stanton and their bulldog, Rocky, is its own carnival of color. Behind a horizontal roping of strings of Christmas lights near the road, the lawn is filled with inflatables and lighted shapes, from a spinning carousel to assorted candy canes, snowmen and Christmas trees.
On top of the roof, Santa and his reindeer have made a landing, and from the looks of the legs and feet sticking up into the air, it appears an elf may be stuck upside down in the chimney.
"Miracles do happen, and dreams can come to life," Kalantzis said in a post Tuesday morning. "Never forget where you come from…" He includes three pictures, one from when he lived in a 600-square-foot apartment with a few decorations on the wall and to the side of a small television to the expanse of lights on and around his Manchester house and the Christmas tree in the tall-ceilinged living room inside.
Kalantzis comes from a Greek family and as a child lived for a time in a three-family building. His parents had the first floor and his grandmother, who wasn't big on showy Christmas decorations, lived on the third floor.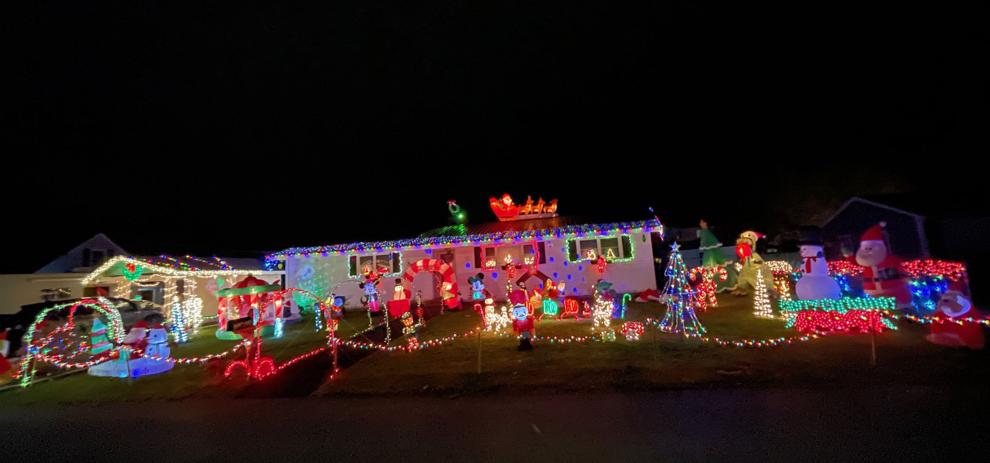 "We couldn't really decorate with lights in windows or anything like that. She was very picky. But she always had the best Christmases — I'm talking my entire family of 30 to 40 people inside, going from floor to floor," he said. "She had this little Charlie Brown Christmas tree she was so proud of. It was so minimal but that didn't matter. Each year my dad would hold one of us (kids) up to put the star up on top of the tree. Christmas was such a magical, special moment in my life."
Kalantzis remembers going down to the dollar store when was about 7 or 8 years old. He'd buy little boxes of lights and then pin them up on his bedroom wall with thumbtacks. He and his family would take night-time drives through nearby neighborhoods to see all the homes decked out for the season. Kalantzis told himself that one day, he'd have his own place and a big Christmas outdoor display.
And he does, and it's already up and running, though he jokes that it's not as festive during the day when the inflatables are deflated and splayed around the lawn.
"It looks like a drunken college party," he says, laughing.
But beauty — and a sense of magic — is in the eye of the beholder. One passerby said that his son makes him drive by the house twice a day — once in daylight when all the inflatable figures are "sleeping" and once at night when they're "awake" and upright.