Aida, the slave girl and heroine of Verdi's opera by the same name, captures the romance and intrigue of today's Egypt, a country steeped in tradition, evolving into the modern world.
We made the commitment months ago to travel to this cradle of civilization. We shared modern expressways with donkey pulled carts; crawled through busy intersections jammed with tour buses and water buffalo; saw guarded entrances to treasures of antiquity; met warm and gracious hosts to brigades of tourists.
"Aren't you a bit nervous about travelling over there?" That was the question we had both encountered from concerned friends before sallying forth to the Middle East this summer. It turned out that many of the 85 members of our Egypt tour — from places like Australia, Iceland, the Netherlands and Switzerland — had encountered similar concerns from friends and families.
What we discovered was that although Egypt had indeed suffered a couple of isolated terrorist attacks in the recent months, we never in that wonderful 2 1/2-week visit felt any concern for our safety. Because tourism is a major factor in the Egyptian economy, the current government is clearly pro-tourism. Safe tourism! We even noticed an unobtrusive police escort was often seen out the front window when we traveled to temples or pyramids by bus.
The Egypt that we discovered was full of fun, laughing, joking inhabitants and ancient, even mysterious monuments. A favorite "shtick" of some of the ubiquitous vendors at these monuments was to say, when the temperature was above 107 degrees (we were there in low season, meaning it was hot), was in excellent English: "Welcome to Alaska" — causing great merriment all around. Wherever there was a temple, monument or bazaar, there were eager but friendly vendors using their English phrases like, "special price" or "good quality" (which it often was!) or, our favorite: "One doll-ah!"
For the first few and last few days of our visit, we were at Mena House, a lovely sprawling hotel property with flowering trees, green lawns, plants, palms and pools — less than a half-mile from the three most famous pyramids: Khufu, Khafre, and Menkaure.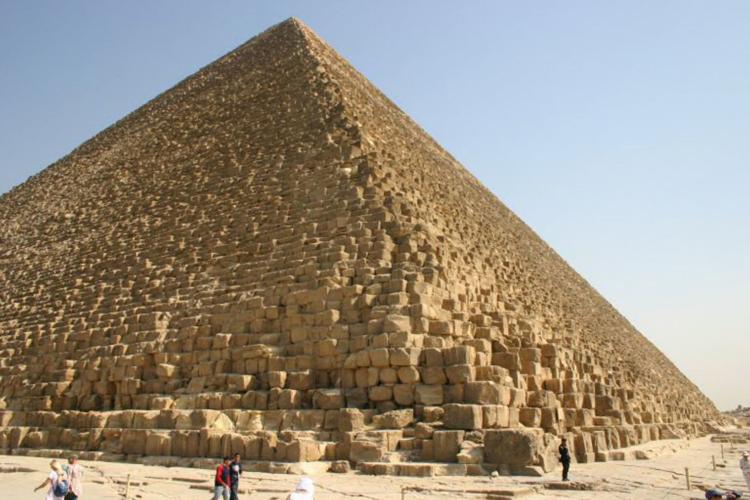 Mena House had recently been acquired by Marriott. The hotel began in 1869 as a hunting lodge of a British couple who had added a small hotel. The property grew and before Marriott arrived just 2 years ago, it was owned by the Indian Oberoi Hotel company. It boasted Egyptian charm, with a lobby adorned with gilded oriental chairs and a gilded canopy over the bar, but also many American amenities. The hotel even has an adjacent 9-hole golf course — under renovation, we were told, but scheduled to reopen in 2021.
Breakfast, with the pyramids for a backdrop, was a dazzling array of breads, salads, meats, humus, eggs, fruits and more. A revelation for most of us, beyond the delectable guava juice, was the purple hibiscus juice.
Cruising the Nile
After an introductory tour of the Giza plateau and obligatory camel ride, we flew south to Aswan to spend a week on the Nile. Because the group, led by Boston University Professor of Geology Robert Schoch and his wife, Katie, was so large, we actually had the whole boat to ourselves. We stopped at temples and monuments, bused to small villages both going and coming. On board we had nightly entertainment: lectures, a belly dancer, a Whirling Dervish twirling inside an enormous cape, a guitarist, and a sun deck with pool.
After each day's outing we were greeted back on board with cool wash cloths and a refreshing citrus drink by the boat staff. Travel by boat was also an ideal way to get to know some of the interesting, fun members of the tour — including the ever-gracious Schoches. There was a lot of hugging among us all on our last day!
Each day we disembarked early after breakfast to mount a bus or a horse cart or a small motor boat to visit the land of pharaohs and gods and goddesses. We got to visit everything from the temples of Karnak and Luxor, to the Valley of the Kings, which included an underground visit to King Tut's unadorned mummy, now in a glass case.
We went to Abel Simbel, where UNESCO and a consortium of dozens of countries had moved the statues and interior temple of Rameses II to higher ground when the Great Aswan High Dam flooded the area. We climbed around the legendary Elephantine Island and saw where the Ark of the Covenant was reputedly parked after its removal from Jerusalem.
On return to Cairo, we visited the Cairo Egyptian Museum, repository for hundreds of statues, mummies, sarcophagi, and King Tutankhamen's treasures, and the lesser known Red and Bent pyramids.
On the last day of our "official" tour, we were treated to an up close and personal visit to the Great Sphinx at sunrise, followed by an unheard-of visit to the ancient Temple of the Great Sphinx. The temple was formed from the huge blocks of bedrock limestone extracted during the Sphinx's construction.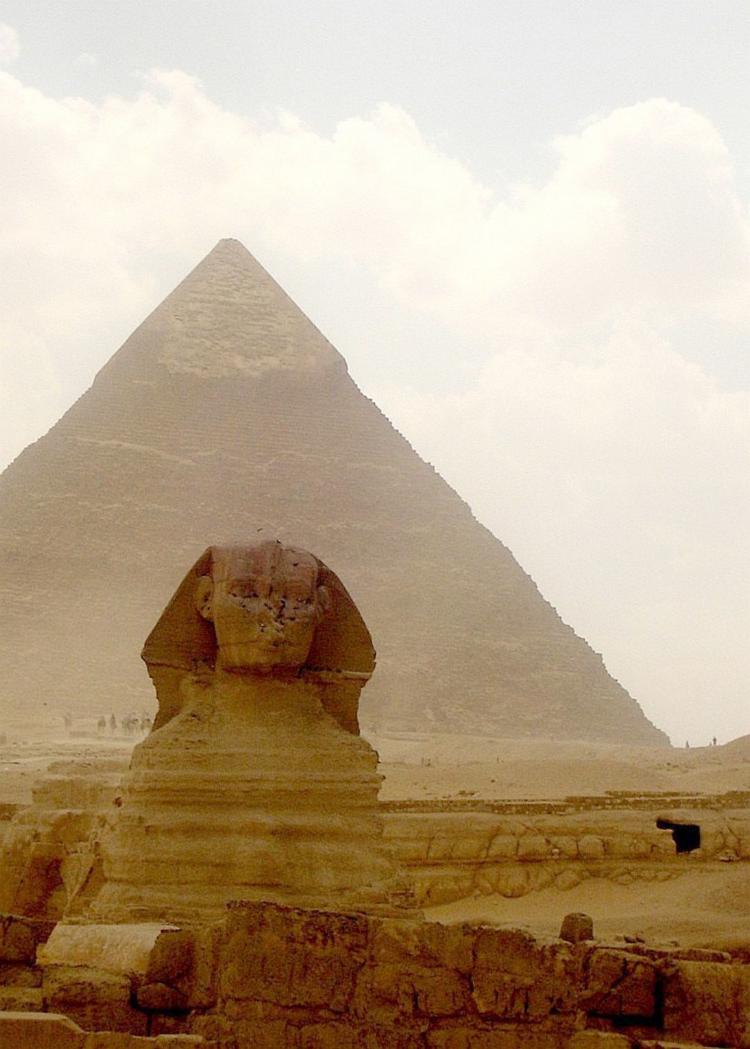 Later that day our adventure culminated with a climb inside the Great Pyramid named for Pharaoh Khufu (Cheops). With lots of bending, we marveled at the narrow and steep shaft ascending to the Queen's chamber, and the 20-foot high Grand Gallery leading to the King's chamber. Only a few of us (those who could still bend their knees) dared descend to the "pit", a chamber below the base of the pyramid, easily 200 feet down.
And Aida?
While the official tour ended with the Great Pyramid excursion, we were not through. Intent on finding Aida, we coaxed a jewelry merchant from the hotel to take us to the Cairo Opera House. Uber would not have sufficed for this trip.
Set in the large complex of the National Cultural Center on Gezira Island in the middle of the Nile, this modern theater, which opened in 1988, was a gift from the Japanese. It replaced the original Cairo Opera House, which burned in 1971.
While Verdi's classic "Aida" was written and was to be performed coincidental with the opening of the Suez Canal in 1869, the props and costumes coming from France were detained by the Franco-Prussian war. As a result, Verdi's "Rigoletto" got the nod to be the inaugural production.
Maya, an accommodating staff member of the opera house, gave us a personal tour. The 1,200-seat, four-tier main theater is entered through an extravagant marble-lined foyer. Inside, a bevy of grade-school children eagerly watched and awaited completion of rehearsals and staging of a scaled-down performance. Our tour continued through the Opera's museum, displaying models of the original structure and costumes from early productions of "Aida." We returned to Mena House, thrilled and satisfied.
Our Professor Schoch has been breaking archaeology's dishes with his books for several years, now. His research has pushed back the "established" date of the carving of the Sphinx from 2,530 B.C. to roughly 10,000 B.C.
Using geology, seismic, and water erosion studies, Schoch now posits a great coronal mass ejection (CME) from the sun in 9,700 BC, as the cause of the end of an earlier, advanced civilization, centered on the Giza Plateau.
Schoch also makes the case that that solar CME was likely the factor that caused the last ice age to end. We clearly got the impression that although archaeological authorities resist such notions, Schoch's theses are increasingly gaining currency. He points out that the recent authentication of a 12,000-year-old site in southern Turkey, called Gobeckli Tepe, is validating his assumptions.
So did we find Aida? Literally, maybe not; figuratively, yes.
Our sojourn's experience, exploring an ancient land standing up to and yet adapting to modernity, creates an enigmatic problem of its own. When was the Great Sphinx built? What drove the ancients to create their massive temples and statuary? How did they do it?
Aida was torn between loyalties to her roots and her lover. Are we similarly stretched between our conventional "truths", and ever-evolving knowledge? Reflection on this fascinating journey leads us to realize there is so much we just do not know.