MEREDITH - Some people staple a plastic tarp to a frame of two-by-fours and call it an ice fishing shanty.
Thirteen years ago, Myshrall spent $7,000 on The Lodge, which friend and fellow Meredith resident Peter Muse helped decorate. When the Great Rotary Ice Fishing Derby kicks off Feb. 8, the most unique bobhouse on Meredith Bay will attract plenty of visitors.
Myshrall's bobhouse is outfitted with a gas fireplace, a four-burner gas range and oven and a flat-screen TV and stereo powered by a portable generator.
Plaques above the fireplace inform visitors that Verani Realty has twice honored The Lodge as best bobhouse interior.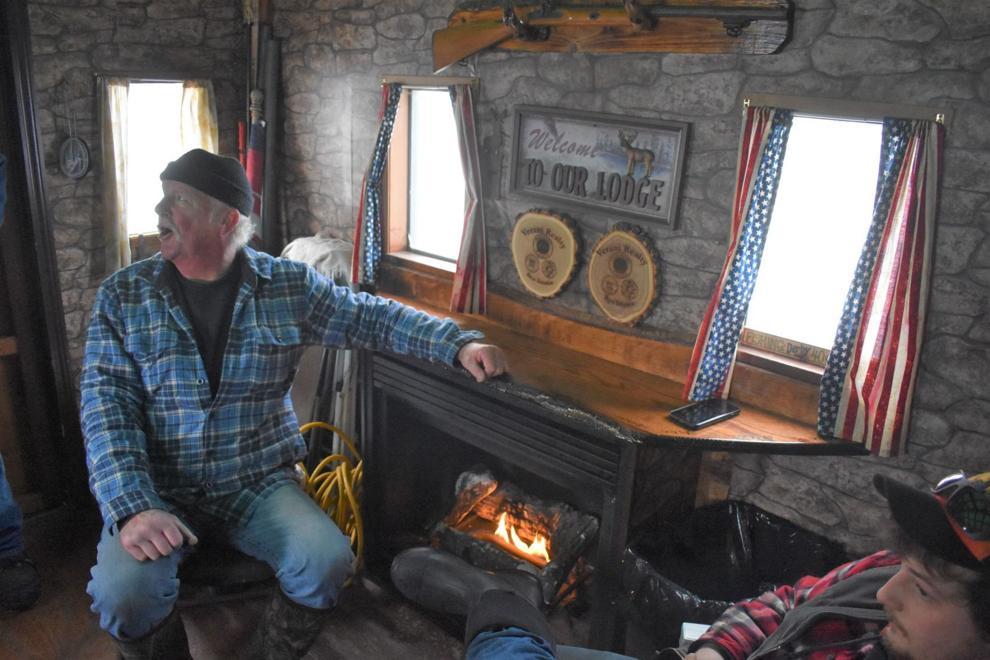 "We don't fool around when we fool around," says Myshrall, showing color photographs of some of the complementary exterior features that have come and gone over the years, including a hot tub and a pool table.
The bobhouse even became a wedding venue, with the ceremony documented by a TV news crew.
"My favorite part is the camaraderie. We've all known each other for so long it's just one big ice family on Derby weekend," he said.
Myshrall deep-fries a turkey on the ice every year and cooks up other favorites, including chili.
"We eat out here better than we do at home," Myshrall said.
The 9 foot-by-12 foot bobhouse weighs 2,000 pounds. The wooden floor is the heaviest part. The studs are metal, and the walls are sheathed with luan plywood and insulated. The roof is corrugated plastic.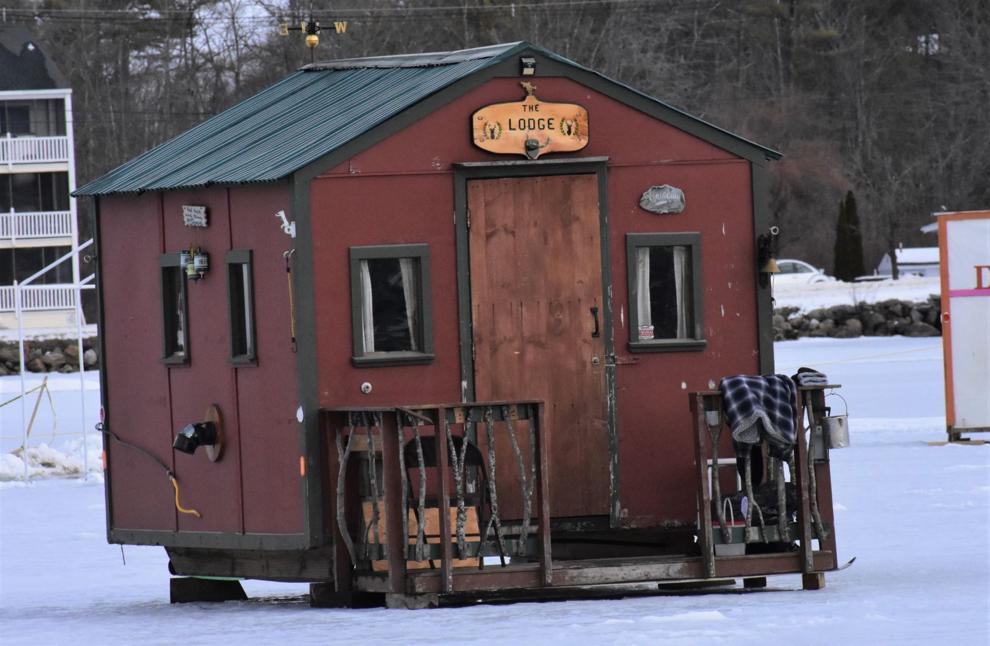 The kitchen is equipped with a round stainless-steel sink that is gravity-fed from a plastic jug of water carried from shore. The wallpaper is in a faux stone design. The decor features a variety of deer and moose antlers, a turkey feather or two and a mock muzzle-loader hung above the mantle, which is crafted of a raw edge pine slab.
The bobhouse has plenty of windows for occupants to keep an eye on the flags on their tip-ups dotting the ice outside. If the fish are biting and the action gets busy, a brass bell in a moose motif mounted on the side of the bobhouse is rung to summon help.
"This place is iconic. I can't remember not comwing out here," said Jake Proulx of Meredith, who every year helps Myshrall and a few other close friends muscle the fish-shack palace onto the ice after it is delivered to the shore by truck and trailer.
The skegs on the bobhouse's bottom are fitted with old downhill skis so it can be pushed and pulled onto a prime position on the ice.
"We've had 21 people standing room only inside when it was really cold out," said Myshrall, who said he has enjoyed figuring out how to make The Lodge more comfortable while making efficient use of space.