WINDHAM — Residents of Windham Terrace Assisted Living are gathering school supplies and heading back to school as part of an intergenerational partnership between the senior living community and Windham High School.
Once a month, the residents visit the school, where they jump back into class with the students and participate in the day's assignment. Subjects range from basic math and science to creative writing and jewelry making. Each class gives residents a chance to revisit their youth and also to engage with young people and learn about their experiences.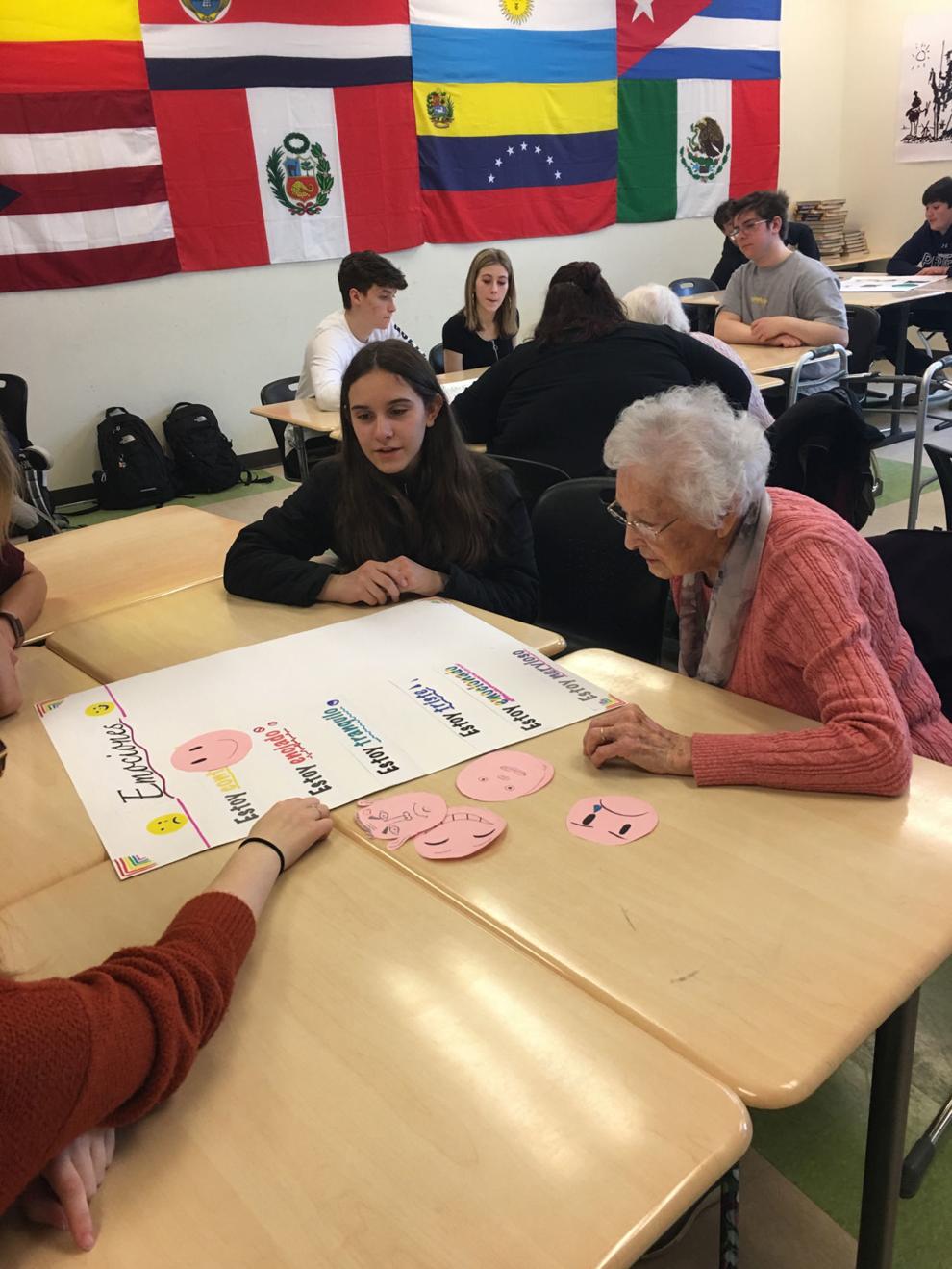 Windham Terrace says the Back to School program has been a hit since school started in the fall, and for residents such as Greta David, the monthly visits provide a sense of joy as she interacts with the students.
"I've enjoyed being able to get out and meet the students and learn more about their lives," David said. "It's interesting to see how their school experiences differ from ours, but are also similar in many ways. Recently, we ... attended a creative writing class, and while we normally participate, this time we found ourselves as the subjects. It was wonderful to share more about my life with the students and then hear what they had written read back during the rest of the class. We were all entertained while hearing one another's stories and more personal aspects of our lives. Each visit brings a new experience, and I look forward to the next class.
The partnership began last spring when Windham Terrace contacted the school to begin planning a way for local youths and seniors to connect on common ground. While similar programs have residents attend and observe, Windham Terrace says with the Back to School partnership, residents are active participants and involved in as many ways as possible.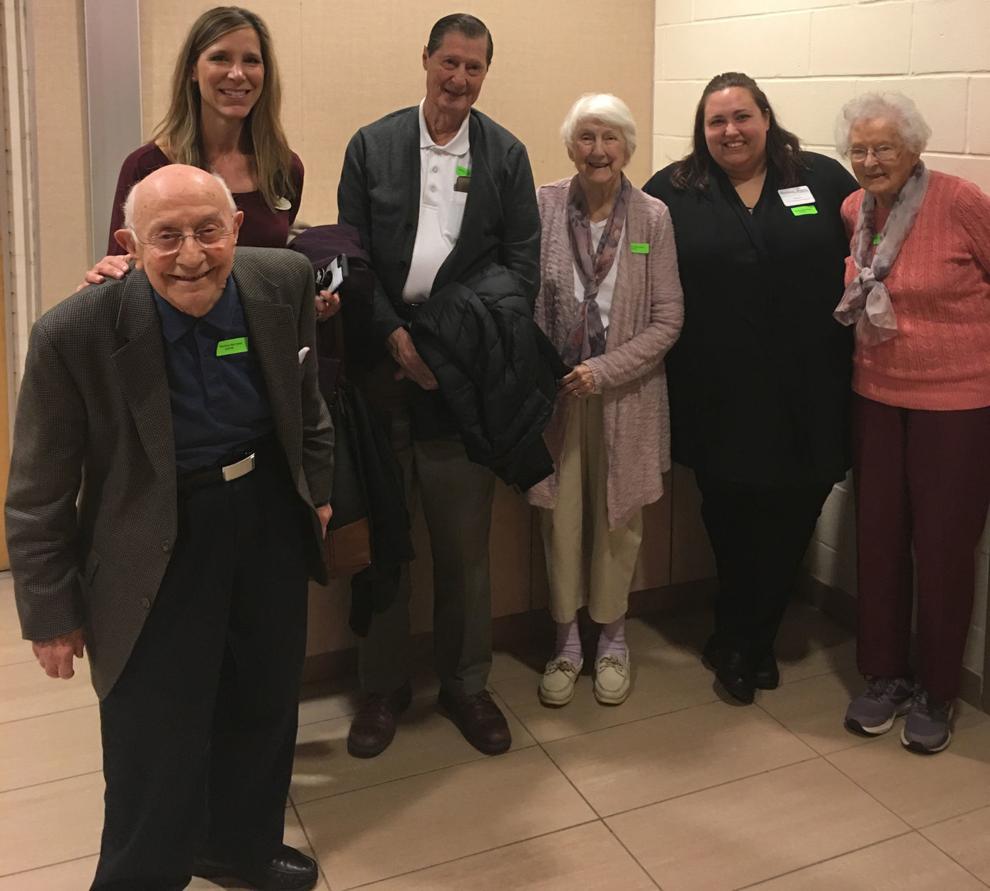 "Welcoming the residents to our school and seeing the friendships form between the seniors and our students has been wonderful to witness," said Holly Londo, service/Extended Learning Opportunity and transition coordinator at the high school. "The students like having the residents join them, and we have seen firsthand how this participation has impacted both groups. The students really latched onto the program and look forward to the residents' visits. It's a win-win for both of us, and we are so proud of how the students have really taken charge when connecting with the residents. We're excited to see how these relationships continue to strengthen as the partnership grows."
Lynda Brislin, executive director of Windham Terrace, said, "The partnership with Windham High has provided our residents with a sense of fulfillment, and we couldn't be happier to help make it possible."
Manchester senior center plans New to Medicare workshop
MANCHESTER — ServiceLink is sponsoring a New to Medicare workshop at 2 p.m. Monday, April 8, at the William B. Cashin Senior Activity Center, 151 Douglas St.
A Medicare coordinator will guide people through the intricate ins and outs of the program, discuss what happens after you apply for and then begin receiving Medicare benefits and what else needs to be done as well as answer any questions.
To attend, sign up by calling ServiceLink at 644-2240.
AARP price offered to class on cooking with parchment paper
Concord — Need a little more simplicity in the kitchen? How about discovering parchment paper cooking.
The Center for Health Promotion is offering a workshop on Thursday, April 11, that will explore this cooking technique that faster, requires no pots and pans and leaves little mess.
The workshop is scheduled for 5:30 to 6:30 p.m. at the center, which is located at 49 S. Main St. No. 201.
The fee for AARP members is $5. AARP members can bring one guest for an additional $5. Preregistration is required; to sign up, call 230-7300.
Concord Regional VNA offers Weare Aging Mastery Program
WEARE — Concord Regional Visiting Nurse Association is offering a 10-week Aging Mastery Program, a program from the National Council on Aging.
The free program is designed to engage older adults in a fun and innovative way that empowers them to embrace their longevity and address their physical, financial and emotional wellness.
The program will begin Thursday, April 18, from 2 to 3:30 p.m. at Holy Cross Episcopal Church, 118 Center Road.
The classes will focus on exercise, sleep, healthy eating and hydration, financial fitness, advance planning, healthy relationships, medication management, community engagement and preventing falls.
Space is limited, and preregistration is required. To register, call 224-4093 or (800) 924-8620 ext. 5815 or visit www.crvna.org.
Artist and jewelry maker to teach class at Newport center
NEWPORT — Local mixed media artist and jewelry designer Andrea Lapins will be at the Newport Senior Center at 10 a.m. Thursday, April 11, to teach seniors how to make their own gemstone pendant.
Participants will choose between one of Lapins' designs — a dragonfly or a cross — and she will provide all materials, included a black cord chain.
The cost for senior center members is $5 each. Silver chains also will be available for an additional $10. For more information, call the center, which is located at 76 S. Main St., at 863-3177.
Lake Sunapee Region VNA will conduct a blood pressure and blood sugar clinic from 10:45 a.m. to noon Tuesday; a blood pressure clinic from 11:15 a.m. to 12:15 p.m. Tuesday, April 16, and a foot care clinic, which requires an appointment, from 8:30 a.m. and 3 p.m. Wednesday, April 24. To sign up for the foot clinic, call 526-4077.
AARP Coffee & Conversation planned at 3 locations in April
CONCORD — Get the latest buzz on AARP activities and events happening in Greater Manchester, Greater Concord and the Seacoast at an AARP community engagement program called Coffee & Conversation.
The program brings AARP volunteers and members together at local coffee shops, where people can share their ideas on activities and events they'd like to see in their community. Members and their guests also get a free cup of coffee. Registration is not required; just show your AARP membership card.
Here's where you'll find them:
• Concord: Wednesday, April 10, 8 to 11 a.m., Revelstoke Coffee, One Eagle Square.
• Manchester: Friday, April 12, 8 to 11 a.m., Café la Reine, 915 Elm St.
• Exeter: Friday, April 12, 8 to 11 a.m., Me & Ollie's, 6 Water St.