Stanley Moulton moves faster than most people he knows — and most he's ever met. His passion for pace began when he was a teenager delivering newspapers after school in Lakeport — a seven mile route he ran at a clip to complete in an hour and twenty minutes.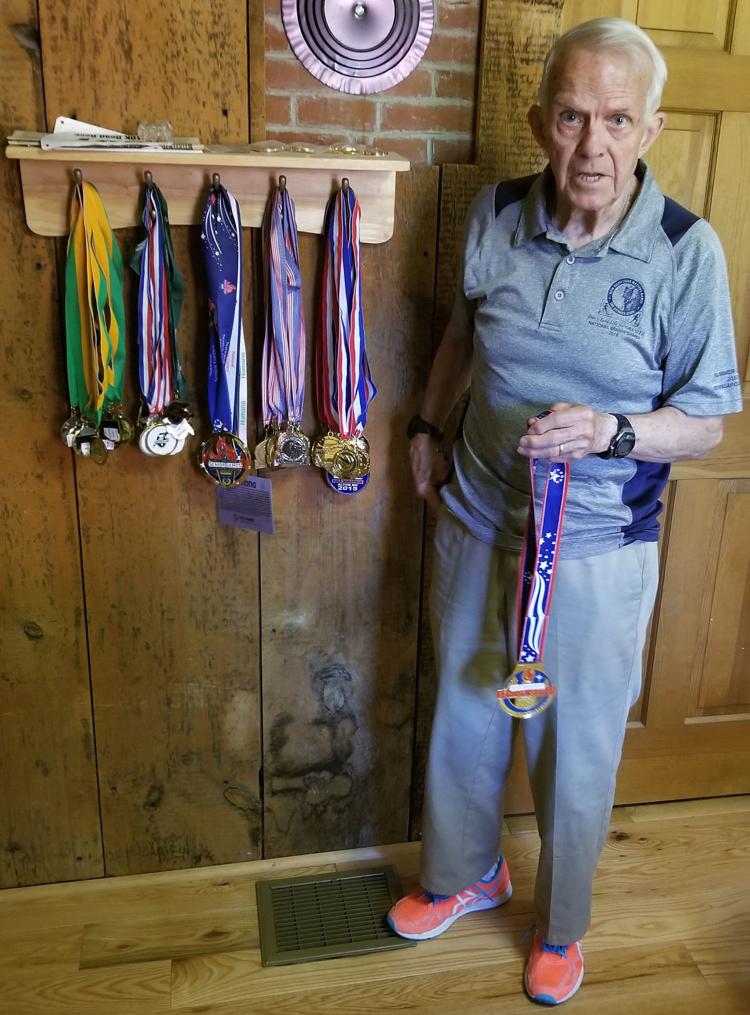 This week, in the baking New Mexico heat, Moulton will be at the 16th National Senior Games, ready to walk or run in most or all of the events in which he has pre-qualified: the 1,500-meter and 5,000 meter power walks, the 5k and 10K road races, and the 400, 800, 1500 meter track events.
Chronological age is not something that defines him — or a stereotype any athlete wants to embrace. And Moulton's daily desire to jog and sprint on country roads near his home south of Lake Winnipesaukee is not something he has to dredge deep to find.
"It's the feeling you get from running," Moulton said. "People know I'm the old runner and that I've been running for years. People in cars toot their horns. Other people stop and talk."
Moulton is upholding a legacy. In his college days, he trained with Carl Wilbur, a professional runner who ran in the Bunion Derby from California to New York in the 1920s, and eventually succumbed to a heart attack while running at age 89. Moulton had quadruple bypass surgery at 70, after running nine miles before church one Sunday and passing out hours later. He credits his athleticism for keeping him alive.
"When I'm jogging with somebody, I'm not competitive. But when I race in Albuquerque, I'll have to be careful to control myself. When that gun goes off, I have to know my pace."
Moulton runs almost daily — except for last week, when he was nursing a charley horse. "I get very irritated when I'm not," he said.
This year, 13,712 amateur athletes age 50 and older from the U.S., Canada, the Caribbean and Mexico will compete in 20 sports ranging from track and field to badminton, pickleball, table tennis and horseshoes. The number of participants is up 30 percent from two years ago, when the biennial event — the world's largest Olympic-style multi-sport competition for people 50 and up — took place in Birmingham, Ala.
A main reason for the surge of interest is not what you'd expect, said Del Moon, media and communications director for the National Senior Games: More than to other venues, athletes around the country are eager to head to Albuquerque, a vacation-like destination that has gone all out to support the games. New Mexico athletes are coming out in force — 1,561 total, including many from tribal nations. Sixty-seven New Hampshire athletes will compete.
Staying active longer
While it's generally true that many baby boomers — the generation born between 1947 and 1964 — are committed to staying in shape, studies show that it's largely those who were athletic in high school or college who choose to stay active in later years, embracing new sports or continuing lifelong ones for enjoyment and to keep themselves healthy.
"We call it fitness, fun and fellowship," said Moon. "It's also about the social aspect, engaging with people you have something in common with in a sport you enjoy."
While lifelong athletes participate, the competition's focus is on the 80 to 85 percent who are coming back to sports in midlife. "Women who took time off to raise families say, 'I was living my sport through my kids.'"
Slightly more than half (55 percent) of the participants in this year's games are men. A fitness-level study of Senior Games competitors in 2015 found that the athletes were 25 years younger in terms of fitness level than their numerical ages, based on a variety of markers — a payout from decades of regular exercise, especially cardio-vascular activities that can be as simple as walking briskly.
It also showed startling differences in health compared to the general population: Senior athletes experienced fewer falls (one third the rate of non-athletes), less overall stress, depression and anxiety, and strikingly lower rates of heart disease, heart failure, strokes, high blood pressure and diabetes. Type 2 diabetes affects 22% of the U.S. population age 60 to 79, but less than 6% of Senior Games athletes in the same age group.
All that shows it's possible to slow the aging process by staying fit, and it's never too late to boost health, Dr. Pam Peeke, a National Senior Games Foundation board member and trustee, stated when the study came out. "It's as simple as assuming the vertical and walking each day."
The attractions
To lure more aging Americans into recreational and competitive sports, most state Senior Games have lowered the minimum age to 40 and sometimes 30, depending on the event. But that hasn't exactly been a game-changer in terms of attracting younger athletes. Only 7 percent of this year's National Senior Games competitors are 50 to 54, largely because that age group is still too busy with families and careers.
A big catalyst to taking up a sport or returning to one mid-life, according to surveys, is having played it with your kids — or at least cheered from the sidelines.
Over the years, participation in the New Hampshire Senior Games has risen primarily because competitors from out of state are eligible, and certain sports are a big draw.
New Hampshire's track and field events draw the most participants of any senior games in the Northeast, said coach Lee Hess, who also coaches at Manchester High School West. Athletes appreciate the automated times and the a recent addition of weight-throwing and a 5k race.
Another big draw is pickleball — a sport spawned in 1965 from tennis, badminton and ping pong — which pulls participants of all ages, including from senior centers. "More people make new friends just by coming to play pickleball," said Jim Eddinger, a coach and former New Hampshire Senior Games director, who has watched its popularity grow.
Power walking and race walking, new to the nationals, are attracting outdoor cardio fans. Cornhole and disc golf, new in the last two years, are growing. Age-friendly horseshoes and shuffleboard, which don't require stamina or speed, are maintaining a toe hold.
'If you rest, you rust'
Athletic competition for middle-aged and older adults has gained steam since the late 1960s. That's when "Aerobics," a book by Dr. Kenneth Cooper, an Air Force physician, introduced adults interested in health and longevity to a range of heart-pumping options, and the lasting benefits of exercise — including preserving brain function.
"Before then, in the 1950s and early 1960s, when you were out running, they probably thought you escaped some mental institution," Moulton said. "Older people didn't run very often."
When Moulton and his wife, Barbara, were in their 50s, they decided to run the lengths of Vermont and New Hampshire, following back roads on either side of the Connecticut River on weekends, weather-permitting, with the non-running spouse following in the family car. That took about 10 years to complete.
"You feel very good when you're running," said Moulton. "And when you finish you feel really good." When he ran the Boston Marathon in 1986, "I didn't even realize it was raining."
Newbies should not plunge in full-tilt, he said. His advice for people starting in their 50s or later: "Just go for a walk. Fifteen minutes one way. Fifteen minutes back. Then slowly build up. Just do what you want, faster or slower. The more you weigh the harder it is on your knees, so you need to take it easy."
"One of my mottoes is if you rest, you rust," said Larry Flint of Newport, 73, a retired recreation director who teaches a senior exercise class at the town's recreation center, and is now chairman of the New Hampshire Senior Games.
After a liver transplant in 1986, Flint looked for a sport without too much competition that he could continue indefinitely. He discovered race walking, a gentler alternative to running.
Race walking is distinct from power walking; the two have equal health benefits but different styles.
"It all has to do with the knee bend," Flint said. Race walking is "easy on the legs. You always have one foot on the ground" — a plus for people with balance issues. "You see the waddling back and forth because you're taking a stride and swinging your hips and forcing your arms back and forth."
It's not a natural gait or an elegant one, "or a glory event that people just sit and watch," said Flint. Despite its lower velocity, the pace can be tiring. "That's where energy and athletic ability come in. You're competing against yourself and the clock."
Manchester's Joanne Dow participated in the 2008 Olympic Games as a race walker, qualifying at age 44. An introduction to race walking, including a demonstration video, can be found at www.racewalk.com.
The National Senior Games are open to competitors age 50 and up who qualify in state games the previous year.
The New Hampshire Senior Games are open to anyone age 40 or older by Dec. 31, regardless of experience or athletic ability. Track and field participants must be 35 or older. Events are grouped by 5-year age increments. This year's games begin at the end of this month. For more information, call 620-2806 or visit nhseniorgames.org.