The smallest of the recognized agricultural fairs in New Hampshire returns with a big schedule of animal shows, concerts and artisans' wares this weekend in Belmont.
Entertainment is planned from 5 to 9 p.m. Friday; 9 a.m. to 7 p.m. Saturday, and 9 a.m. to 5 p.m. Sunday. Gates will open at 8 a.m.
Entangled Strings gets things started at 6 p.m. Friday with folk, country and Americana. For those who have brought their own acoustic instruments with them, Hoot Night open-mic sign-ups begin at 6 p.m. Musicians of all ages can join the band on stage or perform solo. (Admission is $5 per car.)
On Saturday, The Rockin Daddios are on from 10 a.m. to noon. Granite State country singer and songwriter April Cushman steps up to center stage at 3 p.m. and Michael Vincenter Band, a Gilford rock trio, starts its set at 5 p.m.
Sunday's lineup will feature The Funky Divas gospel bluegrass ensemble from 10 to 11:30 p.m. and Newfound Grass from 1:30 to 3 p.m.
Entry is free for military with ID and children younger than 10, $7 for ages 65 and older; and $8 for ages 10 and older. For information, visit bc4hfair.org.
The 4-H fairgrounds are located at 174 Mile Hill Road.
NH Antiques Show
The New Hampshire Antiques Show in Manchester is proof that some things never get old for dealers and collectors alike.
Back for a 62nd year, the summer showcase will draw more than 65 exhibitors from across the country to the DoubleTree by Hilton, 700 Main St., Friday through Sunday.
Thousands of buyers and enthusiasts will browse through antique jewelry, folk art, furniture, fine and decorative arts.
"We all have many regular buyers that come back year after year," said Tommy Thompson, president of the board of directors for the New Hampshire Antique Dealers Association. "These dealers are informed art and antiques experts. You aren't just buying an item, you are buying a piece of history, so expect to be engaged at the show."
This year's show will include an exhibit on loan, "Gerry Williams and Friends, Mid-Century Studio Pottery in New Hampshire." Williams (1926-2014), who lived and worked in Dunbarton, was a major presence in the studio pottery world in the last half of the 20th century. He operated a workshop on his property, where he taught or mentored numerous men and women who later went on to their own careers in the field. In 1972 he founded Studio Potter magazine and was its editor for 30 years.
Williams created hundreds of pieces, and was known for developing unique glazes and techniques, which he freely shared. Many of his pieces reflect his pacifist views and were never intended for sale.
The exhibit of about 50 pieces of work will be curated by Williams two daughters, Shelley Williams Westenberg and Jennifer Oliver, and Rick Russack.
The New Hampshire Antiques Show closes Antiques Week in New Hampshire.
Admission is $15 today and $10 Friday and Saturday. Visitors under 30 (with ID) are admitted free. There are free return visits to the show after initial admission is paid.
Hours are 10 a.m. to 7 p.m. today and Friday and 10 a.m. to 4 p.m. Saturday. For more information, visit www.nhada.org.
In addition, The Collector's Fair continues today from 10 a.m. to 6 p.m. at the Sullivan Arena on the St. Anselm College campus. For information, visit antiquesinmanchester.com.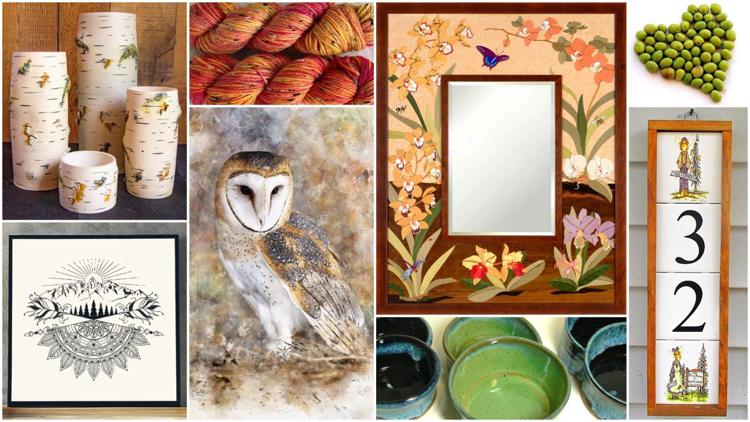 Lincoln Summer Craft Festival
More than 100 juried artisans will display and sell their traditional American made works at the 27th Annual Lincoln Summer Craft Festival this weekend at village shops and the town green.
Among the scores of booths will be pottery, jewelry, puzzles, calligraphy, soy candles, sports team apparel, fused glass, furniture, ornaments, doll clothes, pet accessories, paintings, clothing, leather works, and lots of specialty foods, sauces and syrups and sweets.
Hours are 10 a.m. to 5 p.m. Saturday and 10 a.m. to 4 p.m. Sunday. There is no admission fee, and the event is rain or shine. (Use 119 Main St. for GPS searches.) For more information, visit castleberryfairs.com.