Treasures in your Attic sig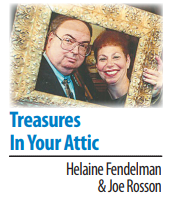 As featured on
Dear Helaine and Joe: I inherited a set of six dessert plates from my mother. They are 8 inches in diameter and are in perfect condition. 
It has a nightlight and is stamped "Accurate Casting" in the metal base. 
Dear Helaine and Joe: I have a couple of items I would like to know more about and am attaching five pictures for you to review.