NORTH WOODSTOCK -- He has 10,000 maple trees tapped and ready to release their sap , but James Fadden, a seventh-generation syrup maker, has had to wait.
"It's a little too cold," Fadden said last week.
The conditions haven't been quite right yet for most maple syrup producers in the state to start gathering their sap and boiling that down into maple syrup, said Nick Kosko, president of the New Hampshire Maple Producers Association.
According to Kosko, the season just doesn't start until the daytime temperatures get into the 40s and the nights get down to around 20.
"It's getting there," Kosko said last week. "A lot of people are ready. We're just waiting for a little bit of warmer weather."
Those warmer temperatures could arrive this week, as a stretch of days expected to hover in the 40s or higher settles in the Granite State.
New Hampshire's maple farmers produces 160,000 gallons of maple syrup every year. That takes a lot of sap. The ratio is 40 gallons of maple tree sap, boiled down, to yield one gallon of the syrup.
For the Fadden family, who won the New Hampshire Maple Producers award in January for best maple syrup of 2018, maple season is a tradition they have been part of for decades.
"I love it," Fadden said. "It's something that gets into your blood.
Fadden is taking over the boiling this year after sharing that duty with his late father, Jim. Jim Fadden died in December at 64 years old.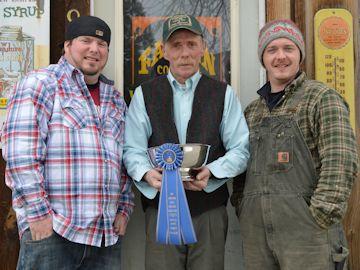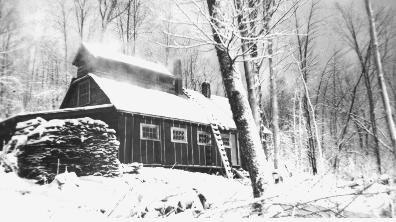 The family uses the trees on their 120-acre property, tapping the trees in the fall using a five-man crew. Then they generally have one person monitor the tap lines and help collect the sap once it starts running. Fadden expects to produce about 2,500 gallons of syrup this year.
The family, like a lot of maple syrup producers, sells its product directly to the public. The Faddens use the family's general store and the internet.
Kosko said the season to gather syrup typically runs for about four to six weeks a year. Anymore than that is a bonus, Kosko said.
"Any less and it's a tough year," Kosko said.
In recent years, the sap has started running in Febuary, given slightly warmer winter temperatures. This year, the first week of March has been too cold to gather much product.
"The later you start, the more you shrink the season," he said.
The trees don't necessarily run out of sap, but they do have an expiration date the further they get into spring, Kosko said.
"Once the trees bud they get what we call a 'buddy' flavor, which is like a burnt Tootsie Roll flavor," Kosko said. "It's no good."
With the clock ticking, Fadden and Kosko hope to see the temperatures change soon, so they can start making syrup.