I DO SOME of my best thinking in the shower. In fact, with most of my faithful readers, I have shared thoughts that originated while shampoo stung my eyes and warm water pounded my head.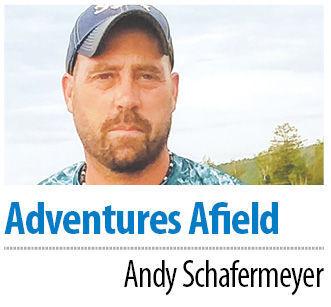 It was this morning in this hypnotic, relaxed environment where I hoped to expand on new topics worthy of entertainment and discussion.
My entire process was quickly interrupted as I threw the shower curtain back and reached for the faucet. Blocking my access and occupying most of the bathtub was an ice auger, three tip-ups, and a bait bucket. The bait bucket was still frozen.
The day before had been particularly cold in northern New Hampshire and, as I often do at its end, I put most of my recently used ice fishing equipment in the bathtub to thaw overnight. The cold day and long ride home in the back of my truck had done little to warm the snow and ice-encrusted items after a long day on the Connecticut Lakes.
This was not a particularly rare event for me and I removed the gear from the shower. Quickly, I was bathing — in both water and ideas. It occurred to me that the familiarity with which I share my indoor living space with outdoor items might be unique and specific to men and women who exist in such close contact with the outdoors.
On the workbench in my basement, there are no birdhouses, pinewood derby cars or broken picture frames glued and clamped for reuse. Instead, there are fishing reels, shotgun shells and deer antlers.
In a bench vise, one might find a broken net or walking stick. Any battery being charged is not for use in a power tool but rather, an ice auger, flashlight or lantern.
Near the bench grinder, there are no putty knives, wood chisels or lawnmower blades. Instead, the grinder is surrounded by filet knives, ice chisels and a saltwater gaff that belonged to my grandfather.
At any given time, my kitchen sink may hold the fins, fur or feathers of an animal being processed for my consumption. Unmarked bags in my freezer almost always hold baitfish, road kills, or other inedible items that somehow aid in my outdoor adventures.
It is important in my home to be careful with garbage cans and waste paper baskets. In any one of them, there might be a fish hook, an animal bone or a rusty knife. Careful handling of garbage bags is essential to anyone hoping to avoid a tetanus shot.
On a daily basis, the kitchen table on which my family eats must be cleared of books, magazines and mail before we sit to dine. As I age, the same table (because of its abundant light) has become a preferred location for tying flies and as a result, may be littered with feathers, copper wire, or any other item that would seem wildly out of place for such a location.
There is a coffee table in my living room that has never once supported a book, candle or TV remote. Its primary function is for untangling knots, re-spooling reels, and sharpening hooks often while the Red Sox play on the large television that shadows it. This workspace is ideal for the cold and tired individual looking for a comfortable, post-activity location to repair, regroup and relive whatever excitement was found that day.
In summary, the inside of my home is a logical extension of the outside and serves as a place for storage, inventory, and repair for the equipment necessary for my adventures afield. It is clean and tidy while still being cluttered with evidence of my passions and pursuits. It is my home in every sense of the word.