Canceled in 2020 by poor weather, the Boat Bash Snow Crash returned Saturday to Veterans Memorial Recreational Area — but only with kids and not as a competition.
"We didn't want to be the reason why anybody got sick," said Marty Parichand, CEO of Outdoor New England and executive director of Mill City Park.
Before last year, the Boat Bash drew a lot of spectators. Two kayakers, poised side by side in half-pipes of snow, would hurtle themselves at reckless speeds down the slope, which began with a 230-foot vertical drop, said Jim Jones, co-president of the Franklin Outing Club, which operates the facility.
On Facebook, Parichand said the 2021 Boat Bash "will not be the Boat Bash of yesteryears... BUT it will still be a blast for those who partake!"
Krystal Alpers, the city's parks and recreation director, said the Veterans Memorial Recreational Area is a great place for families to ski or snowboard. The city owns the land but has leased it to the Franklin Outing Club, which runs the ski area in the winter and a nine-mile long multi-use trail system and disc golf course the rest of the year.
The Boat Bash is part of the Outing Club's Winter Carnival, which is marking its 59th year in 2021.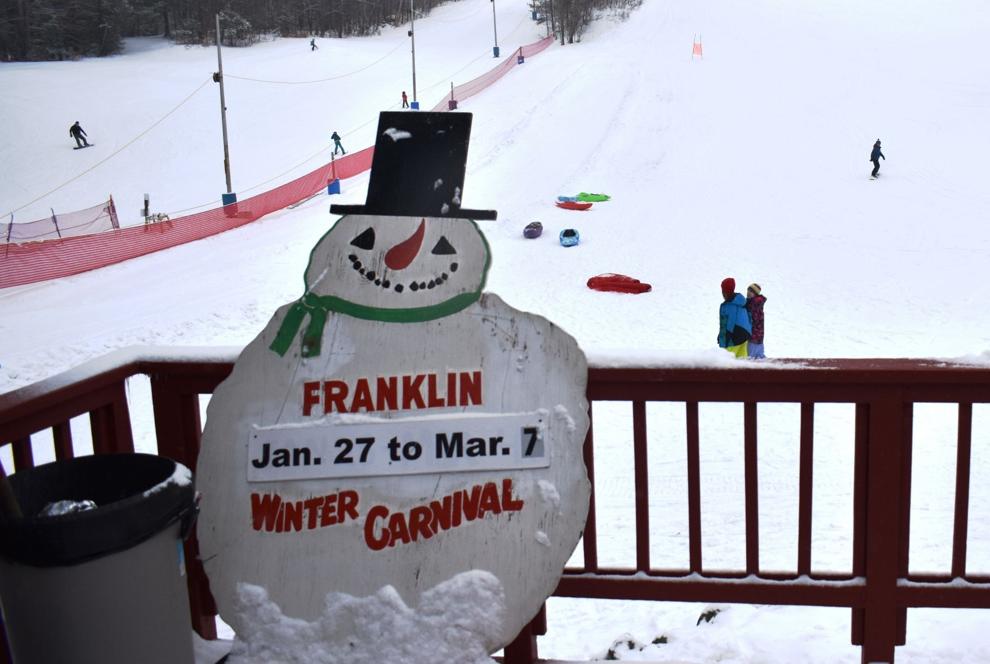 The Carnival, which began with events in January, will end on March 7 with the judging of an ongoing, off-site snowman-building contest, Jones said.
He said COVID-19 has hurt the all-volunteer Outing Club, especially its fundraising.
"We virtually closed our lodge," Jones said, to comply with COVID-19 safety guidelines from the state and federal governments and the National Ski Patrol.
That resulted in the cancellation of the club's Pancake Breakfast and Casserole Supper.
Nonetheless, the ski area will "stay open as long as it's safe to ski," he said.
Even though Boast Bash isn't the same this year, Saturday was still a good day to be outdoors.
Although "it was hard to do anything this year," Mill City Park president Jeremy Laucks promised the Boat Bash will be back in 2022.