BERLIN — From a modest upbringing in Manchester's South End, Bruce Luksza has ambitious plans for the City That Trees Built, where, after recent approval from the planning board, he has embarked on a $5 million effort to transform the 300-acre Jericho Gateway Family Campground into an ATV Shangri-La.
Located west of the downtown on Route 110, about a mile above the entrance to Jericho Mountain State Park, Luksza, 59, wants his campground to be a destination in itself as well as a connection to the ATV trails at Jericho Mountain and the regional trail system all around it.
The owner of Luk Trucking in Chichester, Luksza has said that several years ago, when he and his wife Carol entertained the thought of early, semi-retirement, he challenged their sons — Craig and Curt — to find a business opportunity for them as a family.
"We wanted something that would be fun, and somewhat easy-going and somewhat exclusive, something that nobody else did," Luksza explained, and that search eventually led them to Berlin.
At the time, Luksza said he was already into ATV activities and had explored numerous venues on the East Coast when Craig approached him about attending the 2019 Jericho Mountain ATV Festival.
The challenge in attending, as Luksza discovered, was that there was and currently is no campground in the Berlin area that can accommodate his lengthy motorcoach and trailer.
Nonetheless, he found Stephen Clorite, who then owned the Jericho Gateway Family Campground and who let him park at the facility, which, coincidentally, was for sale.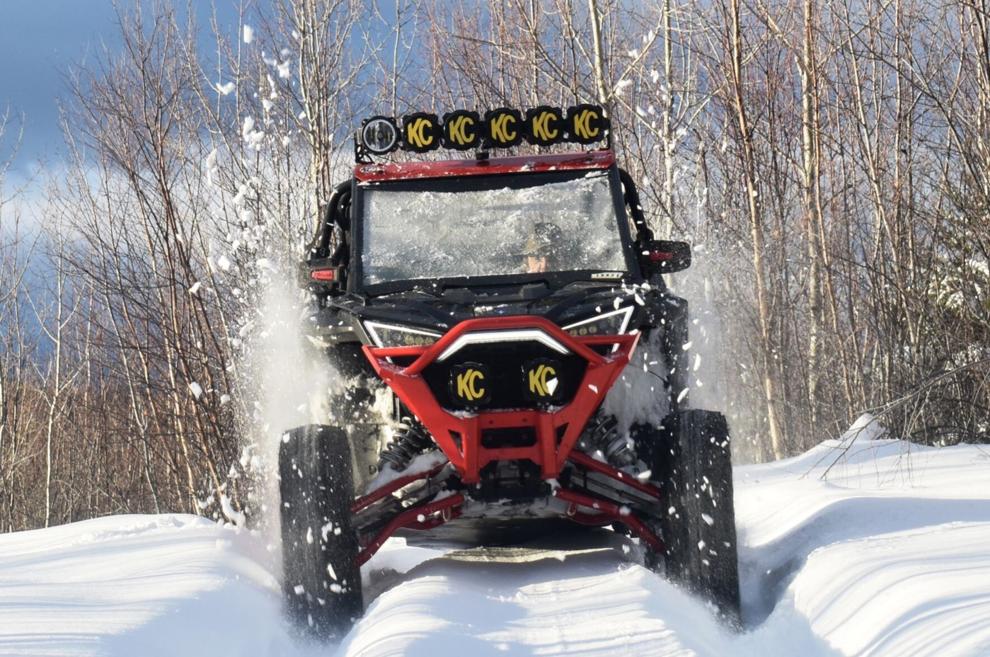 Impressed by the work Clorite had done at the campground, including cultivating a robust social media presence, and struck by the campground's potential for future development, Luksza made Clorite an offer and closed on the acquisition in 2020.
Last November Luksza presented his proposal for an expanded, year-round campground to the Berlin City Council, where it was favorably received, he said, and on Feb. 2 his application got conditional approval from the planning board for his five-phase campground.
Phase 1 will feature some 150 campsites — pull-ins, drive-throughs, remote and tent sites — as well as "full hook-ups" that provide electricity, water, sewer, Wi-Fi, cable connections and comfort stations.
The campground will have a "festival field" where musical performances and "monster truck" events will be held, as well as a multi-story, log cabin-style building with lodging above it that will be a scenic, all-inclusive setting for weddings.
Luksza said he will also sell a number of quarter-acre lots in his campground, which by the end of 2021 he expects will also have up to 10 rental cabins. In Phase II and beyond, he plans to rent ATVs to campers, open an accessory shop, and continue adding camp sites.
"We will be catering to hikers, ATVers, hunters and fishermen," said Luksza, and to everybody who wants to enjoy the outdoors in the North Country.
He would also like to bring "King of the Hammers," or something like it, to his campground.
An off-road competition held annually in California in which trucks travel in the desert and over huge rocks, King of the Hammers, said Luksza, would more accurately live up to its expansive name if it was held in the Northeast where drivers had to deal with mud, ice and water challenges, too.
As he contemplates the future, Luksza never forgets his past.
The son of the late Joseph and Jane Luksza, his family spent several years in Dunbarton, but when his parents divorced, he, his five siblings and his mother moved to the Elmwood Gardens housing complex in Manchester.
A graduate of Manchester High School Central, he married his neighborhood sweetheart, the former Carol Plourde, who was a graduate of Manchester Memorial High School, when he was 18 and she was 17. Though young, the couple had the benefit of Luksza having a good job.
As a teen, Luksza worked with his father as a logger, including at lumber camps in Berlin, where he learned to operate heavy machinery.
In 1984, Luksza bought himself a new Harley-Davidson motorcycle, but sold it a year later to buy his first dump truck.
He started a paving business, then moved into the excavation of roads and highways. His company currently has a fleet of 13 trucks, which are committed to a road contractor in the summer and some of which plow and maintain the section of Interstate 93 between exits 4 and 17 in the winter for the New Hampshire Department of Transportation.
Luksza thanked Clorite and his family for their support and for literally laying the groundwork for the future of the Jericho Gateway Family Campground.
Surrounded by the beauty of nature, Luksza is confident that his campground will bring "a great amount of revenue" to Berlin and surrounding communities while offering his guests "Norman Rockwell moments," such as when they reflect on a quiet fall evening at their campsite.
"If you build it," a bullish Luksza summed up, "They'll come. From Rhode Island, from Connecticut, from all over."
"I'm here in the middle of ATV country building an ATV park," he said. "How much more no-brainer is that?"