The first snowflakes have fallen, it's getting dark early, and orange is the hot color.
Firearms deer season opens Wednesday, and the state Fish and Game Department is reminding outdoor enthusiasts to share the woods — and take safety precautions.
Capt. Michael Eastman from Fish and Game's law enforcement division said hunters have actually been in the woods for weeks now. Bear season opened on Sept. 1, archery season started Sept. 15, and muzzleloader season began on Nov. 2 and ends today.
But with the start of the firearms season, there will be "a lot more people in the woods," Eastman said.
And that means hunters, hikers, dog walkers and mountain bikers all need to be aware of each other, he said. "The dog walkers and the hikers of the world, they get the woods pretty much 12 months out of the year and the hunters get them from September to December," he said. "We've got to share the woods."
Everyone in the woods this time of year should be wearing blaze orange to alert others to your presence, he said. But he's run into families out hiking who were "wearing white shirts, not blaze orange."
Some years back, Eastman recalled, he was tracking an injured deer that had been hit by a car in Gilford. "I wanted to euthanize it so it wouldn't have to suffer," he said. "I saw some movement, thinking it was a deer.
"It was actually a trail runner with a white stocking cap on," he said. "Here's somebody that's out enjoying the woods and is very oblivious that there's any hunting going on."
The vast majority of hunters are law-abiding and responsible, Eastman said. "They don't take a bad shot on an animal," he said.
But there are exceptions. Two years ago, a woman who was mountain biking in Elm Brook Park in Hopkinton was struck by a bullet fragment; the hunter who fired the shot told officials he was aiming at a deer and didn't see the biker in the background.
And last year, Eastman said, a slug from a hunter's shotgun entered a garage in Newfields. The homeowner's granddaughter was sleeping in a bedroom over the garage. "Once again, that was a hunter not doing the right thing," he said.
"You're taught in hunter safety when you pull that trigger, you're responsible for what you're shooting at and beyond," he said.
Eastman also remembers a case in Sanbornton about 10 years ago in which a hunter fatally shot a hiker's border collie. The hunter told Eastman he thought it was a coyote, but the Fish and Game officer wasn't buying it.
"He was charged with negligent discharge of a firearm," he said.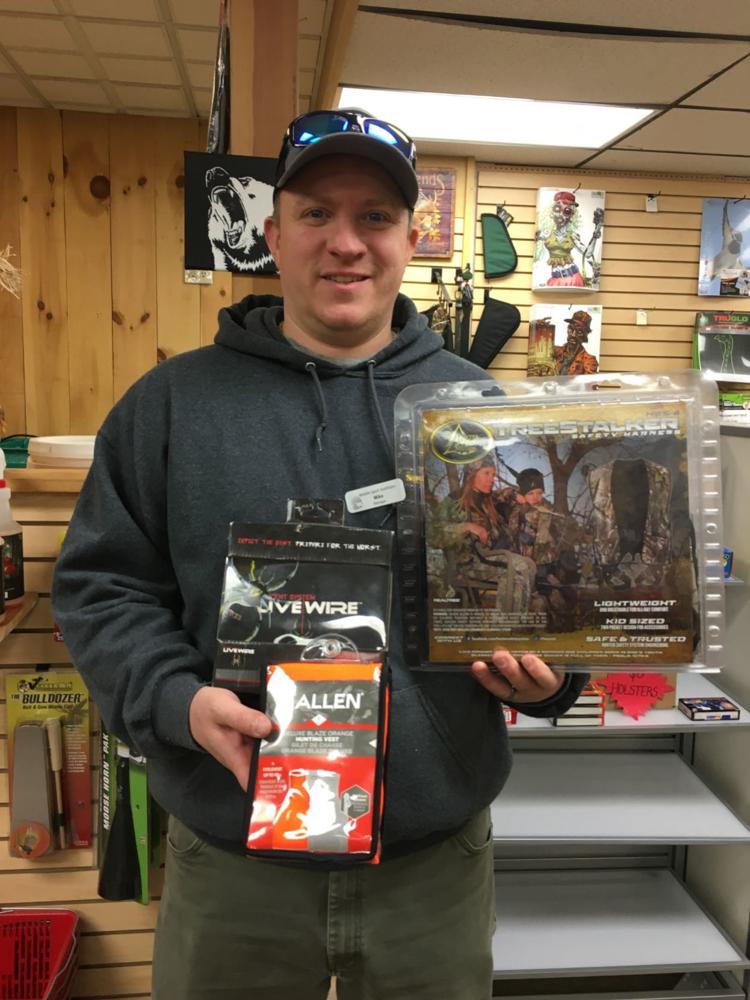 Mike Crouthamel is the manager at Wildlife Sport Outfitters in Manchester. He said anyone heading into the woods this time of year should wear something orange — including dogs.
But he said hunters usually don't do that. "Deer hunters tend to get out there in camo and sit quiet and still," he said.
"It's funny to me," Crouthamel said. "Deer can't see color."
He also urges hunters to purchase safety harnesses to protect them from falling if they're using tree stands.
"I had a good customer who fell 25 feet this year and broke his back," he said. "We need to be harnessed out there."
His store gets a lot of non-hunters coming in this time of year, Crouthamel said. "We try to set them up with something orange to keep them safe in the woods."
But it's not just the human hunters people need to worry about, he said. "We also share the woods with other animals," he said.
This time of year, black bears are fattening up in preparation for the coming winter, he said. "They're out there; they're eating," he said. "If you have a small dog, it's a good idea to have a bear bell and maybe some bear spray (pepper spray) on you too."
A few weeks ago, Crouthamel had a bow hunter come in, shaken by a close encounter with a trio of coyotes after he had taken down a deer. "The deer was between him and them," he said. "And they wanted it."
"They were snarling at him, growling at him, but he stood his ground and they ended up walking away."
Outdoor enthusiasts need to realize that hunting isn't something that just happens up north, Eastman said. "Hunting is going on in Nashua and Manchester and a lot of these places," where deer densities are higher, he said. "We're trying to cull some of the population so there aren't motor vehicle accidents."
And he said non-hunters also should appreciate how much recreation land has been preserved because of the licensing fees hunters pay.
"We have a lot of these Fish and Game wildlife areas and lands that the state owns because of hunter dollars," he said.
As deer season begins, Eastman said, "What it really comes down to is hunters need to understand hikers will be out there and they need to share the area. And dog walkers and hikers need to do that as well."
"People shouldn't be afraid to go into the woods," he said. "They should just take extra precautions."