For those inclined to head out to hiking trails in the next two months, the best is yet to come. September and October unquestionably offer the very best hiking conditions of the year: distant mountains in sharp relief under bright cobalt-blue skies, lower humidity, few mosquitoes, no blackflies or deer flies, warm afternoons, cool mornings and evenings and spectacular autumn foliage colors.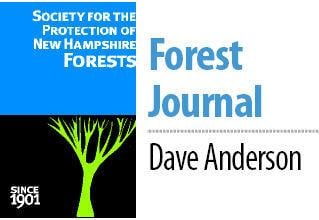 This summer, New Hampshire's state parks and hiking trails on the White Mountain National Forest were particularly busy as people sought to get outside and enjoy family time with a sense of normalcy in most abnormal times. With either in-school or online classes resuming shortly and organized youth sports curtailed by the coronavirus, it is likely that families and college students will continue to visit popular hiking destinations.
It's been a double-edged summer. When the (pandemic) chips were down, Granite Staters and out-of-state visitors alike flocked to New Hampshire's huge natural endowment of forests and mountain hiking trails and to Seacoast beaches or inland rivers and lakes for fishing, boating and swimming. People found healthy outdoor exercise and spiritual solace in natural settings.
The downside included unexpectedly large crowds concentrated at some areas, forcing park managers to limit available parking spaces and institute reservation systems. Land managers and chambers of commerce have reminded visitors to behave, follow rules and to carry out trash or dog waste and practice courtesy while maintaining social distancing to avoid recreation areas being closed.
The Forest Society owns more than 185 permanent Forest Reservations statewide in more than 100 communities including both popular destinations and quieter, less well-known properties with hiking trails. We've done our part as landowners by keeping this network of reservations and hiking trails open while reminding visitors to continue to "Hike Smart, Hike Local, Hike Safe."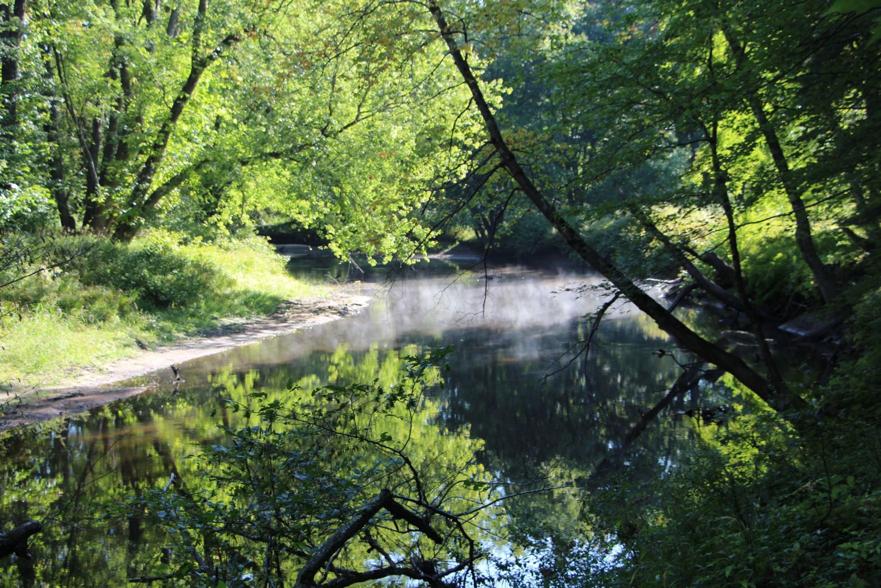 A new challenge
New for 2020, the Forest Society is offering a special do-it-yourself hike series called the "Five Hikes Challenge" which runs from Saturday, Aug. 29 to Saturday, Oct. 31. Registrants will receive custom trail maps with driving directions and hiking tips and a special limited edition Forest Society logo with a mountain-themed print on a neck-gaiter or "buff" that doubles as a facemask.
The Five Hikes Challenge includes staff-picked, easier hiking trails leading to great views or quiet forest destinations located around the state. Visit the Forest Society website to pre-register and get started picking your hikes:
Those who register to complete any five hikes from the recommended 26 choices of Forest Society-owned destinations can earn an colorful embroidered patch or colorful logo sticker by submitting selfie photos along with comments on your experiences that we can share on social media
Where to hike
Here is a preview of the 26 hike destination choices in the 2020 Five Hikes Challenge. Listed hike mileages are ROUND TRIP.
If you register for the challenge, you'll be mailed special printed trail maps for your selected hikes. Happy hiking!
Dame Forest (Sweet Trail), Durham: Easy 1.8-mile out-and-back hike with nice wetland views and hemlock forests
Champlin Forest, Rochester. Easy 2-mile hike, pine forest, fields, and wetlands
Creek Farm, Portsmouth: Easy 1.5-mile loop with shoreline views of Sagamore Creek, salt marsh, and historic summer home
Merrimack River Outdoor Education & Conservation Area, Concord: Easy 1.5-mile walk along Merrimack River through silver maple floodplain forest and wetland habitats.
Monson Village, Hollis/Milford: Easy 2- to 3-mile walk featuring the cultural history of an abandoned Colonial settlement, nice wetland and field views.
Buxton-Simons Forest, Weare: Strenuous 3-mile round trip hike to wetlands and nice views from Mount Wallingford.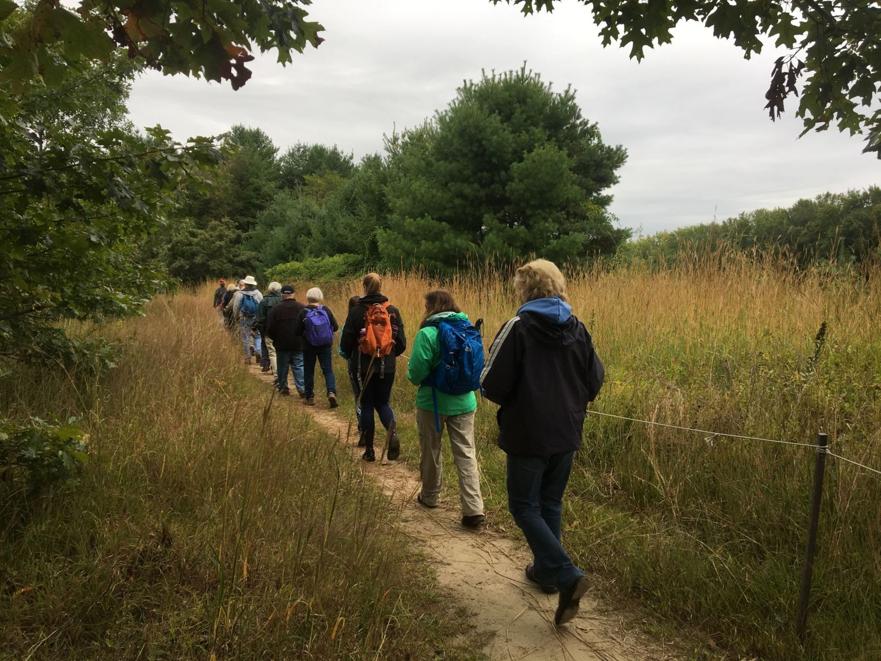 Heald Tract, Greenville/Mason/Temple/Wilton: Choice of an easy 1.6-mile hike adjacent to wildlife pond, or moderately strenuous 4.0-mile loop with beaver pond, varied habitats.
High Five Reservation, Deering: Easy 0.7-mile climb on woods road to spectacular panoramic views.
McCabe Forest, Antrim: Easy 1.7-mile hike, partially along Contoocook River.
Madame Sherri Forest, Chesterfield: Moderately strenuous 2-mile loop to scenic Indian Pond, and/or an easy 0.2-mile hike to remnants of Madame Sherri's "castle"
Hedgehog Mountain, Deering: Moderate 1.2-mile round trip climb to ledges on Hedgehog Ridge for views of the Contoocook Valley
High Blue, Walpole: Moderate 2.4-mile hike to highest point in Walpole, with beautiful fields, a vernal pool and several viewpoints
Gap Mountain Reservation (North Trail), Jaffrey/Troy: Strenuous 2.4-mile round-trip climb to rocky summit of Gap Mountain, with great views of Mount Monadnock.
DARTMOUTH/LAKE SUNAPEE REGION
Ashuelot River Headwaters Forest, Lempster: Moderate 1.2-mile climb to summit of Silver Mountain, panoramic views of nearby mountains.
Langenau Forest, Wilmot: Moderate 2-mile loop through mixed forests with beaver pond, streams, views of Mount Sunapee.
Andrew Brook Forest, Newbury: Strenuous 3.8-mile round-trip climb along Andrew Brook to beautiful Lake Solitude on the eastern slope of Mount Sunapee.
Hay Reservation, Newbury. Moderately strenuous 2.4-mile round-trip climb to summit of Sunset Hill. Old cellar holes along the way, views of Lake Sunapee.
Morse Preserve, Alton: Moderate 1.7-mile hike to fantastic views of Lake Winnipesaukee and the White Mountains
Moody Mountain, Wolfeboro: Easy 1.4-mile rolling trail through old field white pine, spruce, beech and red oak — once a former pastureland.
Cockermouth Forest, Groton/Hebron: Strenuous 3.6-mile round-trip climb on trails and woods roads to Bald Knob with great mountain views.
Eagle Cliff Forest, Sandwich: Strenuous, steep 1.2-mile climb to overlook with fantastic views of Squam Lake.
Cooper Cedar Woods, New Durham: Easy 0.7-mile walk, partially on boardwalks, through rare Atlantic Cedar Swamp habitat.
Moose Mountains, Brookfield/Middleton: Moderately strenuous 2.5-mile round trip climb on trails and woods roads through old farm fields to summit of Phoebe's Nable Mountain.
Weeks Woods, Gilford: Easy to moderate 2-mile hike on old logging roads and trails, fields, forests.
WHITE MOUNTAINS & NORTH COUNTRY
David Dana Forest, Dalton: Moderately strenuous 1.5-mile hike to entrance of an abandoned gold mine.
Bretzfelder Park, Bethlehem: Easy 0.5- to 2-mile hikes with interpretive nature trails and picnic area by a wildlife pond.