Cooperative spirit: The Webb family works together on the farm, and they worked with a nearby farmer whose sugar house was damaged last year.
Managing a farm and forest in a sustainable manner is a full-time job, one that the Webb family, owners of Harding Hill Farm in Sunapee, appreciate for its plethora of sweet rewards. One of the sweetest products, of course, is the bounty of high-quality maple syrup the farm produces each year.
Tyler Webb, the third generation to oversee Harding Hill Farm, said he loves what he does each day, though you must be someone who appreciates being outdoors to be happy and successful doing it. Thankfully he is, and a favorite part of his work starts in February while out in the woods tapping maple trees and typically culminates in March when the sap starts to flow.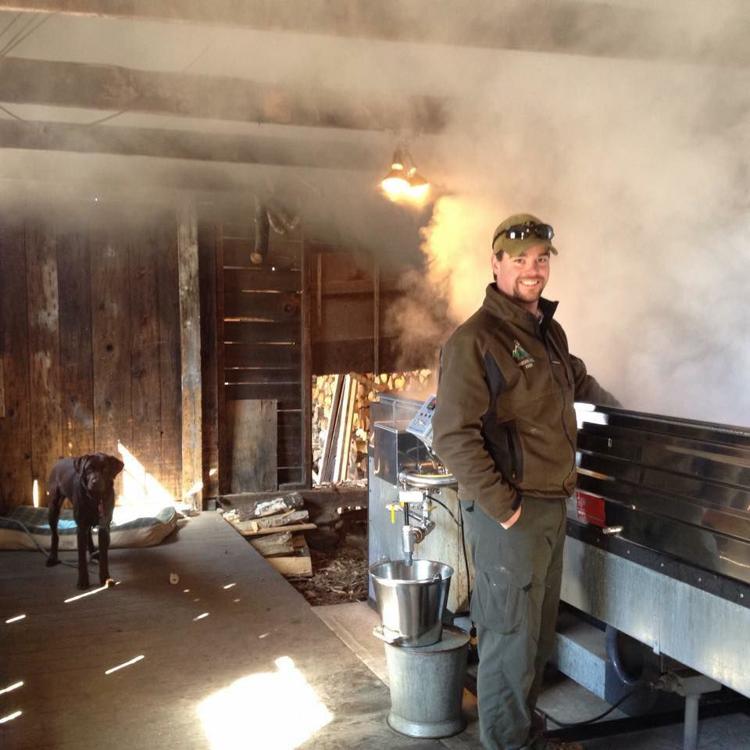 "I love all the parts of making maple syrup," Webb said. "From being out in the woods tending the orchard and running lines, right down to boiling the sap in the sugar house. It's all fun in my opinion."
Fun, but plenty of work. The farm has 1,300 taps to maintain, and Webb said it requires a lot of time out in the woods in order to be successful. His goal is to get 0.4 gallons out of each tap, with the help of a vacuum system that equalizes air pressure on the outside to match the pressure inside the tree. When done correctly, sap flows easier and requires less cooperation from mother nature in terms of weather.
"Having the vacuum system on our lines means we don't need ideal weather, that ideal 40-45 degrees and sunny, for sap to run," he said. "It will run when it normally wouldn't, like in 30-degree weather, and each tree will produce more."
More is better when it comes to fulfilling increasing demands from customers at the farm. Last year, Webb said they made about 700 gallons of syrup in the sugar house, more than 540 from their own trees, and the remainder from sap they purchased from a nearby farmer whose sugar house was damaged by wind.
"It worked out well. We helped him out, and we were able to produce more maple product to satisfy demand," Webb said. "We are all at the mercy of the weather when it comes to how much sap we can produce each year, so working together like we did is something we will probably do again."
Not a surprising philosophy, since working together seems to be something the Webb family has valued for the last 50 years.
"The farm has always been far more than a job for me. My wife Kelly and I moved onto the farm last year, had our first child, and it has been a great transition to be actually living where I work," Webb said. "I get to work alongside my father, Van, and I couldn't do it without him — or the tons of assistance we get from Kelly. It's a team effort."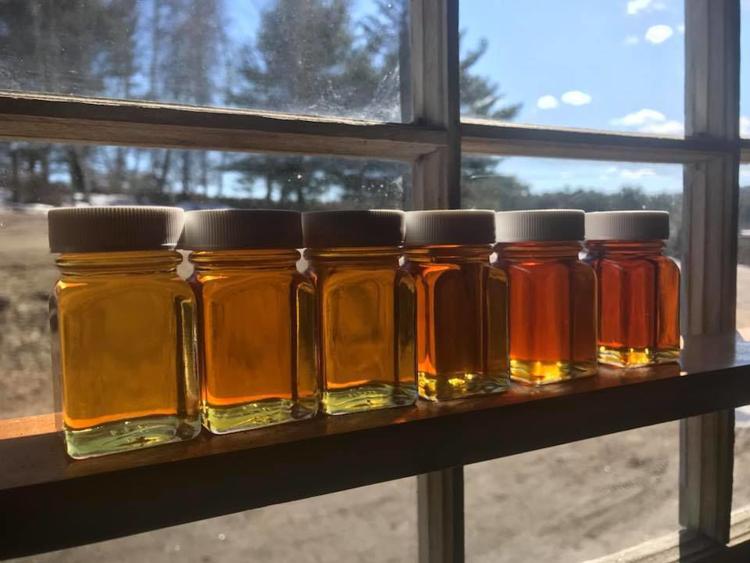 If you are interested in seeing the boiling process, the equipment it takes, and sampling delicious quality maple-based goodies as well as the farm's own grass-fed beef, Harding Hill Farm will be open Maple Weekend on Saturday from 10 a.m. to 4 p.m., and Sunday from 11 a.m. to 4 p.m. The sugarhouse is located at 131 Route 103 in Sunapee just below Wendell Vet Clinic.