A party feel floated around the Cooley-Jericho Community Forest on a Saturday morning in late September, despite the hard day's work ahead.
The crowd wore sturdy boots instead of dancing shoes, backpacks instead of ballgowns, and carried loppers and pole saws instead of cocktails. But the stoke was real — as was the sense of community.
The goal: create a dedicated backcountry skiing zone within the 840-acre forest. The players: Ammonoosuc Conservation Trust (ACT), Granite Backcountry Alliance (GBA), several local business partners, two "Glade Chiefs," a dozen "Pack Leaders," and more than 100 volunteer "Quarry Dogs" over the course of the weekend.
"This is a community forest, and that means ACT owns it on behalf of the community and the four towns: Franconia, Easton, Landaff and Sugar Hill," said Rebecca Brown, executive director of ACT, the local land trust that has owned and managed the forest since 2013. "It's been a huge community effort to make this property welcoming."
The Cooley-Jericho Community Forest features a variety of wildlife and is managed as a working forest. Hiking and mountain biking trails, all volunteer-built, wind through part of the property. At the end of the weekend, five new glade lines, ranging from 400 to 800 vertical feet, weaved through stands of mature yellow birch, just waiting for winter's snows.
Backcountry boom
"There's such a surge in backcountry skiing. It's the fastest growing segment in the ski industry," said Tyler Ray, a founding member of GBA and owner of Backyard Concept, an advocacy-based consulting organization dedicated to advancing outdoor recreation as a means to economic development.
Ray, who lives in the Mount Washington Valley, helped establish GBA in 2016 as a way to create more skiing opportunities in the White Mountains, where he'd grown up — and to do so by collaborating with other skiers, landowners, and local businesses.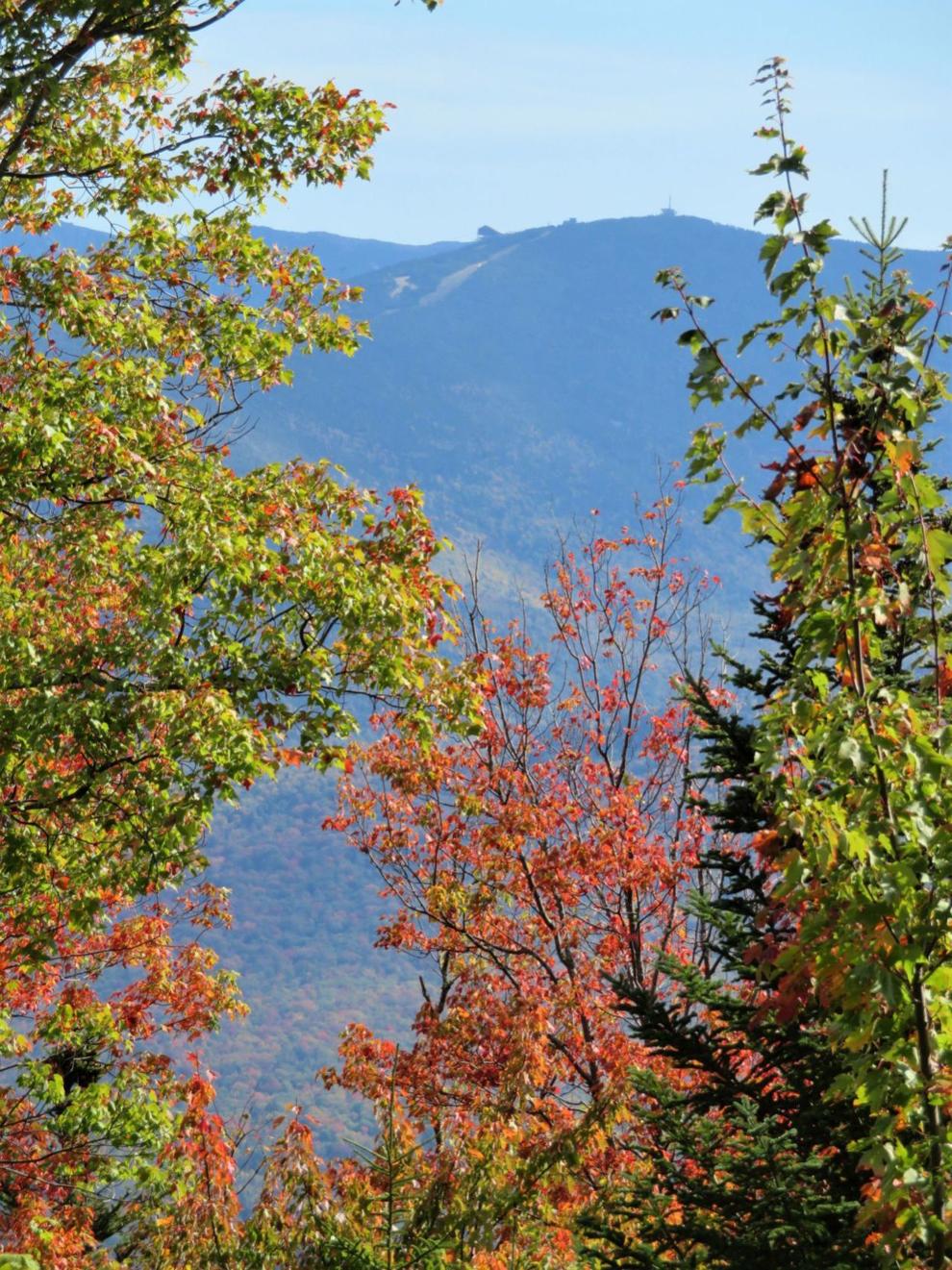 With more skiers looking for human-powered rather than lift-serviced lines to ski, the regular backcountry spots were becoming more and more crowded. A foundational aspect of GBA is developing options away from those crowded routes, including some less intense, below-treeline routes.
The group, relying almost entirely on volunteer sweat equity, has developed eight glade zones since its start. These projects range from reclaiming decades-old ski trails within the White Mountain National Forest to creating new zones on municipal property. The zones include places skiers can go for a full-day outing, or shorter routes ideal for lunch-break laps.
Ray sees GBA as a modern reincarnation of the Civilian Conservation Corps, the Depression-era government entity that created myriad ski trails around New England in the 1930s, when downhill skiing was first becoming popular in the region.
"We very much act without anchors, traveling to different areas and localizing our efforts, and being a change agent for communities," he said. "It is often the locals who make the decision to reveal a secret stash for the betterment of the community. Although increased traffic is the result, the zone is also much bigger and carries an economic impact to the town."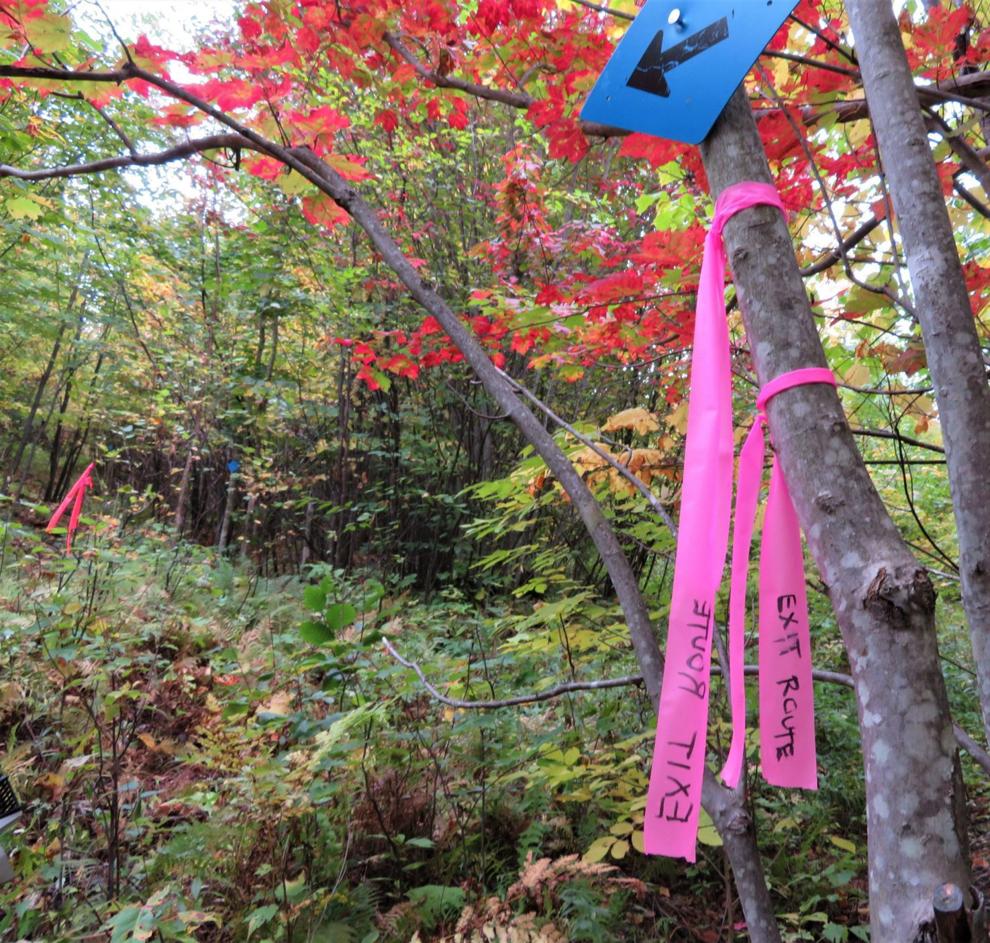 Community effort
Each GBA project has a "Glade Chief," someone familiar with the local area and who has likely skied the zone GBA is looking to develop.
For the Cooley-Jericho Community Forest project, there were two Glade Chiefs: Dan Kenerson and Charlie Wolcott. Both are local skiers. Both have been involved in ACT's steering committee for how to best manage the forest since the start. And both have skied some of the lines now smoothed out for other skiers.
Kenerson said that before ACT and the partnering towns purchased the 840-acre forest, it had been heavily logged. He remembers thinking, "Man, that looks like a ski area."
He and Wolcott both explored the property by ski, checking out potential lines before GBA came on board. The collaboration between GBA and ACT has been ongoing for more than two years.
"The glade day — that's the easy part. All we need is people and loppers and pole saws to get the job done," he said. "But the majority of work to build a glade is behind the scenes."
That work includes collaborating with landowners — whether it's the U.S. Forest Service, a private owner, or a municipality — to ensure all relevant regulations and protocols are followed. It also includes working with a professional trail designer — in this case, Jason Hunter of Gorham-based Pineside Trail Design — who identifies the best lines and then marks those in a way the glade day volunteer crews can easily follow.
"If we hadn't managed to partner up with GBA, I don't know how we would have managed to do this," Kenerson said. "It's another way to bring more recreational tourism to the area. It's pretty amazing what a group of people can do."
Many hands, good work
While Kenerson can ski to the new zone in Cooley-Jericho without crossing a plowed road, many of the people who came out to work that September weekend may never even ski the glades. They were there to support the local community, or because they love the idea of backcountry skiing.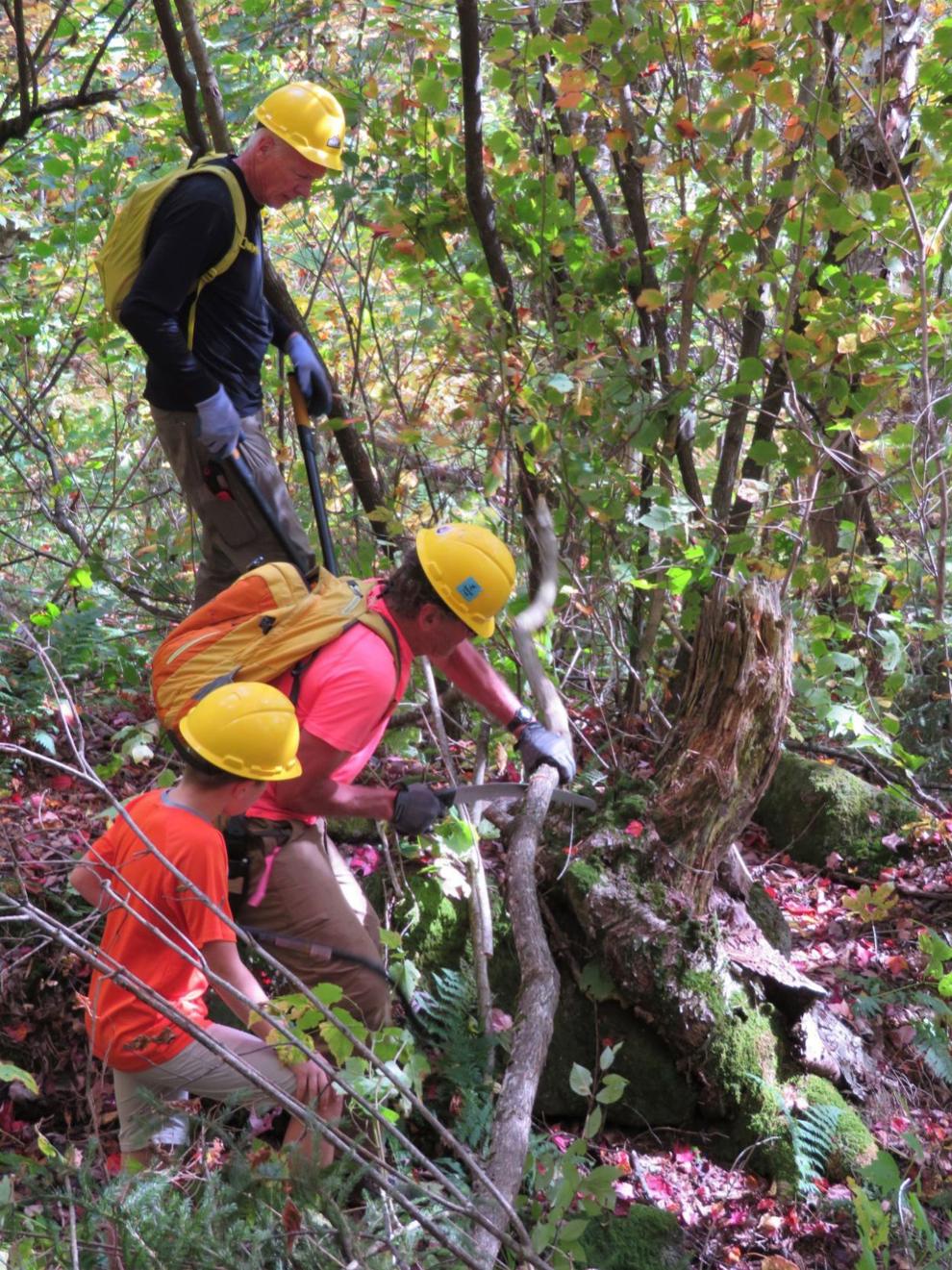 Tyler said 130 volunteers worked over the two days on what he's dubbed the "Cool-J Glades." They ranged in age from 8 to 70-plus and traveled from Massachusetts, Maine, and Rhode Island as well as from around New Hampshire.
"The young kids absolutely love it, especially when we encourage them to build jumps from the slash to make small features in the glade lines," said Ray. "The older folks love it because it's been a lifelong desire to have these types of glades cut on public lands with permission. And they enjoy being part of the community effort to make it happen."
Volunteers head out in small groups, each led by a "Pack Leader," who makes sure they stay safe and know where and what to cut — basically scrubby undergrowth, trees under 3 inches in diameter, and any branches that might hinder a skier's line through the woods. It's what Ray describes as thinning the forest in a low-impact, sustainable manner.
Volunteers were fueled by breakfast sandwiches made with eggs donated by nearby Pete & Gerry's, dozens of burgers and hot dogs provided by the local Littleton Food Co-op and beer from Bethlehem's Rek-Lis Brewing.
Inviting local businesses to be part of the glading effort is part of GBA's mantra of building community support around its projects. Ultimately, he said, these glades belong to the community where they're located.
"We come in and do the labor, then hand the keys back to the local organization," he said.
Ray loves seeing different people come out to help with the glading efforts. He's thrilled to be spreading the backcountry love — and to be helping communities develop their own playgrounds that fit the terrain, the need and the character of each community.
"To be able to build a real network of opportunities, not just to go skiing but to have communities really thrive and have people getting outside — that's a big part of it for me," he said. "People are getting outside more often, exploring the woods, finding adventure. That's a different experience than riding the lifts up and down, up and down. You may only take one or two runs in a day, but you'll remember every single turn."
Get involved
GBA has two more glade days planned this fall: Nov. 3 in Gorham and Nov. 16 in Intervale. To sign up as a volunteer — and get a chance to scope out lines before winter — or to learn about GBA's other zones, visit www.granitebackcountryalliance.org.
For more information about Ammonoosuc Conservation Trust and its projects and properties, visit www.act-nh.org.